March 4, 2012
Mujadra (Lebanese Lentils and Rice) #SundaySupper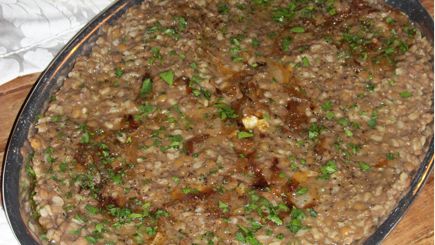 Mujadra is tasty, quick, and easy to make. It can be served as the main course (which we do sometimes on those busy Wednesdays when the girls have gymnastics till 8:30 PM!). It can also be served as a side dish. It's delicious either way!
Mujadra is meatless, so it would make a great family dinner for Fridays in Lent. But, it's so delicious that it can be eaten on any day… Even for #SundaySupper!
INGREDIENTS
2 cups dried lentils
8 cups of water
1 cup uncooked white rice (we use jasmine or basmati)
2 large onions, chopped
4 tablespoons of extra-virgin olive oil
1 teaspoon of freshly-craked black pepper (or to taste)
1 teaspoon cumin (or to taste)
Kosher salt to taste
Fresh chopped parsley as a garnish
DIRECTIONS
Rinse lentils and add to a pot with cold water (all 8 cups).
Bring to a boil, and boil on medium-high heat for 20 minutes.
In the meantime, sauté the onions in the olive oil on medium-high heat.
When the onions start to brown nicely, add the onions and olive oil (along with any brown caramelized bits) to the pot. Also add the rice, salt, pepper, and cumin.
Stir to mix well, then cover and cook for 20 minutes. Stir occasionally to prevent scorching.
This is a great one-pot meal that can be served at table from a serving dish. Mujadra actually thickens as it cools. It can be served hot or at room temperature.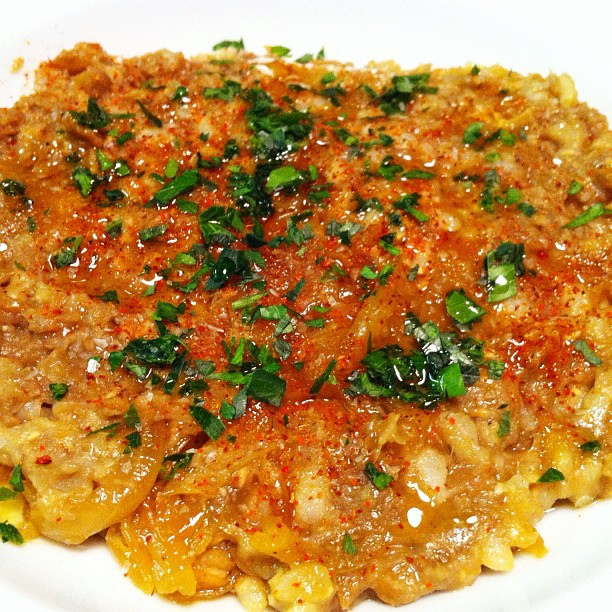 Bon appetit!
Try it. Then let me know what you think in the comments below!