September 10, 2009
Music at the Table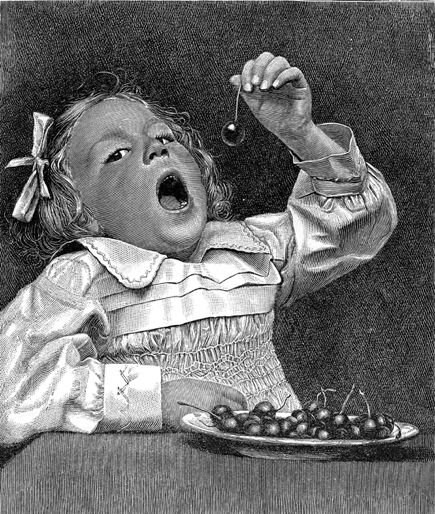 By Kate Daneluk of Making Music, Praying Twice.
How musical fun can get the food in our kids and keep the kids in the seats!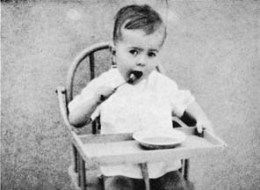 For as long as I can remember, I loved to cook. When my husband and I first married, it was not unusual for dinner to include homemade bread, soup, and two courses plus dessert. Then came our beautiful baby girl. I envisioned the family meals to come. What I didn't count on was keeping an active child under the age of four in a seat long enough to eat a slice of take-out pizza, let alone homemade spinach quiche.
Now we have four kids, ages 10, 6, 5 and not yet 2. So we've been dealing with this issue, nonstop, for the last ten years. I've employed several strategies for encouraging kids to eat and sit through dinner. As an early childhood music educator, I may have a few special tricks to share. Music integrates every area of our lives and meals are no exception. Here are some ways our family's musical tendencies have helped at the table, and how you can sing some peace into mealtime with little ones.
TIP #1 – AMAZING GRACE
Crank Grace Before Meals up a notch with music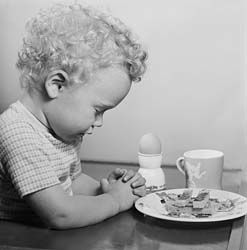 Praying with music engages more brain matter, improves language memory, and releases calming serotonin. Use a song like The Johnny Appleseed Song, For the Beauty of the Earth, Now Thank We All Our God to help children focus before praying our traditional Catholic Grace Before Meals. If you are musically inclined, write a simple family tune or chant for the traditional prayer.
TIP #2 – WHAT'S NEW PUSSYCAT?
A little song to help open the mind and mouth to new foods
Very often, a child's food aversions are actually control issues, mental blocks, fear of the unknown. My daughter invented this musical game to get her little brother out of his own head. It also got dinner into his mouth!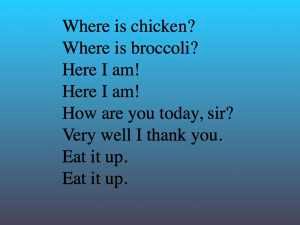 Load 2 forks with the chosen food.
Dance the forks around like puppets to this song (sung to the tune of Frere Jacques/Where Is Thumbkin?)
Rhythmically pop the food into the child's mouth on the "eat it up."
It's a good idea to have an adult or big kid model the gobbling up the first time.
Once you've sung this song ten times at your child's request, half the plate will be gone and the food aversion-induced conflict will be resolved.
TIP #3 – THE UNFINISHED SYMPHONIE
Musical games to play 'til you're "all done"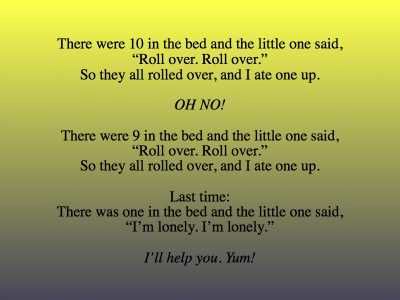 You don't want to force a full child to eat when he has had enough. But if your child is not finishing a reasonable amount of his meal and begging for snacks and dessert the rest of the evening, he needs to be pushed a little. Use counting songs to help turn the finishing process into a game. Take countdown songs and adapt them to finish off, say ten green beans.
Again, let the older ones model the song showing how fun it is first. Cheer for everyone who finishes the song. Do not eat your child's food for her or she'll expect the fun to continue without eating. The song can't move on without eating the food.
Or try this one using the fork to point and count.Hum the lyrics for the missing green beans, hmmmm.Eventually, you'll be humming the entire song.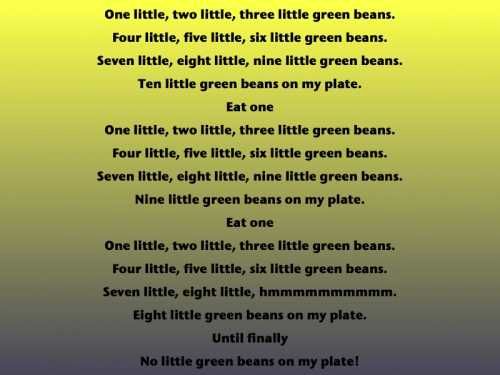 Both silly songs encourage eating but also keep the pace slow. Slower eating is a healthy habit. A relaxed pace keeps a child from feeling overwhelmed or ambushed by the expectation to eat the suspect food.
TIP #4 – BABY PLEASE DON'T GO
Keeping them in the seats with a family rhythm jam.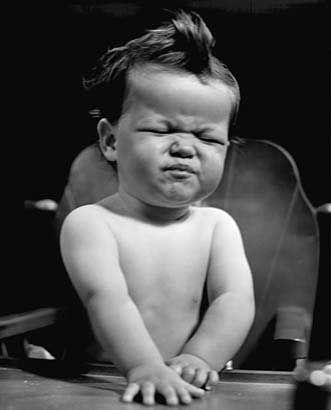 If little ones finish earlier than you'd like and you want more family togetherness, you'll need something hands-on and interactive to keep a 3-year-old's attention! This is when a quick rhythm jam is needed.
Mom or Dad starts by hand drumming a fun, repetitive beat on the table. (This does not have to be perfect. You are not auditioning for the Mambo Kings.) Then each family member adds in to the rhythm. Think of the Broadway show Stomp.Let's face it. You have silverware, glassware, wood, feet, hands and fingers at your disposal. You may never have so many opportunities to play that funky music. If you're eating with chopsticks – watch out! This is so much fun. You can also improvise a sung part or sing a song you know to the beat.
TIP #5 – SING, SING A SONG
Give healthy foods their own theme song.
"I don't like that!"
"But you eat these all the time. You do like it."
"I don't like it now."
This is the stuff that tries a parent's patience. It has been my experience that this phenomenon is much less frequent with the foods entering the dining room with their own theme song. I am on constant healthy food theme song patrol and have adapted and invented new ones as needed. Children's television programs and popular CD's are filled with healthy-food-promoting songs. The key to successful usage is consistently singing the song playfully every time the food is introduced at the table, a restaurant, the car, wherever the food is offered. Somehow the excitement, singing and dancing overtake the impulse to reject the food.
Here are just a handful of the songs we've gathered. Rack your brain for foodie songs you can use and keep your ears open for more!
Not only will you be encouraging your child to eat, but you'll be growing the musical home environment. This is important too, but that's another article. I am, after all, an early childhood music educator first. The Encourager of Spinach Quiche Consumption is a secondary title.