July 19, 2013
"My Pizza" by Jim Lahey… And the American Dream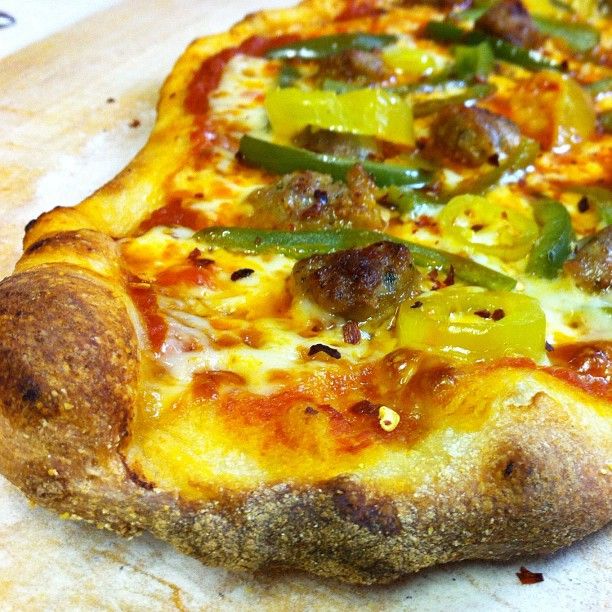 My Pizza: All Pizza Is My Pizza
I love pizza. That's no secret. As a matter of fact, pizza is my favorite food, and it has been all my life. With amazing attention to detail, I can recall the pizzas of my childhood. It seems that me and pizza have always had something special. 😉
I grew up in Baton Rouge, and I remember Europe's Pizza on Airline Highway. I remember sitting, many a time, at the red and white checkered tables with my family. We always ordered one pepperoni pizza and one shrimp pizza. I remember, later, when I was in high school that Paul Lopedope, the owner and operator of Europe's, announced that he was going to close the restaurant and retire to his homeland of Sicily. For months people would order pizzas from Chef Paul, but request that they not be baked. Folks wanted to take them home and freeze them so that they would be able to get their Europe's fix after the restaurant closed for good. We got a few of those frozen pies too. They didn't last as long as I would have like. Boy, I miss that place! The pizza was really good. And the red, green and white neon sign at the road was always so comforting to me.
Then there was Wesley's. It was right next door to the Broadmoor Theater. Wesley's was not, strictly speaking, a pizza place. They served lots of different things at Wesley's. But I remember the pizza, particularly the shrimp pizza. Wesley's provided the perfect pizza prelude to many movies that I saw at the Broadmoor Theater.
Other pizza joints that come to mind are Mr. Gatti's, Pastime Restaurant, and Fleur de Lis. I think there is still a Mr. Gatti's around somewhere. Pastime is still in business underneath the Mississippi River bridge in Baton Rouge, and they are guaranteed to be partying for every single LSU football game. Fleur de Lis is still in business too. I love the atmosphere there… and their Sweep the Kitchen pizza is not to be missed. It's a classic Roman rectangle pie that is cut in squares. Gotta love that!
And I can't forget Godfather's. I know it's a chain. But in many ways it acted as a bridge to those 30 minutes or less places. It wasn't quite fast food. At least, it wasn't as fast as 30 minutes or less. When Godfather's first came to Baton Rouge, we would pick up from them regularly. There was something different about it. Maybe it was the crust… or the abundance of toppings.
Still, I admit that the mom-and-pop local places were my favorite. They still are.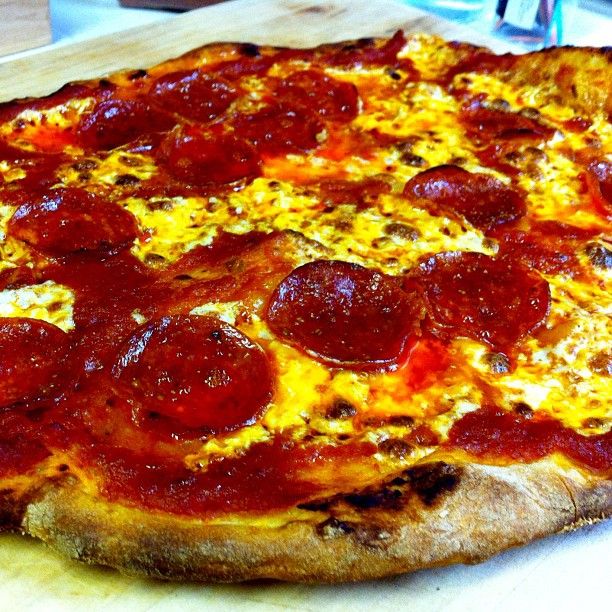 The Downfall of Pizza in America: Convenience Over Quality
30 minutes or less. It sounds nice. But it's not.
Domino's was first in the effort of mass producing a convenient pizza experience. And Domino's was founded by a Catholic. Tom Monaghan is his name.
The concept seems innocent enough. We will get our pizzas to you in 30 minutes or less… or it's free. I got several free pizzas from Domino's over the years. But Domino's led the way in making American pizza into fast food. Like McDonald's, it was less about actual cooking, and more about manufacturing a product. Variation was eliminated, which meant that pizza in Baton Rouge was the same as pizza in Columbus, or pizza in Santa Fe or Taos, or Brattleboro or Durango. Mass production kills that which is unique and genuine.
Domino's was first, but then there was Little Caesar's and a host of others, including Papa John's.
Pizza in America has been suffering ever since.
Why Home Pizza-Making is Vitally Important
When I first started cooking at the age of 11 or 12, what do you think my first dish was? That's right. Pizza. Back then it was either from a Chef Boyardee box or from an Appian Way pizza kit. Thankfully, I've moved up in my pizza-making skills, focusing more on fresh ingredients and the perfect crust… made from scratch, not from a box.
I have been practicing (and learning!) the art of pizza-making at home for over 30 years. And that's important. My inspiration has been the small, locally-owned pizza parlors like Europe's in Baton Rouge and Pizza Man of Covington.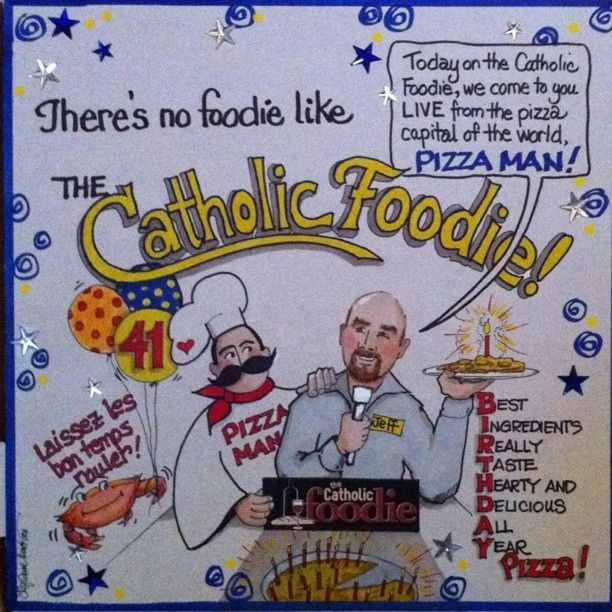 My Pizza Dough Recipe… Yielding to a Better Dough
A few years ago, I was convinced that I had finally come up with the perfect pizza dough recipe. I had stumbled across Albert Grande and his website PizzaTherapy.com, and I got a digital copy of his book The Legends of Pizza. I thought I was set. Actually, I was set. I even wrote about my pizza-making breakthroughs. My pizza was far superior to what you could get from the local Domino's and Papa John's. But it still wasn't Europe's or Pizza Man quality. At least it wasn't until I discovered Jim Lahey's no-knead pizza dough and The Baking Steel.
With my previous pizza dough recipe and a baking stone, I still had to rely on "tricks," like pre-baking my crust for about 4 to 5 minutes before adding the toppings. [I wrote all about my tricks in my article Creative Homemade Pizza Recipes.] The Baking Steel changed all of that. And the Baking Steel also led me on a quest for a new dough recipe. That's how I discovered Jim Lahey's no-knead pizza dough recipe.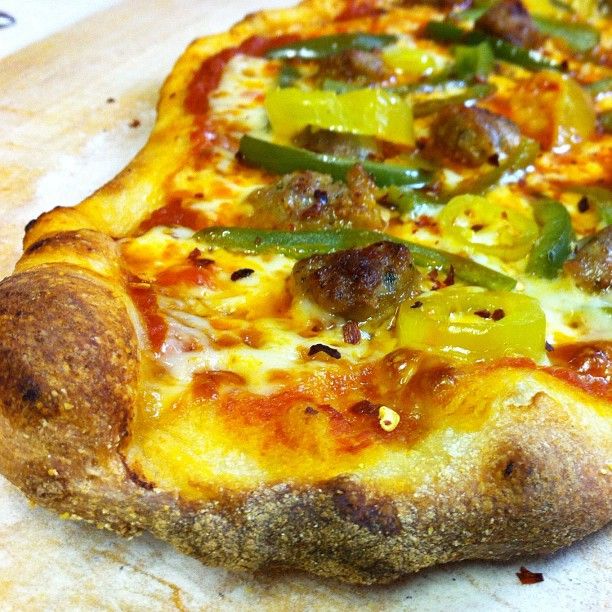 Jim Lahey's No-Knead Pizza Dough
Jim Lahey started out as a baker. He spent many months traveling throughout Italy learning the art of baking, and then returned to New York to open Sullivan Street Bakery. It was kind of by accident that he ended up as a pizza-maker, eventually opening up his own pizza place called Co. On New Year's Day following the tragedy of September 11th, he threw a pizza party at his bakery for friends, chefs and customers. The goal was to do something a little bit different in an effort to help cheer people up. It worked. It was so well-received, in fact, that he repeated the party for the next 4 years. Eventually, someone suggested that he open his own pizza restaurant, and… well, the rest is history as they say.
Jim Lahey published My Pizza in 2012. It's a beautiful little book filled with simple recipes and topping suggestions, lots of tips on baking pizzas, and mouth-watering photographs of the various pizzas that he offers at Co.
The following is taken from the inside flap:
"Make homemade pizza that exceeds your wildest expectations—yet couldn't be simpler—with Jim Lahey's groundbreaking no-knead dough and inventive toppings.

"The secret to incredible pizza is a superb crust—one that is crisp yet chewy, and slightly charred around the edges. Jim Lahey, the baking genius behind New York City's celebrated Sullivan Street Bakery and Co. pizza restaurant, has developed a brilliant recipe that requires no kneading and produces an irresistible crust in any home oven—gas or electric—in fewer than five minutes. My Pizza shares this revolutionary technique and the creative pies that put Co. on the map, as well as recipes for salads, soups, and desserts to make a meal complete.

"The pizzas in this book aren't your usual, run-of-the-mill pies. In fact, Jim's unique topping pairings—such as Corn and Tomato, Coppa and Fennel, and Potato and Leek—reinvigorate this American favorite. His whimsy is apparent in his Pepperoni Pie, which doesn't include the cured meat we have all come to expect; instead, riffing on "pepperoni" as the Italian plural for "pepper," Jim offers a pie with red pepper puree, ground lamb, and pecorino cheese. To round out dinner, My Pizza also has recipes for starters and side salads—such as Cannellini Bean Toast, Pea Soup, and Bibb and Roasted Squash Salad—and sweet finishes, from Milk Chocolate Sundae to Banoffee Pie.

"With gorgeous color photographs and helpful tips on equipment and techniques, My Pizza unlocks the secrets of great, easy pizza for home cooks everywhere."
If you like to bake pizzas at home – or if you want to start – then get this book. It is a treasure.
Jim Lahey's no-knead pizza dough recipe is quite simple. It can easily be found online, and in the video below you can watch him walk through the steps with Kenji from Serious Eats. For your convenience, I am including the recipe below.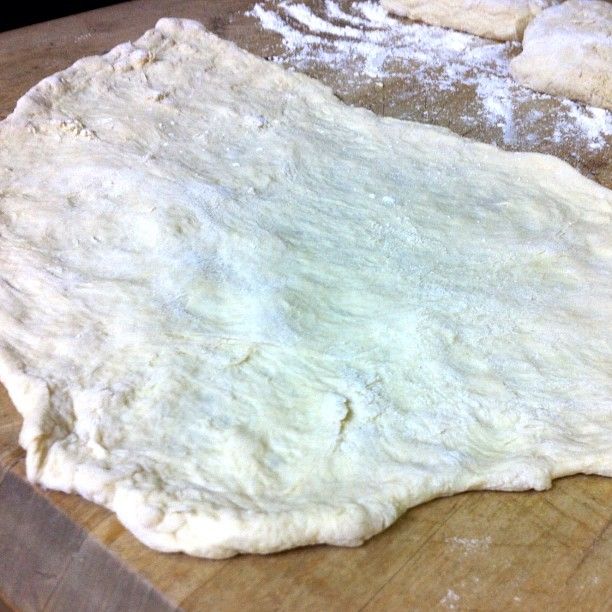 Jim Lahey's No-Knead Pizza Dough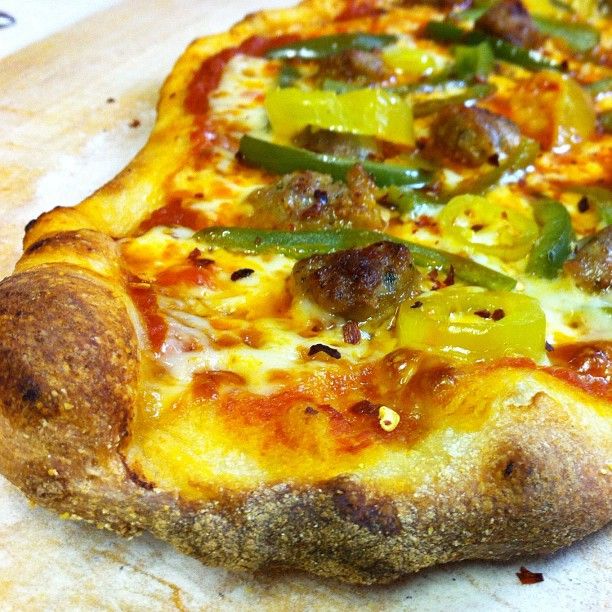 Author: Jeff Young
Cuisine: Italian
Recipe type: Pizza
Ingredients
500 grams (17 ½ ounces or about 3 ¾ cups) all-purpose flour, plus more for shaping the dough
1 gram (1/4 teaspoon) active dry yeast
16 grams (2 teaspoons) fine sea salt
350 grams (1 ½ cups) water
Instructions
In a medium bowl, thoroughly blend the flour, yeast, and salt. Add the water and, with a wooden spoon or your hands, mix thoroughly.
Cover the bowl with plastic wrap or a kitchen towel and allow it to rise at room temperature (about 72°F) for 18 hours or until it has more than doubled. It will take longer in a chilly room and less time in a very warm one.
Flour a work surface and scrape out the dough. Divide it into 4 equal parts and shape them: For each portion, start with the right side of the dough and pull it toward the center; then do the same with the left, then the top, then the bottom. (The order doesn't actually matter; what you want is four folds.) Shape each portion into a round and turn seam side down. Mold the dough into a neat circular mound. The mounds should not be sticky; if they are, dust with more flour.
If you don't intend to use the dough right away, wrap the balls individually in plastic and refrigerate for up to 3 days. Return to room temperature by leaving them out on the counter, covered in a damp cloth, for 2 to 3 hours before needed.
Notes
This recipe yields a dough that his light and airy. It blows away my former dough recipes.
From Oven Tricks to Oven True: The Baking Steel Revolutionizes Home Pizza-Making
The Baking Steel revolutionized my home pizza-making. Nothing is the same now. And everything is so much better. If there is only one thing that you do to improve your home pizza-making, make it the Baking Steel. You won't believe how much better your pizzas are when they are baked on the Baking Steel.
I'll have more to say about the Baking Steel next week when our guest on Around The Table Food Show will be Andris Lagsdin, creator of the Baking Steel.
Stay tuned!