July 6, 2014
My Recipe for Pasta Bolognese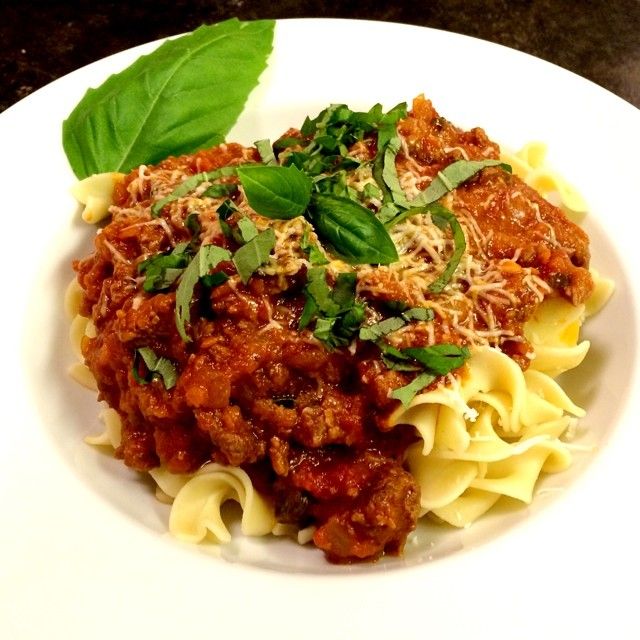 Pasta Bolognese is a hearty Italian dish that can be prepared to feed a large family or a small army. A tomato sauce featuring beef and / or pork, Bolognese is often referred to in Italy as ragù alla bolognese or, more simply, as ragù.
Pasta Bolognese Makes a Fancy Family Feast
I have noted before that I like to cook in big batches. One reason is because it takes about the same amount of time and effort to prepare a small dish as it does a bigger one. That means with the same time and effort, I can often make two or more meals instead of just one. Another reason I like big batch cooking is that I'm feeding a family of five… and three of those family members happen to be teenagers. Teenagers with healthy appetites… and well developed palates.
Cooking in Bulk and Buying in Bulk
We are always on the lookout for a good deal. In addition to cooking in bulk (in big batches), we also try to buy in bulk whenever possible. For example, my wife and I recently bought half a cow from a local farmer. Grass fed, chemical free, and cheaper per pound than what you typically find in the grocery store. It was a no-brainer for us. It was also not the first time that have bought meat in bulk like that from local farmers. And it was a really good deal. But sometimes good deals can have downsides.
Besides the fact that I now have very little storage space in my freezer (besides the cow!), we were also limited in the cuts of meat that we received. We love steaks, but tend to save those for special occasions. For everyday cooking we much prefer ground beef. It is so versatile, you can do almost anything with it: from hamburgers to tacos to Pasta Bolognese.
Another "downside" is that we did not get to decide how the cuts of meat would be cut.
Let me explain. When you go to the grocery or butcher to buy ribeye steaks, you can usually choose whether you want a thinner steak or a thicker steak. When buying in bulk like we did, you don't necessarily have a choice in the thickness of cut. Our ribeyes came just the way we like them. The round round steaks, however, were a bit thicker than we like.
A couple of weeks ago I made Grillades & Grits with the first pack of round steak from our recent purchase. Because the steaks were so thick, they didn't cook down the way I expected. It was still good, it was just a tougher chew than we like. I determined then that I would come up with a different way of preparing the remaining two packs of round steak.
Hence the idea for Pasta Bolognese.
Getting Creative to Grind Your Own Meat
My thought was to thaw the round steak, cut it into small chunks and grind it with my Cuisinart food processor. It was a great plan, one – unfortunately – that did not work. I did not have the proper blade for grinding meat in the Cuisinart. Nor did I have the proper attachment for my Kitchen Aid stand mixer. So, I did what any home cook would do. I ground all 2.5 pounds of it by hand with my Henckels chefs knife. Boy, that was a work out! And it worked.
This recipe makes a tomato sauce that is rich and hearty, and the soffritto (onions, celery, and carrots) gives it a nice sweetness. Serve it over any wide flat pasta, like fettuccine. Fresh basil pushes this dish over the top in a good way. It's a big recipe, one that you can serve your family for two or three dinners. Or, you could always freeze some, so that you will have a meal ready to serve one night when you don't have time to cook.
If you try this one, let me know. I'd love to hear how it turns out for you!
PASTA BOLOGNESE RECIPE
INGREDIENTS
3 sweet yellow onions, chopped
3 carrots, washed, peeled, and grated
3 ribs celery, chopped
3 tablespoons extra virgin olive oil
Kosher salt to taste
Freshly cracked black pepper to taste
1 to 2 teaspoons crushed red pepper, or to taste
1 can tomato paste
2 cans 28 oz whole tomatoes (I prefer Cento brand)
1 cup dry red wine
2 cups chicken stock
1 cup milk
2.5 lbs. ground round
4 oz pancetta or bacon, finely chopped
2 teaspoons dried oregano
Fresh basil, chopped, to taste, plus extra for garnish
Romano cheese, grated or shredded, as garnish
Wide pasta, cooked al dente according to package directions
INSTRUCTIONS
In a large heavy-bottomed pot over medium-high heat, add the olive oil, onions, celery, and carrots. Sauté until soft, about 10 minutes.
Add the ground beef and pancetta or bacon. Sauté, breaking up the meat with the back of a cooking spoon. Continue to cook, stirring frequently, until browned, about 15 minutes.
Create a well in the middle of the pot by moving the contents to the sides. Add the tomato paste to the well and stir constantly for a minute or two, slowing incorporating the contents of the pot with the tomato paste.
Add the wine and allow to boil 1 minute, stirring and scraping up any browned bits stuck to the bottom of the pot.
Add the chicken stock and stir to blend. Reduce heat to low and gently simmer uncovered, stirring occasionally, for 1½ hours so that the flavors will marry. Season to taste with salt, pepper, and crushed red pepper flakes.
Heat milk in a small saucepan and bring to a simmer. Slowly add the milk to the sauce, stirring well to incorporate. Partially cover the sauce with a lid and simmer until milk is absorbed, about 45 minutes. Stir occasionally, and add more stock – ¼ cup at a time – to thin the sauce, if needed.
Prepare pasta al dente according to package directions, reserving the pasta water. Transfer a portion of the sauce (enough for the amount of pasta you are going to serve) to a large skillet over medium-high heat. Add pasta to the sauce and toss to coat, adding more sauce as necessary. If the sauce seems too dry, stir in some of the reserved pasta water one tablespoonful at a time.
Serve pasta on warm plates. Top with shredded or grated Romano cheese and chopped fresh basil.