June 27, 2013
Naan: The Flatbread of India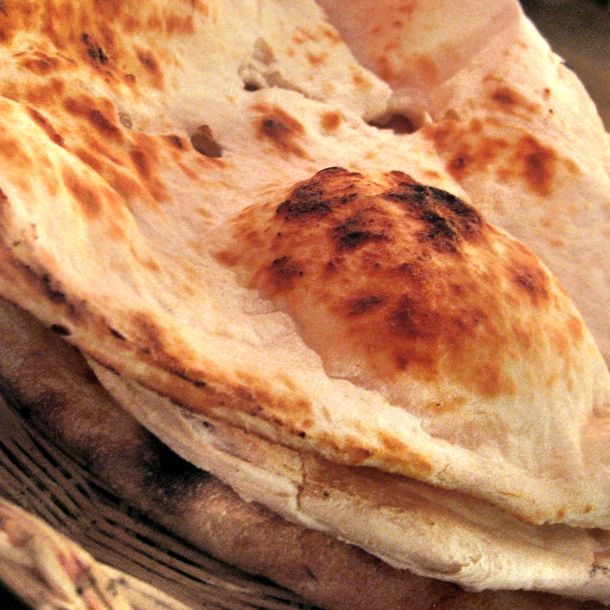 A recipe by Craig Poirier.
Naan: The Flatbread of India
Craig Poirier has done it again. Just the other day he sent me his recipe for Yellow Split Pea Curry over Rice. And now he sends me this great recipe for Naan, which – incidentally – goes very well with his Yellow Split Pea Curry over Rice. Together these two recipes make a simple and perfect Indian meal.
Enjoy!
INGREDIENTS
4 cups all purpose flour
1 1/2 cups warm water
4 TBSP vegetable oil
5 TBSP plain Yogurt
2 tsp sugar
2 tsp salt
1/8 tsp Baking Soda
2 teaspoon yeast
DIRECTIONS
If you are using standard yeast, then you will need to bloom it first. To bloom the yeast, mix sugar and water in a bowl and sprinkle the yeast on top until it blooms, about 10 or 15 minutes. Add the rest of the ingredients and knead, then continue on to Step 2. If you are using instant yeast, just mix all the ingredients together and knead into a nice soft dough.
Form the dough into a ball, then lightly oil the ball and place it in a lightly oiled bowl. Cover the bowl with plastic wrap or a kitchen towel, and let the dough rise in a warm draft-free area until it doubles in size. About 1 to 2 hours. [Alternatively, if you have a bread machine with a dough setting this works GREAT!]
When the dough has doubled in size, knead it down and divide it into 12 balls. Roll each ball in a little flour to stop them from sticking. On a floured surface roll the balls out into a traditional tear drop shape (or round or rectangle what ever you like). Roll them out to 1/4 inch thickness. Preheat the oven to it's highest temperature (usually around 500). If you are using a BAKING STEEL or a pizza stone, make sure that it is in the preheating in the oven too. Keep the dough covered to prevent it from drying out. Allow to rise about 20 minutes while the oven heats up.
Now you are ready for baking the naan. I find the best way to bake naan is to use my BAKING STEEL,but you can also use a pizza stone or, in a pinch, a heavy cookie sheet.
Dampen your hands with a little water and pick up the naan, patting off the excess flour and slightly moistening the naan. Then place the naan directly on the BAKING STEEL, pizza stone or baking sheet. Close the oven door and bake for 3 minutes. The naan should then be puffed up and nicely brown. Remove from the oven with a pizza peel and brush lightly with melted butter. Keep the naan warm until serving!
This recipe makes 12 naan flatbreads.