November 18, 2015
New Orleans Farm-to-Table Restaurant Langlois Celebrates 3-year Anniversary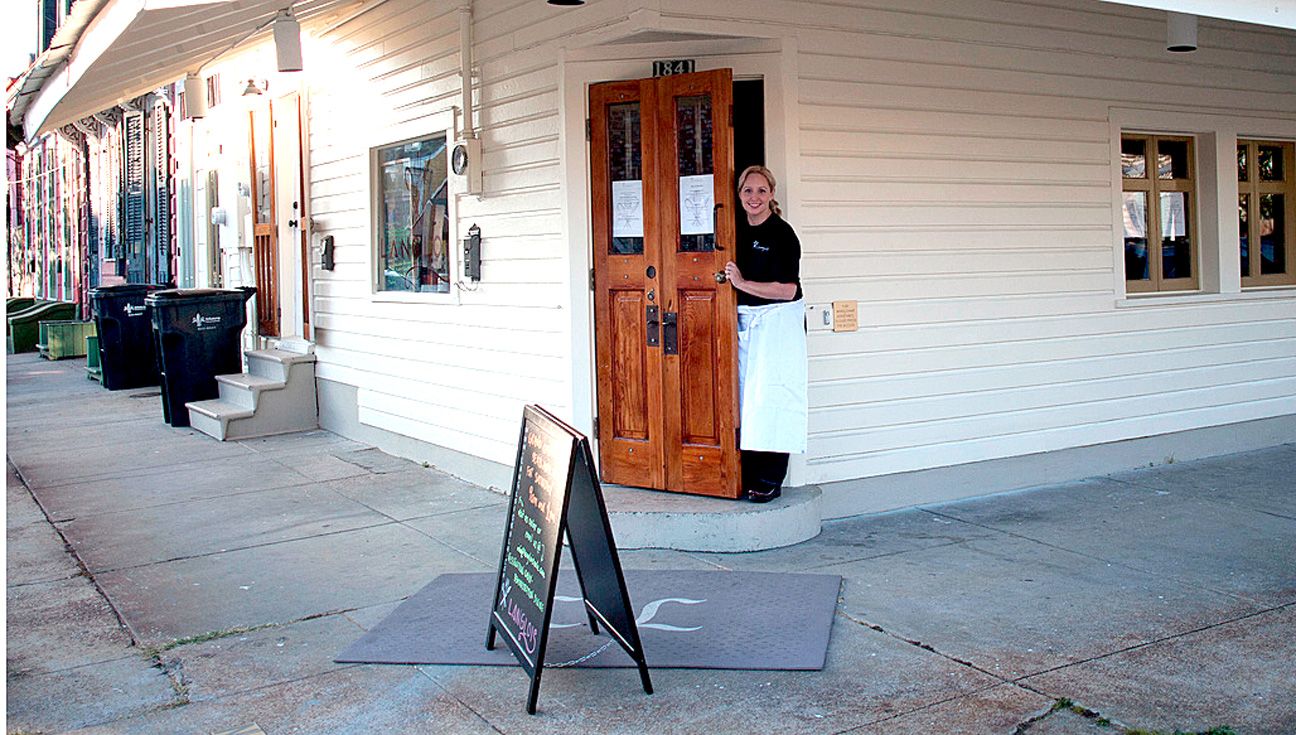 The Cajun/Creole demonstration restaurant in New Orleans expands urban farm properties, future plans
– New Orleans, LA, November 16, 2015
Some people are dreamers. Other people are doers. Chef Amy Sins is both – to the extreme. The Louisiana native turned a life-long dream into reality when she opened Langlois in November 2012. With no formal culinary training or restaurant business experience, Sins transformed a run-down storefront in the Marigny into a stunning, modern Cajun/Creole restaurant in New Orleans that ranks high on dining lists for seasoned travelers and food-savvy locals.
Reaching this three-year milestone – a make-or-break point for most restaurants – hasn't been easy, says Sins. "No one knew what we were at first, and honestly, neither did I," says Sins. "But we've evolved into this dynamic, exciting restaurant and urban farm, and we're growing. We must be doing something right."
Langlois is an unusual restaurant. It's only open a few days a week. The menu changes monthly, and rather than strictly Cajun or Creole, Langlois' "interactive dining experience" menus focus on all of the culinary influences in Louisiana cuisine. One month the menu may be an exploration of the local Vietnamese scene; another menu may delve into the history and influence of Spanish rule in Louisiana. The meal itself is an unconventional dining experience. Sins and her kitchen crew treat diners to an in-depth cooking demonstration that turns into a lively, entertaining three-course meal.
While Sins prepares the meal and spins stories about local food and culture, guests mingle, wander into the open kitchen, and dine at communal tables.
"I tell people it's a cooking demonstration, a supper club, and a local dinner party all smashed into one fun meal," says Sins. "It's how we entertain in Louisiana and a lot like the dinner parties my parents hosted that I adored as a kid. Langlois is my way of throwing a dinner party every night. I get to work front and back of the house."
After three years, Langlois has hit its stride and has big plans for expanding its Crossroads Farm in the Upper Ninth Ward. Through the New Orleans Redevelopment Authority's Green Initiative, Langlois has been granted leases on two additional lots as part of the city's mission to support greening efforts and improve vacant and abandoned, overgrown lots. Sins is in the early stages of building a dining arbor to host outdoor dinners and events, and plans to build an orchard complete with native plants, a firefly garden, and honeybee operation.
"It's been an amazing ride. I get to have fun, do what I love, and share Louisiana culture and food with people. What could be better?" says Sins. "I can't wait to see what year four has in store for us."
Visit LangloisNola.com for more information about Langlois' seasonal, monthly menus and reservations, or call (504) 934-1010.
About Langlois
From mis en place to plate, Langlois' chefs explore Louisiana's distinct culinary heritage, and introduce diners to the history and ingredients of Cajun/Creole cuisine in our state-of-the-art open kitchen. Think: Chef's table meets Cajun/Creole cooking demo with a spontaneous dinner party atmosphere. We also produce custom culinary experiences, including team-building activities, private dinners, cooking classes, and off-site events. Langlois is more than a meal, a restaurant, or a cooking class – we deliver fun New Orleans dining at its finest!
For more information:
Lauren Kaplan
504-934-1010
info@langloisnola.com