November 25, 2012
New Orleans Red Beans and Rice For Those in Need #SundaySupper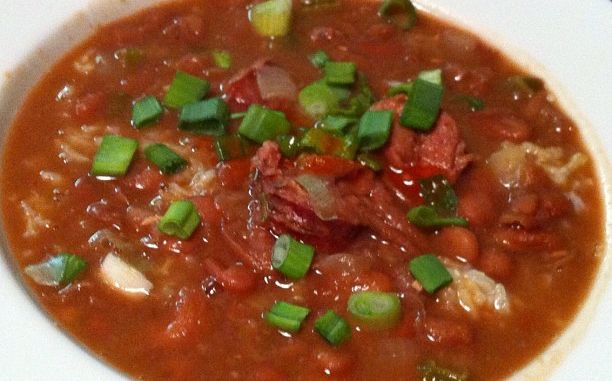 Red Beans and Rice – A New Orleans Tradition
"Red beans and ricely yours."
That's how famous Jazz musician Louis Armstrong used to sign his letters.
Plainly, red beans and rice is not so plain here in South Louisiana. It might be a staple food, but it is spicy, rich, and delicious. And it is a Louisiana tradition.
All across South Louisiana, Mondays are considered Red Beans & Rice days. Legend has it that Mondays were wash days. Back before electric washers and dryers, clothes had to be washed by hand. It was work. And it took time. Lots of time. That meant there wasn't much time for cooking on Mondays. So, folks would put a pot of red beans on the stove on low heat and let them cook down while they did the wash.
Red beans are pretty simple, so folks would throw a ham bone or some sausage into the pot to add a bit of flavor.
Nowadays, this simple dish is simply amazing. Some folks simply cannot abide not eating their red beans and rice on Mondays. Restaurants (and home kitchens too) all across South Louisiana have pots of red beans on the stove on Mondays. What can we say? We like tradition. Tradition is good.
Hurricanes Katrina & Sandy
Red beans and rice is a communal meal, a family meal. It is meant to be shared. It is the perfect meal to share with those in need.
And speaking of those in need….
Down here in New Orleans, we know what it is to be in need. Hurricane Katrina did a number on us seven years ago. It was the storm we always feared would hit us. Food was one of the first things that helped folks feel like things were returning to normal.
In the wake of the storm, Chef John Besh provided red beans & rice for the first responders. Tom Fitzmorris made a new career for himself by tracking and publishing the re-opening of restaurants throughout the city. And New Orleanians scattered across the country longed for their familiar fare and wrote in to the Times-Picayune looking to recover cherished recipes lost in the storm. All those letters and emails sent to the Times-Picayune newspaper were eventually compiled into a book of recipes by Judy Walker and Marcelle Bienvenu. Its title? Cooking Up a Storm: Recipes Lost and Found from the Times-Picayune of New Orleans.
Food is life. Food connects people. Food brings people together.
Hurricane Sandy ravaged the northeast of the country just a few weeks ago. Recovery is still ongoing. Food cannot fix all problems, but it can bring people together, and it can lift the hearts of men, women and children everywhere.
This recipe, New Orleans Red Beans and Rice, is one that can certainly lift the hearts of those going through hard times because of Hurricane Sandy.
Big Pot Cooking For Those In Need
I've said it before, big pot = big love. Share the love. It's meant to be shared.
This is a big pot of beans. There will be plenty to go around. Just make sure that you have enough long grain rice on hand (and New Orleans French bread, if you can get it!).
INGREDIENTS
2 lb dried red kidney beans (I prefer Camellia brand)
2 lb pork sausage (smoked or andouille)
2 yellow onion, chopped
2 green bell pepper, chopped
2 stalk of celery, chopped
4 cloves of garlic, crushed with a mortar & pestle
1/2 teaspoon cayenne
2 teaspoons salt
Freshly cracked black pepper, to taste
2 bay leaves
1 bunch parsley, chopped
1 bunch green onions, chopped
Long grain rice (prepared according to package directions)
Hot sauce for serving (Crystal, Tabasco, or Louisiana Hot Sauce)
DIRECTIONS
Soak the beans overnight in a large bowl. Make sure the beans are covered by at least 3 inches of water.
Drain the water, rinse the beans, and set aside.
Degrease the sausage in a large Dutch oven or stock pot. Remove sausage, slice into half-moons, and set aside.
Sauté the onions, bell pepper, celery and garlic in the sausage grease until softened. Add a little oil (preferably coconut oil or regular olive oil… not extra-virgin), if needed.
Add the beans to the pot along with the sausage.
Pour 16 to 2o cups of water over the beans. Make sure you cover the beans by at least a couple of inches.
Bring to a boil and add the salt, cayenne, and bay leaves.
Reduce heat and simmer, uncovered, for 1.5 to 2 hours, until the beans are tender. Stir occasionally. Add water during simmer, if necessary.
To make the beans creamier, mash some of the beans against the sides of the pot toward the end of the cook time.
Check seasoning and adjust, adding salt, cayenne, black pepper to taste.
A couple of minutes before serving, stir in a handful of the parsley and a handful of the green onions. Provide the remaining parsley and green onions as garnish for individual plates or bowls.
Serve over white rice. Have hot sauce on hand for those who would like to add a little kick to it.
#Sunday Supper
I have lots of friends who just love to cook for #SundaySupper, and they are coming together this week to cook up some recipes to help those in need as a result of Hurricane Sandy.
Just in case you aren't familiar with #SundaySupper, let me explain. #SundaySupper was started by my friend Isabel of FamilyFoodie.com to help bring families together Around the Family Table. It's a wonderful mission, and it's something I feel very passionate about. This is a great group of folks, and I am proud to be among them.
A Word From This Week's #SundaySupper Hostess, Liz Berg
I am delighted to announce the wonderful line up for our upcoming Sunday Supper. How apropos that I am revealing the Helping Hands theme on Thanksgiving. So many of us are graced with an abundance of blessings…never worrying about food, gas, shelter. But just one disaster can change that overnight…just like those who endured the devastation of Hurricane Sandy.

I usually take a plate of cookies or a quick bread when one of my friends or a family is suffering…whether it's a health issue or the wrath of nature, like a hurricane or tornado, food made from the heart offers comfort. But when a family loses a home or their home is rendered unlivable, a piping hot casserole or soup is even more desirable. I hope you are inspired to offer a helping hand…whether through food or a charitable donation. Check back on Sunday to see all these marvelous recipes from my Sunday Supper friends. We will also share a couple links if you'd like to donate to the cause….helping those affected by Hurricane Sandy. When we come together, we can make a difference.
Breakfast and Brunch:
Comforting Casseroles and Entrées:
Warming Soups and Sides:
Sweet Endings:
If you are interested in making a donation to help the hurricane victims, here are links to the two charitable organizations we recommend:...
Please join on us on Twitter for #SundaySupper on November 25, 2012, throughout the day. In the evening, we will meet at 7 PM EST for our weekly #SundaySupper live chat.
All you have to do is follow the #SundaySupper hashtag or you can follow us through TweetChat.
We'd also love to feature your recipe ideas for #HelpingHands on our #SundaySupper Pinterest board so we can share them with all of our followers.