February 2, 2014
New Orleans-Style Hot Tamales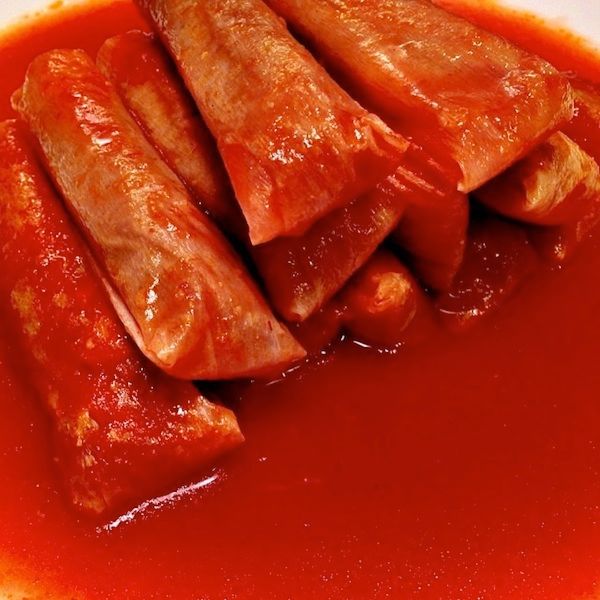 New Orleans Tamales? But Aren't Tamales Mexican?
"New Orleans-Style Hot Tamales" might seem like a strange combination of words, especially if you are familiar with Mexican tamales. But, I assure you, there is such a thing as New Orleans Hot Tamales.
Let me explain.
You see, I've always known these tamale-things as New Orleans-style hot tamales… versus the traditional Mexican tamales. The New Orleans -style hot tamales were made famous by Manuel Hernandez and his Manuel's Hot Tamales… at least in my neck of the woods. Born in Mexico, Manuel started making and selling his hot tamales in New Orleans in 1933, and his recipe was the most popular in the Greater New Orleans Area. In 1960, Manuel moved his business from a cart on the corner of Carrollton and Canal to an actual storefront on Carrollton Ave. When Manuel passed away in 1968, the tamale business was handed down to his son-in-law. Unfortunately, Hurricane Katrina put an end to Manuel's Hot Tamales.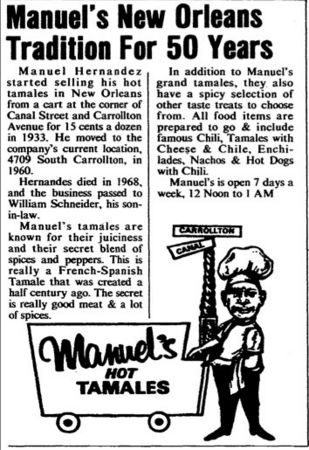 These New Orleans-style hot tamales are still made and sold all across south Louisiana. But what I have recently learned is that New Orleans doesn't corner the market on southern hot tamales. As a matter of fact, they could be considered a member of a larger family of tamales called Mississippi Delta Hot Tamales.
"The Mississippi Delta is the flat alluvial plain that flanks the western part of the state [of Mississippi]." There are a few different theories tracing the origins of tamales in Louisiana and Mississippi, but none of them are conclusive. One thing is certain, however. Tamales somehow migrated north of the Mexican border, and they are here to stay… with a few cultural adaptations, that is.
The Delta hot tamale is a bit larger than the New Orleans variety, and from all appearances it seems to be a closer cousin to the traditional Mexican tamale. But the Delta hot tamale packs the southern spicy punch that is more associated with New Orleans (and several dashes of cayenne!). Like the New Orleans variety, the Delta hot tamale is cooked in a highly seasoned sauce and often served "wet." The main difference is that the New Orleans hot tamale is not encased in a corn-based dough. Rather, it is thinner, only rolled lightly in dry cornmeal before being wrapped in a paper wrapper.
"You Say Tomato, I Say Tomato." You Say Tamale, I Say Hot Tamale!
I lived in Mexico for two years. Tijuana, Mexico, to be exact. That was back in 1989 and 1990. I not only ate a lot of tamales while living in Mexico, I also helped to make them on several occasions.
The Mexican tamale was so different than what I knew as a tamale while growing up in Baton Rouge. The Mexican tamales were thicker, with a full cornmeal casing, and they were wrapped in corn husks and steamed. There were also a variety of fillings: chicken, pork, beef, and even different kinds of dessert tamales that were sweet.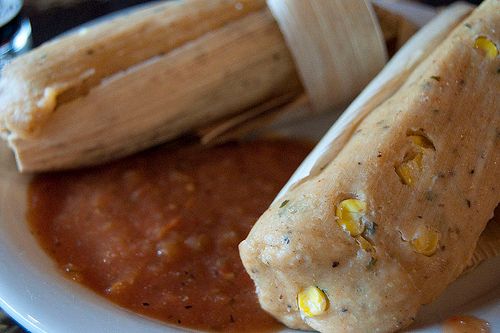 Delta hot tamales look very similar to the Mexican. The difference is in the seasoning and the method of cooking.
The New Orleans-style hot tamales are usually wrapped in paper, not corn husks. And they are thinner… seasoned ground beef rolled in dry cornmeal, wrapped in paper and cooked down in big pot filled with a spicy tomato-based sauce. The cornmeal, by the way, always seems like it's just a gesture… a nod to it's Mexican roots, although the cornmeal does help to hold the beef together.
The recipe below is my adaptation of a recipe that was first published in the Times-Picayune sometime in the 1970s. It is supposedly very close to the original Manuel's Hot Tamale recipe.
Try it out and let me know what you think!
New Orleans-Style Hot Tamales Recipe
INGREDIENTS
For the Tamales
3 lbs of ground beef (ground chuck)
4 medium sweet yellow onions, quartered
3 teaspoons granulated garlic
3 teaspoons cayenne pepper
1 teaspoon freshly cracked black pepper
4 teaspoons coarse-ground kosher salt
1 teaspoon ground cumin
½ cup chili powder
1 8oz can tomato sauce (or can of crushed tomatoes)
½ cup water
1½ cups of yellow cornmeal
100 tamale papers
For the Sauce
1 8oz can of tomato sauce (or can of crushed tomatoes)
1 teaspoon cumin
¼ cup chili powder
Salt to taste
Freshly cracked black pepper to taste
INSTRUCTIONS
For the Sauce
Combine all the ingredients in a medium heavy-bottomed saucepan. Add seasonings to taste.
Bring to a boil, then remove from heat and set aside.
For the Tamales
Put the onions, the seasonings, the tomato sauce, and ½ cup of water in a food processor. Process until the onions are finely chopped.
Place the ground beef in a large glass mixing bowl and pour the seasoned tomato and spice mixture over the meat. Using your hands, mix well.
Place the tamales papers, one at a time and one on top of the other, into a large bowl of water. This step might sound tedious, but it is necessary to prevent the papers from sticking to each other and to ensure that each paper will be completely saturated.
Place cornmeal in a shallow dish and set aside.
Working with about 1 tablespoon of meat at a time, roll it out with your hands into an oblong (cylindrical) shape, then roll in the cornmeal to lightly coat. Wrap each one in a tamale paper, folding over the open ends to completely close in the beef. Repeat this step until all the tamale mixture is gone.
In a large dutch oven or roasting pan, stack the tamales in layers. Each layers should be perpendicular to the layer below it.
Cover the tamales with water, then add the seasoned tomato sauce. Cover and simmer for 2 hours. Check occasionally, and add water as necessary to keep the tamales covered.
NOTES
This recipe yields about 90 to 100 hot tamales.
***Photo of Mexican tamales courtesy of Nedral on Flickr.com.***