September 6, 2009
No-Bake Cookies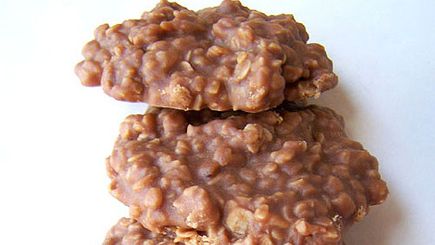 Recipe submitted by andychrism.
No-Bake Cookies
1 stick butter
1/2 cup milk
1/4 cup cocoa
2 cups sugar
3 cups oats (or leftover oatmeal from the morning)
1/2 cup smooth peanut butter (try almond butter, too)
1 tsp vanilla
Directions
Put the first four ingredients in a saucepan.
Boil for 2 minutes, stirring frequently.
Remove from heat and add peanut butter.
Stir.
Add vanilla and oatmeal.
Drop onto cookie sheets to cool.
Photo courtesy of  Back to the Cutting Board on Flickr.com.