April 29, 2014
Of Cookbooks and Pilgrimages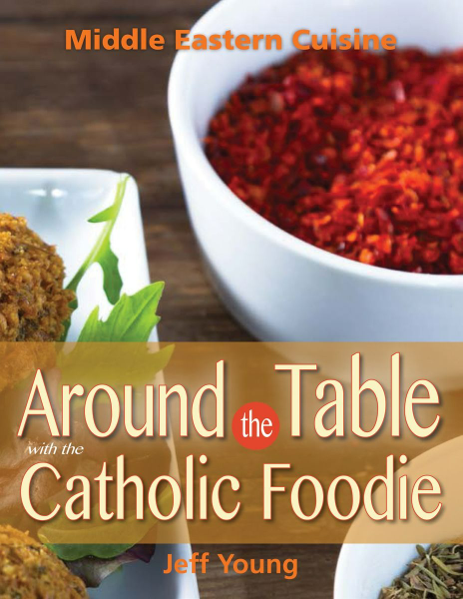 The Cover for My Cookbook is Complete!
I'm so excited! Yesterday I received the cover for my upcoming cookbook published by Liguori Publications. The cookbook is scheduled to be released on November 1, 2014, and the title is Around the Table with The Catholic Foodie: Middle Eastern Cuisine.
Putting this cookbook together has been a lot of fun so far. It's work, of course, but it's fun work.
The book will feature recipes and stories from the first "Food Meets Faith" pilgrimage to Israel (which took place last February), as well as our own family recipes (my wife is Lebanese).
Scenes from #Recipe Experimentation for the #Cookbook
I love to cook, and I have been sharing recipes here at CatholicFoodie.com since 2008. But when it comes to writing recipes for a book, well, I approach that with a certain measure of trepidation. I won't be able to go back and edit those recipes after the book is published, which is something I can do with the recipes I post online.
I want to make sure the recipes are right, and I want to take photos of new dishes that I am including in the cookbook… and take new photos of many of the "old" dishes that I have been making for years. I have been sharing the writing and cooking processes via Instagram, Twitter and Facebook, and I have been blessed by the many comments and "likes" that those posts have received. I want to share of few of them with you here.
You can keep up with the progress by "liking" The Catholic Foodie on Facebook. You can even see all of my Facebook posts right here at CatholicFoodie.com by clicking on this link: http://cfjwyoung.wpengine.com/facebook.
Drop me a line and let me know that you are checking it out. And please spread the word! Thanks!
Registration for the Next Food Meets Faith in the Holy Land Pilgrimage Is Now Open!
And there's even MORE good news! Registration for my next pilgrimage to the Holy Land is now open! The pilgrimage will be from February 26 to March 8, 2015. Fr. Kyle Sanders, a priest of the Archdiocese of New Orleans, will travel with me as the Spiritual Director.
I will have the full itinerary and details for you tomorrow, but we will be basically following the same itinerary as last time… with a few little additions.
In the meantime, you can register now by calling Select International Tours at 1-800-842-4842.
More tomorrow!