August 24, 2014
Pan-Fried Trout with Pistachios and Dill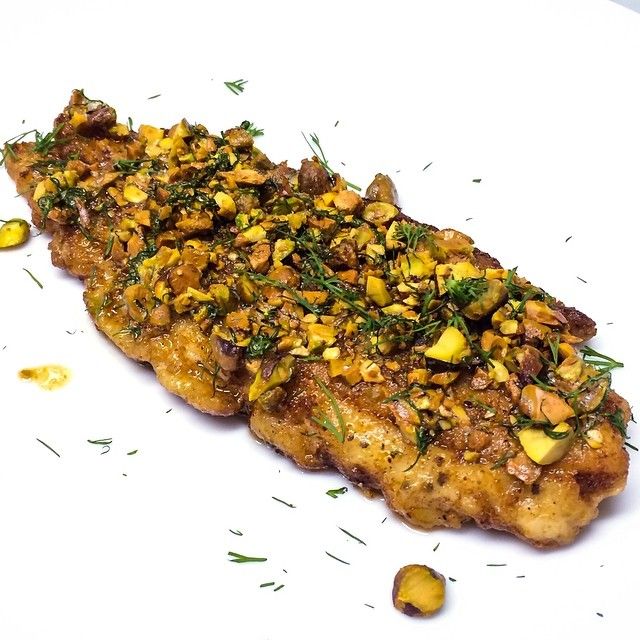 Two popular trout dishes here in south Louisiana (Trout Meuniere and Trout Amandine) are the inspiration behind this Middle Eastern fish dish accented with pistachios and fresh dill.
A Middle Eastern Take on Trout Amandine: Pan-Fried Trout with Pistachios & Dill
It's kind of funny that my only real work experience in a restaurant was as a bartender. I started out as a bartender at Drusilla Seafood Restaurant in Baton Rouge, and I tended bar for five years before entering the seminary (for the second time) to study for the Diocese of Baton Rouge. I started tending bar about a year after I had returned home from studying with Blessed Mother Teresa's priests in Tijuana, Mexico.
I remember having dinner with then-Bishop Alfred Hughes, who was the bishop of Baton Rouge at the time. I had just been accepted into the seminary, and we were having a casual conversation over dinner. He asked me about my experience as a bartender, noting that it seemed an unusual leap – from bartender to priest. I chuckled and said, "Actually, Bishop, there are a lot of similarities between a bartender and a priest. I can't tell you how many confessions I have heard." He started to laugh. "But, you will be happy to know that I have never given absolution, only Absolute." I got a hearty laugh on that one.
Not only was Drusilla Seafood the place where I first met my wife, but it also gave me a great education in the hospitality industry and in preparing seafood dishes. Two of the most popular dishes at Drusilla were Trout Meuniere and Trout Amandine. Granted, those two dishes are basically the same. Both are Trout in Browned Butter, but the Amandine adds toasted almonds to the dish.
Trout Amandine is the inspiration behind this recipe. Speckled Trout is plentiful in south Louisiana, but you can use any firm white fish like Grouper, Black Sea Bass, Red Snapper, or Tilapia. The pistachios and dill go well together, and pan-frying the fish makes for a beautiful presentation.
PAN-FRIED TROUT WITH PISTACHIOS AND DILL RECIPE
INGREDIENTS
½ cup milk
½ cup flour
1 teaspoon Cajun or Creole spices like Tony Chachare's or Konriko
½ teaspoon allspice
Salt, to taste
Freshly cracked black pepper, to taste
4 tablespoons butter, plus 4 additional tablespoons to sauté the pistachios
½ cup roughly chopped pistachios
5 or 6 skinless trout filets
Juice of 1 lemon
2 tablespoons fresh dill
INSTRUCTIONS
Rinse the trout filets and pat dry with paper towels. Set aside.
Combine flour, Cajun or Creole seasoning, and allspice in a wide plate or other dish. Stir well to combine.
Pour milk into a wide high-rimmed plate or other dish.
Season the fish filets with salt and pepper to taste. Use your hands to gently pat the seasonings into the fish, then dip the filets into the milk and dredge them in the seasoned flour to coat.
Melt 4 tablespoons of butter in a large skillet over medium to medium-high heat. Add the filets in batches, but be careful not to overcrowd the skillet. Cook on each side until golden brown, about 3 minutes per side, then transfer to a serving platter. Repeat this process with the remaining batches, adding a little more butter if necessary.
Add the remaining 4 tablespoons of butter to the skillet over medium-high heat. Holding the skillet over the heat (over the burner, but not on it) gently swirl the skillet around so that the butter melts evenly. Continue to cook the butter until the it starts to turn brown, about 5 minutes. Reduce the heat to medium-low, place the skillet back on the burner and add the pistachios. Cook, stirring gently, until the pistachios are toasted, about 2 to 3 minutes. Add the lemon juice and dill, then spoon the browned butter and pistachios over the fish and serve.
Around the Table with The Catholic Foodie: Middle Eastern Cuisine
This recipe for Pan-Fried Trout with Pistachio and Dill is one of 70+ recipes you will find in my new cookbook, Around the Table with The Catholic Foodie: Middle Eastern Cuisine. The book is available now for pre-order from Liguori Publications.