March 14, 2014
Pasta al Tonno e Pomodoro for St. Joseph's Day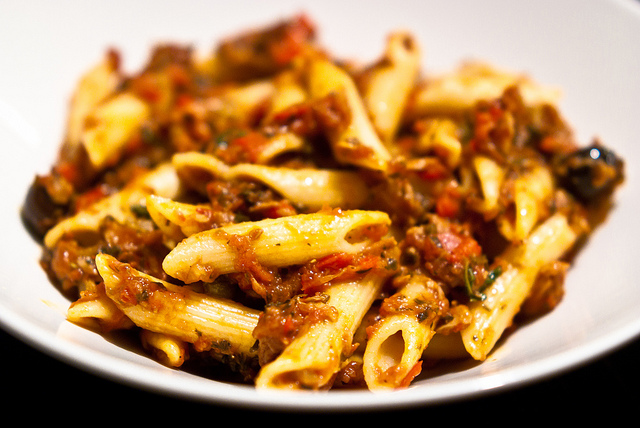 I Bet You Didn't Know that St. Joseph Is Italian 😉
Obviously, that's a joke, right. I mean, St. Joseph was a Jew, a descendant of King David.
So, why the joke?
St. Joseph is credited with saving Sicily from a dreadful famine in the Middle Ages. Each year since then, the Sicilian people have honored St. Joseph in a special way on his feast day as a sign of thanksgiving for his prayers and his protection. That devotion spread beyond Sicily, first to all of Italy and then, eventually, to places all over the world.
In the late 1800s and the early 1900s there was an influx of Italians (mainly Sicilian) immigrants to south Louisiana, primarily around the Greater New Orleans Area. Those immigrants brought with them their contagious love for life and for food. They also brought their strong devotion to St. Joseph.
Each year on the feast of St. Joseph, March 19, there are what we call St. Joseph Altars erected all across south Louisiana, again, primarily in the Greater New Orleans Area. The altars are highly symbolic and they are decorated with all kinds of foods: cakes, cookies, breads in the shape of a carpenter's tools, and breads in the shape of holy symbols like crosses.
But the one thing you will not find on a St. Joseph Altar is meat.
There Is No Meat on a St. Joseph Altar
Why no meat?
Probably because St. Joseph's feast day always falls in the Season of Lent. It may also be because meat was a rarity to the Sicilian peasants of the Middle Ages.
Here in south Louisiana, where no-meat Fridays are a welcome excuse to indulge in our abundant local seafood, it's common to see fried catfish and fried shrimp being served at the at St. Joseph Altar. Another local favorite is seafood-stuffed artichokes. Crazy, I know. But, oh-so-good!
Getting back to the Italian origins… You will always find a pasta with red sauce served at the altar… or, as we call it down here, red gravy. But you won't find just a marinara, though. No. We may not be able to have meat, but we are sure to have seafood in the sauce!
Pasta al Tonno e Pomodoro for St. Joseph's Day
Pasta is a staple of the Italian diet, and there is certainly pasta served at a St. Joseph Altar. But you will not find a Bolognese sauce or Cacciatore sauce, rather you will typically find a fish-based tomato sauce, like a Milanese sauce, which is made with anchovies.
I don't know about you, but anchovies are not my favorite thing. So I am happy that Msgr. Christopher Nalty shared his recipe with me this afternoon of a classic fish-based Italian dish called Pasta al Tonno e Pomodoro, which in English is translated as Pasta with Tuna and Tomato. I am happy to share it with you now here.
Pasta al Tonno e Pomodoro for St. Joseph's Day
INGREDIENTS
3 tablespoons extra virgin olive oil
Dried hot red pepper flakes, to taste
2 cloves of garlic, minced
2 cups Italian plum tomatoes, crushed
½ teaspoon dried rosemary
Freshly ground black pepper, to taste
1 lb penne, linguine or... pasta
1 6 or 7 ounce can of tuna, packed in olive oil (Cento brand preferred)
2 tablespoons of capers
½ cup fresh parsley, chopped
INSTRUCTIONS
Bring water to a boil and salt it.
Drain the oil from the tuna and reserve the oil and flake the tuna. Set aside.
In a large heavy-bottomed skillet, heat the oil from the tuna over medium heat. When hot, add the garlic. Cook, stirring for about a minute, until the garlic starts to soften. Be careful not to burn the garlic.
Add the tomatoes. Cook, stirring, for about 5 minutes, until the tomatoes begin to liquify. Add the red pepper flakes, along with a dash of salt and the freshly cracked black pepper. Stir and cook for an additional 5 minutes.
Add the tuna and the capers, stirring to mix well with the sauce. Remove from heat, toss with pasta and serve.
Garnish with fresh parsley.
How Do You Celebrate St. Joseph's Day?
Let me know in the comments below! Or connect with me on Facebook or Twitter.
***Photo courtesy of stijn on Flickr.com***