April 10, 2014
Pasta Milanese by Chef John Besh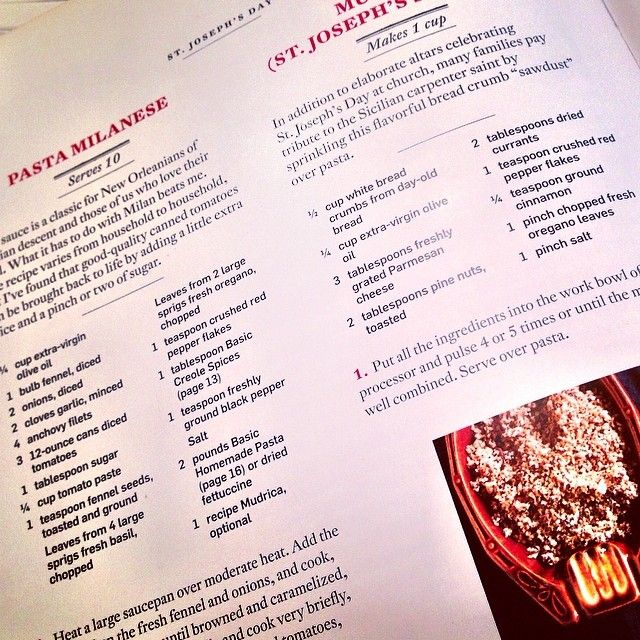 Pasta Milanese for a Friday Meatless Meal in Lent
There is only one week left in Lent, which makes tomorrow is our last Friday of abstinence from meat. Next Friday is Good Friday, which is a day of fasting and abstinence.
A couple of weeks ago, we celebrated one of my favorite feasts: the Solemnity of St. Joseph, Husband of Mary. I wrote and talked about our deeply Sicilian traditions here in New Orleans of honoring St. Joseph by setting up St. Joseph Altars. Though the feast is celebrated as a Solemnity, which trumps any requirements of fasting and abstinence, it is still customary for there to be no meat on a St. Joseph Altar. Some say that is because the feast day always falls in Lent, others say that the tradition stems from the historical dependence of Sicily on seafood for sustenance. Either way, it is still a feast, so meat or no meat, the altars are covered in delicious food.
Chef John Besh and St. Joseph Altars
I published an article on the eve of St. Joseph's feast day about Chef John Besh's Italian Feast Day Besh Box, which he put together in honor of St. Joseph. I was a happy recipient of an Italian Feast Day Besh Box, and I decided to create an "unboxing" video to show you what came inside the box. [If you haven't seen that video yet, I will embed it at the end of this post.]
One of the things I mentioned in that article is that I am not a big fan of anchovies. That can be problematic at a St. Joseph Altar since one of the traditional centerpiece dishes is, in fact, made with anchovies. I'm talking about Pasta Milanese. I'll eat it, of course. But I have never ventured to make it myself. As a matter of fact, I ended up making Pasta al Tonno e Pomodoro for the feast day this year because I really like tuna.
But you shouldn't have to suffer because I'm not a fan of anchovies. Lucky for us, Chef John Besh included a recipe for Pasta Milanese in the Italian Feast Day Besh Box. The recipe below is actually from his cookbook My New Orleans, and I am sharing it with you here with permission.
Enjoy!
"This sauce is a classic for New Orleanians of Sicilian descent and those of us who love their food. What it has to do with Milan beats me. The recipe varies  from household to household, but I've found that good-quality canned tomatoes can be brought back to life by adding a little extra spice and a pinch or two of sugar." – Chef John Besh
Pasta Milanese Recipe by Chef John Besh
INGREDIENTS
¼ cup extra-virgin olive oil
1 bulb fennel, diced
2 onions, diced
4 anchovy filets
3 12-ounce cans diced tomatoes
1 tablespoon sugar
¼ cup tomato paste
1 teaspoon fennel seeds, toasted and ground
Leaves from 4 large sprigs fresh basil, chopped
Leaves from 2 large sprigs fresh oregano, chopped
1 teaspoon crushed red pepper flakes
1 tablespoon Basic Creole Spices*
1 teaspoon freshly ground black pepper
Salt
2 pounds Basic Homemade Pasta** or dried fettuccine
1 recipe Mudrica***, optional
INSTRUCTIONS
Heat a large saucepan over moderate heat. Add the olive oil, then the fresh fennel and onions, and cook, stirring occasionally, until browned and caramelized, 10 - 15 minutes. Add the garlic and cook very briefly, then stir in the anchovies. Add the diced tomatoes, sugar, tomato paste, ground fennel, basil, oregano, pepper flakes, Creole Spices, and black pepper to the pan. Simmer the sauce for 1 hour, stirring occasionally.
Bring a large pot of salted water to a boil over high heat. Add the pasta and cook until just tender. Drain the pasta. Serve the pasta in a serving dish with the tomato sauce ladled on top. Sprinkle the Mudrica over the sauce, if you like.
NOTES
*Basic Creole Spices is a recipe that Chef John Besh includes on page 13 of his book. It includes following spices: 1 tablespoon each of sweet paprika, coarse sea salt, freshly ground black pepper, garlic powder, and onion powder / 2 tablespoons of celery salt / 2 teaspoons of cayenne pepper / and ½ teaspoon of allspice.

**Basic Homemade Pasta is found of page 16 of his book, but you can also use store-bought pasta.

***Mudrica is traditionally referred to as "St. Joseph's Sawdust" and it is used to top each serving of Pasta Milanese.

Chef John Besh's recipe includes the following: ½ cup white bread crumbs from day-old bread, ¼ cup extra-virgin olive oil, 3 tablespoons freshly grated Parmesan cheese, 2 tablespoons toasted pine nuts, 2 tablespoons dried currants, 1 teaspoon crushed red pepper flakes, ¼ teaspoon ground cinnamon, 1 pinch chopped fresh oregano leaves, 1 pinch of salt.

Put all the ingredients into the work bowl of a food processor and pulse 4 or 5 times or until the mixture is well combined. Serve over pasta.