March 28, 2014
Pescado al Horno for #NoMeat Fridays in #Lent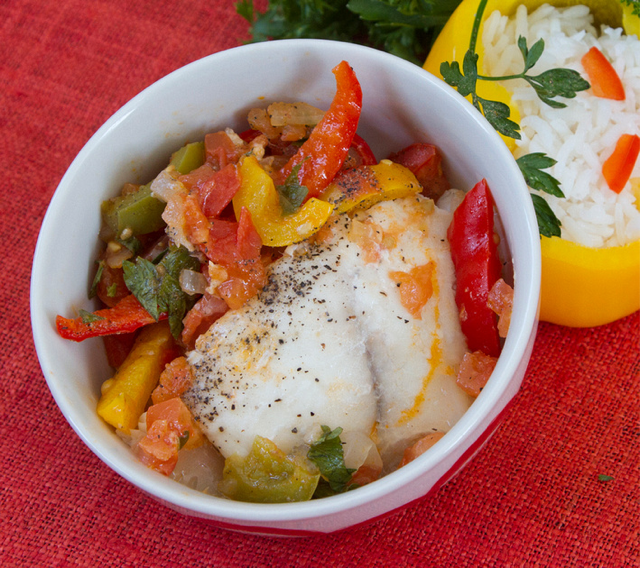 Pescado al Horno: Traditional Dish of the Philippines
This week's meatless #recipe recommendation from CRS Rice Bowl hits close to home for me. Not only is my friend and fellow Catholic foodie Fr. Leo Patalinghug cooking this very recipe in the video below (he is also a filipino!), but this recipe involves fish!
I have shared with you – on more than one occasion, I know – that, for me, Lent was all about fried catfish when I was growing up. It's still hard for me to think about eating anything else on Fridays in Lent. My mind automatically gravitates toward catfish. I'm sure those fish sticks my mom fed me as a very young child helped to ingrain the Friday-fish connection in me. 😉
Of course, catfish is plentiful down here in south Louisiana. It is readily available, and it is inexpensive. So it's not a bad thing to have on a Lenten Friday (or any other Friday either).
This recipe, however, uses tilapia instead of catfish. Tilapia is a firm white fish that is perfect for fish tacos. It also happens to be indigenous to the Sea of Galilee. It is the fish that St. Peter used to catch on a daily basis… That is, before he became a fisher of men. 😉
Tilapia are still caught today on the Sea of Galilee and they are prepared in the traditional way in restaurants surrounding the sea. They call it St. Peter's Fish.
The following recipe is a traditional preparation of tilapia in the Philippines, and it is delicious. I highly recommend it for a Friday Lenten meal with the family gathered around the table.
Enjoy!
Pescado al Horno Recipe
INGREDIENTS
4 tilapia fillets, about 6 oz. each
1 tsp lemon juice
Salt and freshly ground pepper to taste
⅓ cup fair trade olive oil
1 onion, finely minced
1½ cups chopped tomatoes
½ cup pepper (pimento or red bell), cut into strips
1 Tbsp finely minced parsley
INSTRUCTIONS
Preheat oven to 350°F.
Season tilapia with lemon juice, salt and pepper. Place in a shallow glass pan and set aside.
Heat olive oil in a medium skillet and sauté onions, tomatoes, and pepper until soft. Pour over fish, and sprinkle with parsley.
Bake for 25 minutes and serve with rice.
Fr. Leo Cooks Pescado al Horno