November 23, 2012
Pumpkin Coconut Soup: A Perfect And Simple Fall Soup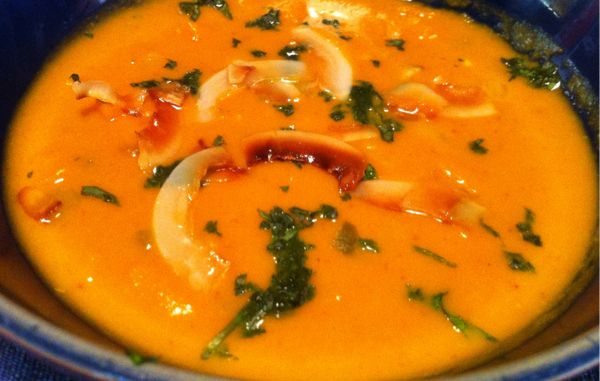 Pumpkin and Coconut Soup: A Perfect And Simple Fall Soup
Simple is good, especially around the holidays. This Pumpkin Coconut Soup is perfectly simple.
Only a few ingredients and a handful of steps yield a soup that really pops. This is comfort food at its finest.
This Pumpkin Coconut Soup recipe makes a delightful appetizer to any fall dinner party.
INGREDIENTS
3 medium carrots, chopped
1 medium sweet yellow onion, chopped
1 tablespoon coconut oil
1 15 ounce can pumpkin
1 14 ounce can unsweetened coconut milk
2 cups chicken stock
2 tablespoons packed brown sugar
2 medium fresh jalapeño peppers, seeded and finely chopped (reserve some seeds for the soup)
3/4 teaspoon salt
2 whole all-spice seeds
1 dash of cumin
1 teaspoon freshly ground ginger
1/4 teaspoon crushed red pepper flakes
2 tablespoons fresh cilantro, chopped
Raw coconut flakes, toasted (used for topping / garnish)
DIRECTIONS
In a large saucepan, sauté the carrots and onion in hot coconut oil over medium heat for about 5 minutes or until veggies are nearly tender.
In a large mixing bowl, combine pumpkin, coconut milk, and chicken stock. Stir in brown sugar, jalapeno pepper, salt, all-spice seeds, cumin, red pepper flakes and ginger. [Note: Add as many of the reserved jalapeño seeds as you like, to add heat.] Stir pumpkin mixture, then pour into the sautéed carrot mixture.
Bring to a boil, then reduce heat to medium-low.
Simmer, uncovered, about 10 minutes or until heated through. Stir frequently.
Before serving, stir in cilantro.
Top individual bowls with toasted coconut flakes and cilantro.
Makes 12 (1/2-cup) servings.
Toasting The Coconut Flakes
To toast the coconut flakes, heat a small amount of coconut oil in a skillet on medium heat. The amount of coconut oil will depend on how much you are toasting. Add the coconut flakes to the skillet. Stirring frequently, keep watch until the flakes have browned. Be careful not to burn the flakes.
The coconut flakes add a sweet crunch to this simple soup.