November 2, 2014
Pumpkin Soup with Kale and Kafta (Lamb Meatballs)
The cool weather of fall is here and it's so comforting to keep warm with a bowl of hot soup. I have to admit that I stumbled upon the recipe for this particular soup – Pumpkin Soup with Kale & Kafta – quite by accident.
In my new book, Around the Table with The Catholic Foodie: Middle Eastern Cuisine, I tell the story of first encountering the original version of this soup, which was made with Italian sausage, not lamb meatballs. That soup was served as a fall sample at our local farmers market by local chefs David & Torre Solazo. On that crisp fall morning, Chefs David and Torre handed out copies of the recipes along with the free samples. I loved that savory pumpkin soup and made it a handful of times over the course of a couple of years.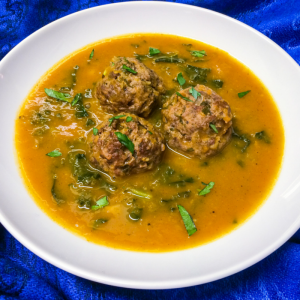 Fast-forward to this year. I was in the middle of writing my first book and I was still trying to flesh out the final list of recipes. I needed another soup, but I was out of ideas. Providentially, as we were planning our family menus for the weekend, my wife suggested making the pumpkin soup. I went to the freezer to see if I had any Italian sausage. I did not. But I did have ground lamb, and that sparked the idea of changing this soup's flavor profile from Italian to Middle Eastern.
I made it and it was a hit. This Pumpkin Soup with Kale and Kafta is now one of our family favorites!
A Note about Kafta
Lamb is a favorite in our house. At large family gatherings on my wife's side the tables are usually covered with Lamb-Stuffed Grape Leaves, Kousa Mahshi (stuffed squash), Hummus, Pita (which used to be called Arabic Bread or Syrian Bread), Tabbouleh, Baba Ganoush, Labneh, different types of Kibbeh, and sometimes even lamb chops or racks of lamb.
Traditionally, Kafta is not rolled into meatballs. It's formed around metal skewers and grilled over an open fire like Shish Kebabs. I had Kafta served on skewers a few times on my recent pilgrimage to the Holy Land. For the purposes of this soup, I like the meatballs better. You can broil them in the oven, or cook them in a hot skillet. Either way, you really just need to brown them. They will finish cooking after you add them to the soup.
One of the #Recipes from the Book Launch Party!
This soup will be one of the recipes from the book that Chefs Keith & Nealy Frentz of Lola Restaurant will prepare for the launch party for my new book!
On Tuesday, November 18, 2014 from 7:00 to 10:00 PM Chefs Keith & Nealy Frentz of Lola Restaurant will prepare and serve a 5 course Middle Eastern meal using recipes from my cookbook. Tickets are being sold in advance, as only 60 seats are available. Tickets are on sale now here: Have Dinner with The Catholic Foodie.
Tickets include a 5 course dinner and a signed copy of the cookbook. Wine for the evening is included in the ticket price, and so are tax and tip. As part of the evening, I will share a few stories about food & faith in the Holy Land and share insights about the courses served that night.
You can reserve your seat by purchasing tickets here: Have Dinner with The Catholic Foodie.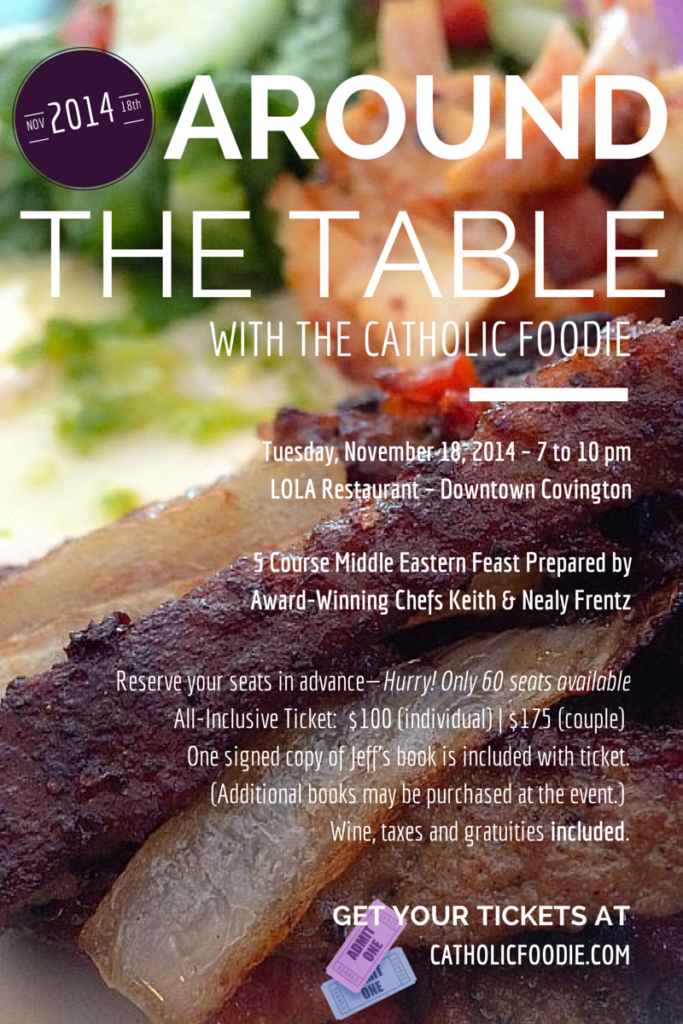 Pumpkin Soup with Kale and Kafta (Lamb Meatballs) Recipe
INGREDIENTS
For the Kafta (Lamb Meatballs)
2 pounds ground lamb (beef ground round can be substituted)
1 large sweet yellow onion, finely chopped
4 cloves of garlic, well crushed with a mortar & pestle (or just minced)
6 tablespoons of fresh parsley, chopped
2 tablespoons of fresh mint, chopped
1 teaspoon freshly cracked black pepper
2 teaspoons of kosher salt
1⁄2 teaspoon cayenne pepper, or to taste
1 teaspoon allspice
1 teaspoon cinnamon
1 teaspoon cumin
For the Soup
2 medium yellow onions, diced
4 ribs of celery, diced
1 med pumpkin, cleaned, peeled, and cut into 2-3 inch pieces
2 tablespoons garlic, chopped
1 gallon chicken stock
1 batch of Kafta (lamb meatballs... see page 148), browned
1-2 heads of kale, cleaned and chopped into 2 inch pieces
Salt and freshly ground black pepper, to taste
Cayenne to taste
1 teaspoon ground allspice
1 teaspoon ground nutmeg
1 tablespoon ground cumin
2 tablespoons of olive oil
INSTRUCTIONS
For the Kafta (Lamb Meatballs)
Preheat grill or oven to medium-high heat. If you are cooking them in the oven, then set it to Broil.
Mix all ingredients together and roll into meatballs. The size can be determined by the chef.
Cook on the grill or broil in the oven, turning at least once for even cooking. Cook time depends on heat of the grill or oven and the thickness of the kabobs. Alternatively, you can brown them in a skillet on the stove set to medium to medium-high heat.
For the Soup
Sauté the onions and celery until translucent.
Add the garlic and the pumpkin. Continue to sauté for 5 minutes.
Cover with the chicken stock. Bring to a boil, then reduce to a simmer.
Season with salt, pepper, allspice, nutmeg, cumin, and cayenne. Cook until pumpkin is soft, about 25 to 30 minutes.
Puree the pumpkin with an immersion blender or a regular blender (or food processor). Please note: make sure that your blender or food processor can be used with hot liquids. Some blenders require that the soup must be totally cooled before blending.
Return the soup to the pot and add the lamb meatballs and kale and simmer
on medium to medium-low until the meatballs are fully cooked and the kale is softened, about 25 minutes.
Bring the Holy Land & Middle Eastern Cuisine into Your Home with My New Book!
"The savory cuisine of the Holy Land will bring new flavor to your table and new meaning to your faith. Gather round and let the incomparable Catholic Foodie, Jeff Young, show you how to prepare delectable recipes, while he shares fascinating stories of food
and faith in the Holy Land."
Around the Table with The Catholic Foodie: Middle Eastern Cuisine is available at Liguori.org, Amazon.com, Aquinas & More, Pauline Books & Media and at your local Catholic bookstore.