November 8, 2011
Puree of Pumpkin, Kale and Italian Sausage Soup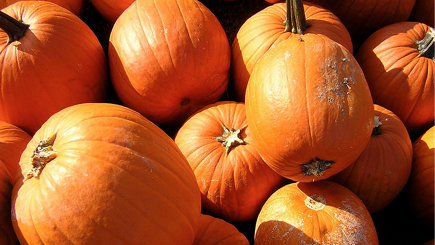 Adapted from a recipe for Puree of Pumpkin, Kale and Italian Sausage Soup from one of our favorite restaurants, Ristorante Del Porto in Covington, LA.
Another cold front is moving in. That means that we thin-skinned southerners are going to "freeze" for a few days. So, to keep my family warm, I'm pulling out a fall favorite. Give this one a try and you'll see why we love it so much.
This recipe comes from one of our favorite restaurants, Ristorante Del Porto in Covington, LA. I interviewed David and Torre Solazzo, the owners and chefs of Del Porto, back on episode 89 of the Catholic Foodie (Happy Chefs). Incidentally, I shared this very recipe on episode 99 (Just in the Nick of Time).
In general, I'm not a fan of kale. But I love it in this soup. This certainly is good eats!
Ingredients
2 med Yellow Onions, diced
4 ribs of Celery, diced
1 med Pumpkin, cleaned, peeled, and cut into 2-3" pieces
2 Tbs Garlic, chopped
1 gallon Chicken Stock
2.5 lbs. Loose Italian Sausage
1-2 Heads of Kale, cleaned and chopped into 2" pieces
Salt & Pepper to taste
Cayenne to taste
2 Tbs Olive Oil
Directions
Saute onions and celery until translucent. Add the garlic and the pumpkin. Saute for 5 minutes. Cover with the chicken stock. Bring to a boil, then reduce to a simmer. Season with salt, pepper and cayenne. Cook until pumpkin is soft. Puree with a hand blender or a regular blender. Please note that if you are using any blender other than a vita-prep (or Cuisinart), the soup must be totally cooled.
Return the soup to the pot and add the sausage and kale.
To prepare the sausage, make 2 inch patties out of the sausage and fry them hard on high heat until they are brown on both sides (they don't have to be cooked all the way). Remove from grease. Let cool. Then chop into 1 inch chunks.
Many thanks to Ristorante Del Porto in Covington, LA for the original recipe. I have changed a few things here to make it according to our tastes.
***Image courtesy of DrBacchus on Flickr.com.***