July 22, 2010
Real Men Drink Tea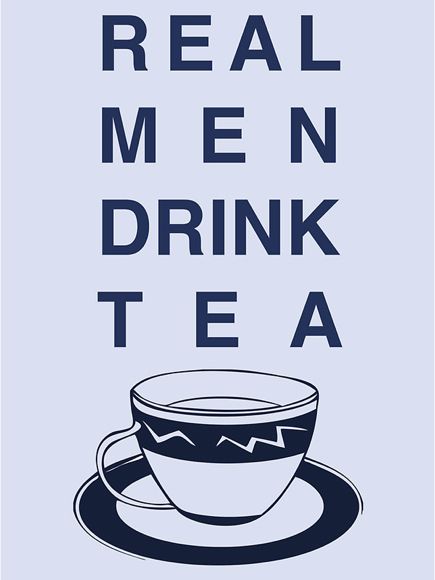 "Real men drink tea."
That's what the sign said. Really.
I had heard about this place, The English Tea Room in downtown Covington, LA. Char had been there a handful of times. And a good friend of mine has been there once. He loved the Shepherd's Pie and told me that I had to try it. From what I've heard, the front door doesn't see many men walk in.
But today this man went.
It wasn't planned. Not at all. A flat tire got us there. The tire shop is right around the corner, and the mechanic told us that it would take an hour and a half to fix the tire. Char talked me into walking around the corner to The English Tea Room. And, yes, she had to talk me into it.
I wanted to go to one of our favorite coffee spots just down the street. See, I don't really drink tea. It's not that I don't like it. I do drink it from time to time in the winter, or when I feel under the weather. But it is not something I think about otherwise. I'm a coffee drinker. And I drink coffee every day. Lots of coffee. Before the tire incident, I had had only one cup of coffee. Definitely not enough. But I have to say that I am very glad Char talked me into going to the tea room.
We did not have breakfast. We had an experience.
Walking through the door was like walking into an English village cafe. China tea cups of myriad designs lined the many shelves throughout the several rooms of the establishment. It was more like a home than a cafe or restaurant. Actually, it used to be a home. Cozy is the word that came to mind. I know it is probably a terrible stereotypical thought, but I couldn't help but think about A&E series of Agatha Christie's Miss Marple, the one that starred Joan Hickson. I loved that show. Mainly because I love murder. Mysteries, that is.
Martin, the manager, warmly welcomed us with his beautiful British accent and a big smile. He sat us in a room all by ourselves. I appreciated that, especially because I did not know how the kids were going to behave. Everything was so proper. Proper, yet cozy. Just behind the table there was a hat rack. It was cluttered with several wild hats that reminded me of Alice in Wonderland. Christopher looked like the Mad Hatter!
Oh, and the Queen joined us for breakfast! After we ordered, Martin carried in a life-sized cut-out of Queen Elizabeth II. We all got a kick out of that.
We started with tea and scones. The kids had the Chocolate Chai tea. Char and I shared a pot of Bora Bora Mango. And the scones? Wow. Two freshly-baked scones adorned the plate, and in between them sat a condiment tray of three small glass bowls filled with strawberry preserves, lemon curd, and coddled milk. I had never tried coddled milk before. I like!
I admit it. Looking at the menu I was absolutely stumped on what to order. The full menu was available, not just breakfast. I say that I was stumped, but that is really not true. I knew deep down that I had to get the Shepherd's Pie. But what was the harm in dreaming about other things I could order?
In the end, the kids had more scones. And more Chocolate Chai. Char ordered the Eggs Benedict (Poached egg and Canadian bacon served on top of an English Muffin topped with mock hollandaise sauce – doesn't that sound good?). I ordered the Shepherd's Pie (ground beef, diced carrots, peas and a rich gravy, topped with mashed potatoes). Mine came with a side salad of Romaine, baby spinach, carrots, and red onions. I asked for the bleu cheese dressing. Yum!
While waiting on our meal to be prepared, Char and I ordered two more pots of tea; she the Irish Breakfast Cream, and I the Monk's Blend.
I can't tell you how much I loved the Shepherd's Pie. Wow. Gravy served on the side, which I, of course, poured a generous amount over the pie. It was so good! And the salad was perfect. I loved the red onions. But that's just me. The bleu cheese dressing was creamy, with a slight tang and just enough bite.
Char must have liked the Eggs Benedict. She made a happy plate.
With heart full of gratitude, I confess that this was the most enjoyable breakfast I've had in a long, long time. We lingered at table. And not just because we were waiting on our tire to be repaired. We would have lingered anyway. It's a lingering sort of place.
Before leaving we strolled through the rest of the house. I even peeked into the kitchen and said hi to the two ladies working in there. Small. Homey. A delightful kitchen, really. The rest of the house was just as joyful as the room where we dined. And we discovered that Martin is a poet! He had a delightful little nook lined with books, mostly poetry, which were all for sale. One book in particular caught my eye. Dead Funny Dead Serious. It was a book of poems penned by Martin himself! He graciously autographed a copy for us. I love the inscription he wrote:
"May you giggle more than cry!"
Perfect.
With congenial conversation Martin walked us to the door. We found it hard to leave. The place was so peaceful. Like another world. But, life called. And so did the mechanic.
I promised Martin that I would return and bring my recorder so that I could interview him for the Catholic Foodie podcast. I will do that soon.
We left. Full and peaceful.
If you ever find yourself in Covington, LA, I highly recommend that you pay Martin a visit. Not only will you not be treating yourself to tea or breakfast or lunch, but you will be treating yourself to an unforgettable experience.
And if you ever end up there, let me know! I'd love to relive my first experience through yours.
Cheers!