May 15, 2013
Recipe for Joy and Culinary Kids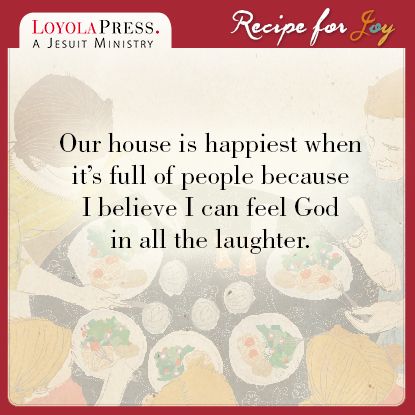 Around The Table Food Show for May 10, 2013 – Recipe for Joy and Culinary Kids
What an exciting show!
On Friday, May 10th we interviewed Robin Davis, author of Recipe for Joy, recently published by Loyola Press. I recently wrote a review of the book and posted a podcast interview with Robin on CatholicFoodie.com.
We also welcomed Sherri Hansen on the show to talk about her work with Culinary Kids. I love what she has to say, and I just want to go hang out and have fun over at her place in Mandeville, LA. It sounds like so much fun! It also epitomizes what we are about on the Around The Table Food Show… connecting with family and friends around the table.
Recipe for Joy
Listen to the radio conversation we had with Robin below. And read the book too. I highly recommend it. It is an inspiring story, one that can help all of us find joy in the midst of a hectic life that often dishes out suffering and heartache when we are really hungry for love. This message is for all of us.
Culinary Kids
From the Culinary Kids website:
Our goal is to develop and connect with kids and families. Certifications, advanced training and continuing education ensures that they are always up-to-date with fresh ideas, sound teaching principles and great new recipes!

Sherrí brings over 15 years of youth education, program development and nutritional management experience back home to Mandeville.

Career work includes instructor with the San Diego Zoo's Education Department, Personal Trainer and Nutritional Consultant with 24 Hour Fitness, Youth Health and Fitness Programs for YMCA Virginia, Community Programs and Youth Education Department Director with the San Diego Humane Society and she opened and directed a new Boys and Girls Club facility serving Washington State. As a military family, relocations took place throughout her career, yet her focus remained on the education and mentorship of children in the community. Now home in Louisiana with her husband and three young boys (another on the way!), she's thrilled to settle into a position that supports the specific needs of children and families in OUR community.

Sherrí applies her nutritional knowledge and experience with dietary restrictions (one child diagnosed with Celiac Disease) to all Culinary Kids curriculum. She is passionate about offering services to support dietary restrictions, allergens and special needs conditions in children and adults.
Recipes from the Show
Fish Tacos… Finally!
I shared a recipe for fish tacos… Yes, the same recipe we promised to give you last week when we ran out of time. So, you can finally hear it on this show!
Robin Davis also talked about some of the recipes in her book… like her Warm Goat Cheese Salad… YUM!
Listen below or download the show as an MP3 file here: ATT005.mp3.
Around The Table Food Show
Around the Table Food Show is a radio show that talks about food and faith. Around The Table celebrates the joy of cooking and dining, and it encourages folks to get into the kitchen and to gather around the table with family and friends… Because good things happen around the table.
Around the Table Radio highlights the local culture and cuisine of south Louisiana. The show is hosted by Dave Dawson and myself. Dave Dawson is the president of Catholic Community Radio, which has stations in both Baton Rouge and New Orleans.
The show airs on Fridays at 3PM Central in Baton Rouge (on 1380 AM) and New Orleans (on 690 AM), right after The Divine Mercy Chaplet. The listening area spans from the Mississippi/Alabama border all the way to the Atchafalaya Basin.
Each broadcast is recorded, archived, and released as a podcast. You can subscribe to the podcast on iTunes.
We are looking for sponsors for the show. If you, or someone you know, could benefit from the incredible reach that these two radio stations have (talk about advertising exposure!), please do contact me at 985-635-4974 or email me at jeff [at] catholicfoodie.com.