May 17, 2015
Red's Chinese: Not Your Mama's Chinese Takeout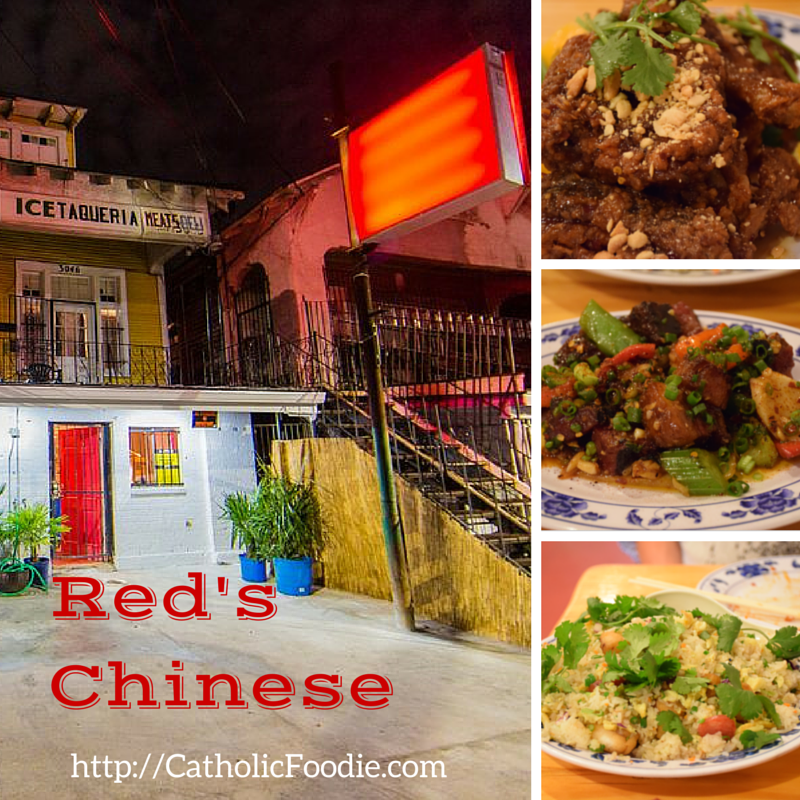 We finally made it. After hearing rave reviews from our parochial vicar Fr. Peter Finney, and seeing pics and comments from Chef John Besh on Twitter (on more than one occasion!), and seeing write-ups and reviews in newspapers and on blogs… We. Finally. Made. It.
Granted, Red's Chinese just opened in December on St. Claude Avenue in New Orleans, but all the positive reviews had my wife and I chomping at the bit to get over there and try it ourselves.
You see, we are all about the experience. Yes, everything we heard said that the food was out of sight. But it didn't stop there. We kept hearing about the experience.
And last Saturday, we made it. Red's Chinese did not disappoint.
A St. Claude Ave. Hideaway Oozing Character
Inauthentic and out-of-ordinary. These were some of the words we heard used to describe Red's Chinese. And not just the food. But the place itself. And those inauthentic comments… well, those were compliments.
Housed in an old grocery store on St. Claude Avenue in the Bywater area of New Orleans, Red's Chinese might be easy to miss if you don't know what you are looking for. You won't find modern signage with"Red's Chinese" scrawled across it in large letters. No fancy logo can be seen from the street. But what you will find is a plain red florescent square sign shining in the New Orleans night… unless you go in the daytime. In the daytime the sign is still there. It's just not shining.
The place isn't much to look at from the outside. As a matter of fact, if Google hadn't told us we were in the right place, I would have wondered. The place looked closed.
I opened the front door and instantly knew I was where I was supposed to be. The smells hit me first. Wow. With an open kitchen to the right, separated somewhat by a counter-service area with stools for guests, the dining room proper opened up before us. It reminded me of a shotgun house. An eclectic shotgun house. If they were going for inauthentic, out-of-the-ordinary and fun, then they nailed it. The ambiance was perfect.
Here's how Sarah Baird from The Gambit described the restaurant: "Chef Tobias Womack's restaurant feels like a David Lynch-designed hideaway, with ruby-colored lighting and juxtaposed strip-mall Chinese restaurant baubles and thought-provoking photography. It's glitz-meets-gaudy for those with an adventurous spirit and sense of humor."
The kitchen staff and the waiter greeted us warmly and invited us to find a table. We nestled into a close table and dove into the menu.
Professional, Friendly Service that Anticipates Your Needs
Richard was our waiter, and he was having way too much fun. When he first approached the table and asked if we knew what we wanted – just by his demeanor – I knew this was going to be a great lunch.
Richard is a professional waiter, having worked in some of New Orleans' best restaurants over the years. And we could feel the passion he has for what he does… and we could tell immediately that he loves waiting tables at Red's. During the course of our lunch, I learned that Richard had started working there only 7 weeks ago. He came in for dinner one evening, tried the food, and knew right away that he had to work there. It was that simple. And it seems to me that the food and the service compliment each other well at Red's.
I knew what I wanted to order before we even got to the restaurant. I really had my eye on the Kung Pao Pastrami. It just sounded so… unique. And it was the dish that Fr. Peter Finney recommended. But then I look at the menu. There were so many dishes that looked so good! I wanted to try them all, but that wasn't feasible.
We asked Richard what he recommended. "Oh, that's easy," he said. "This is your first time here. You have to get the fried chicken and the Confetti Rice."
I said, "Yes, I'm looking at the chicken. I love fried chicken. But I heard that the Kung Pao Pastrami is ridiculously good."
"Oh, it is, he said." "Don't worry. I'll bring you a sample of the Pastrami. And y'all can split the fried chicken and the Confetti Rice."
I'm so glad we listened to Richard.
You'll see pics below of the dishes he brought to the table.
And the "sample" that Richard brought us? It was way bigger than I anticipated. Very generous. And, yes, it was ridiculously good. Highly recommended!
Playfully Inauthentic Chinese with Pack-a-Punch Flavor
To actually describe the dishes… well, I really wouldn't know where to start. It was one of the best lunches we have had out in a long, long time. And not just the food… the whole experience. The food was, of course, out of this world. Not your Mama's Chinese takeout. No. Red's is playfully inauthentic, and I think you'll love it.
Highly recommended!
Kung Pao Pastrami – Smoked pastrami, rice cakes, Szechuan peppercorns, and holy trinity (onions, bell pepper and celery).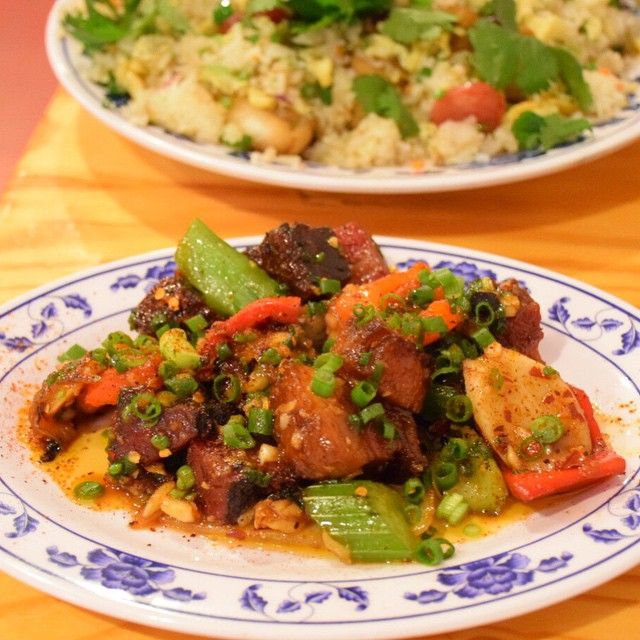 General Lee's Chicken – Fried half-chicken, bourbon soy, fried peanuts, chili, cilantro.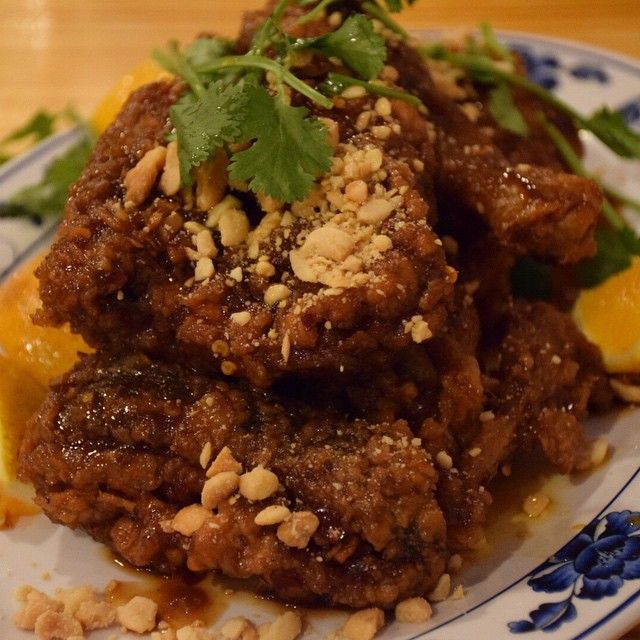 Confetti Rice – fried Monk fish, Chinese sausage, garden greens, bacalao, and egg.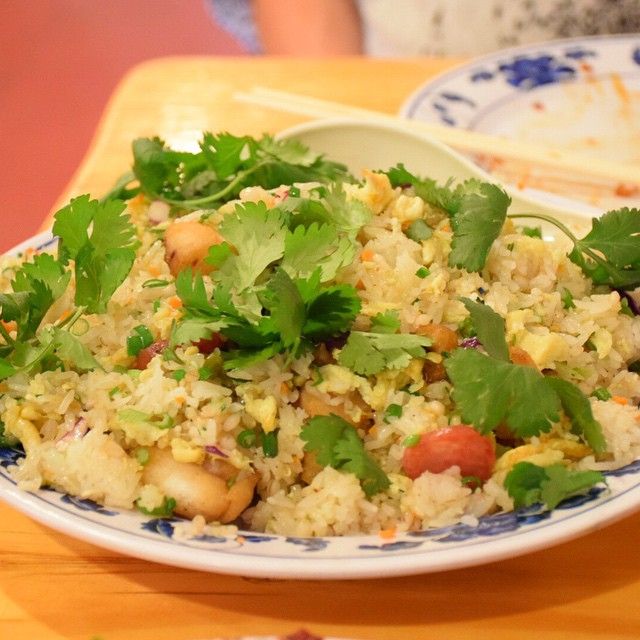 Fried Bao Buns stuffed with chocolate ice cream and Nutella.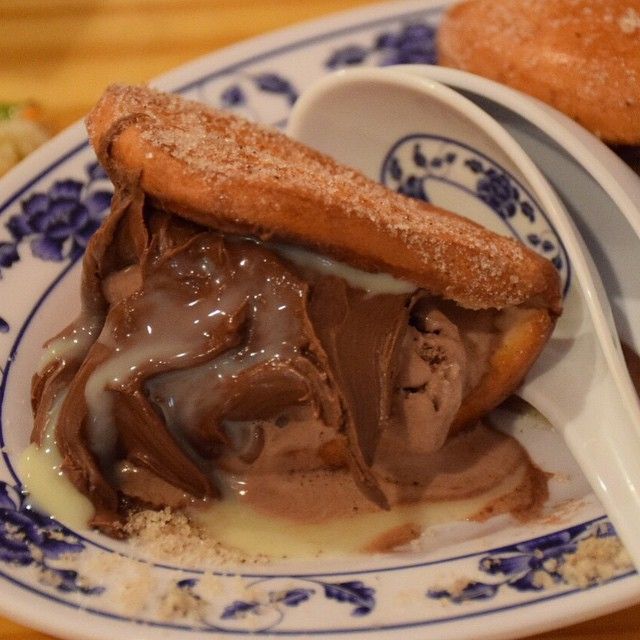 If you go, please do let me know how you like it!