May 25, 2016
Saints Cornerback Delvin Breaux to Brunch with Fans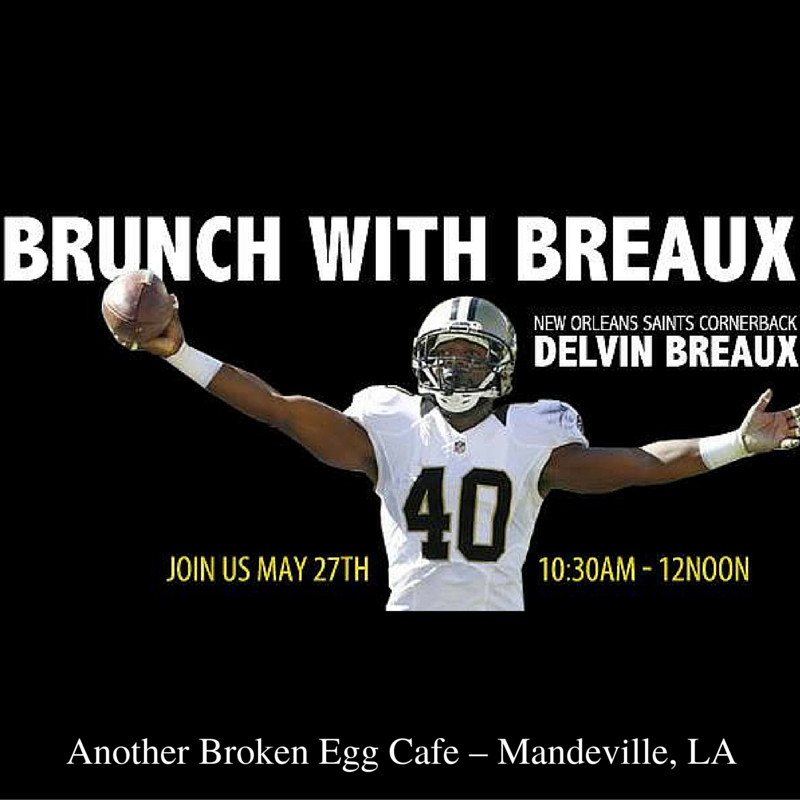 Pre-Grand Opening Events Raise $5,000 for Charities
Mandeville, La. – The Another Broken Egg Cafe grand opening events celebrating the restaurant's return home to Mandeville continue on Friday as New Orleans Saints Cornerback Delvin Breaux visits the new restaurant to sign autographs for fans.
In addition, two lucky winners from the restaurant's Facebook contest, and their guests, will get to eat Brunch with Breaux. Fans hoping to win the Brunch with Breaux contest can still sign up at Another Broken Egg's Facebook page: facebook.com/AnotherBrokenEggCafeMandeville.
"I'm excited to meet fans at Another Broken Egg Cafe in Mandeville. I don't get many opportunities to relax with the fans over a fantastic meal. This is going to be fun," said Breaux, one of the Saints' breakout stars in the 2015 season. Breaux will begin signing autographs at 10:30 at the Mandeville location at 1901 Highway 190.
The two winners for the Brunch with Breaux will be announced May 25 and they will also receive an autographed Saints jersey.
In other news, the new restaurant was completely full this weekend for the Friends and Family events. Each day, customers had the opportunity to donate to The American Diabetes Association on Friday and The Youth Service Bureau on Saturday.
"We're very proud to play a part in helping two incredible charities by raising approximately $5,000," said Jake Alleman, owner of the Mandeville location. "I love that we were able to take our grand opening events and turn them into an activity that benefits our local community."
Donna Betzer, the ADA director of development, Gulf Coast Area, added, "The American Diabetes Association was honored to be chosen as the charity that benefited from Another Broken Egg Cafe's Family and Friends event on May 20. Customers were genuinely happy to support the ADA and proud that Another Broken Egg was supporting their neighbors with diabetes. So many of our friends and loved ones are touched by the disease with one in 11 American's diagnosed with diabetes. We want to thank Another Broken Egg Cafe for helping us toward our mission to prevent and cure diabetes, and to improve the lives of all people affected by diabetes."
Added Denis Schexnaydre, president and CEO of The Youth Service Bureau of St. Tammany, "We're always looking for an opportunity to tell our story about how we work to help children in our communities. That Another Broken Egg Cafe allowed us to use their restaurant to talk to nearly 400 customers, and raise thousands of dollars, was truly an example of good corporate citizenry."
About The American Diabetes Association: Their mission is to prevent and cure diabetes and to improve the lives of all people affected by diabetes. About The Youth Service Bureau: The YSB's mission is to provide advocacy, counseling, education and intervention for at-risk youth and their families, helping them reach their full potential.
About Another Broken Egg Cafe: Founded by Ron E. Green in Old Mandeville, La. in 1996, the Miramar Beach, Florida based Another Broken Egg of America, Inc. concept is an upscale breakfast, brunch and lunch restaurant that provides an alluring, diversified menu at affordable prices. There are over 50 Another Broken Egg Cafe locations throughout the United States with 126 more in development.
For more information about franchising opportunities, please visit www.anotherbrokenegg.com/franchising.  For more information about Another Broken Egg Cafe, visit www.anotherbrokenegg.com.