August 12, 2009
Sausage and Three Cheese Stuffed Pasta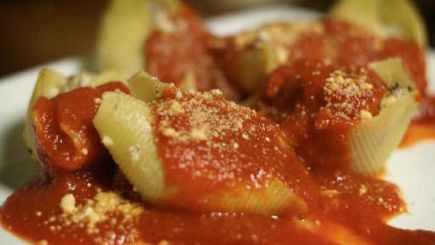 Recipe submitted by Shelly Kelly.
I made up this recipe for stuffed pasta a few years ago by combining my favorite bits and pieces of other recipes. I debuted it to others at my sister's baby shower three+ years ago and it's been a hit ever since. I'm happy to share it with you.
Ingredients
1 lb ground Italian sausage (or squeeze it out of the casings)
1 container Ricotta cheese (or small curd cottage cheese)
½ cup shredded or grated Parmesan cheese
¼ cup Italian seasoned breadcrumbs
2 cups shredded Mozzarella,
1 bunch fresh Spinach, washed and chopped
2 eggs Manicotti tubes, or jumbo shells, or other pasta for stuffing.
Spaghetti sauce, prepared earlier
Directions
Boil pasta until al dente, drain.
Brown and crumble Italian sausage, drain.
In bowl, combine cooked sausage, breadcrumbs, ricotta cheese, parmesan, mozzarella, eggs and chopped spinach.
Stuff into manicotti shells (or jumbo shells).
Top with spaghetti sauce. Bake 350°F for 25-30 minutes until warmed throughout and bubbly.
You can adjust this recipe to make a little or a lot. You can also put the stuffed pasta in a pan and freeze it for later.
Image courtesy of ginnerobot on Flickr.com.