April 6, 2014
Sautéed Dandelion Greens with Caramelized Onions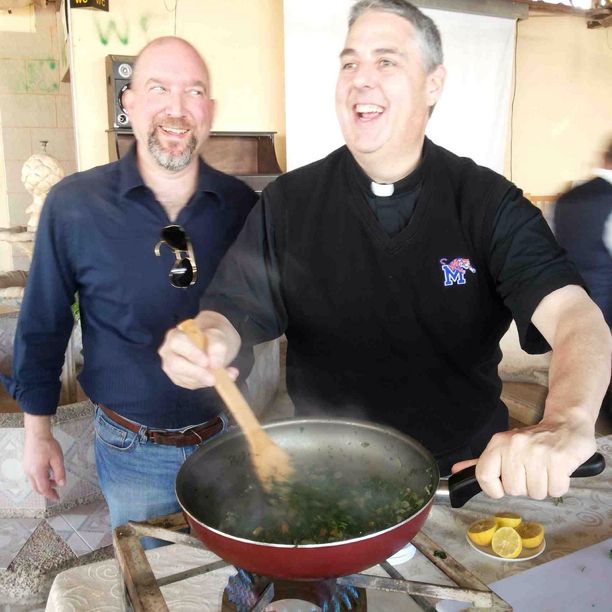 Dandelion: A Healthy Green of Spring
On my recent Food Meets Faith pilgrimage to the Holy Land, I had the pleasure of spending a day in Jericho, which is believed to be the oldest continually inhabited city in the world. It was a Sunday, and after touring around the old section of Jericho, we stopped at Good Shepherd Church for Mass.
Lunch arrangements had been planned ahead of time, and it included a tour of a local farm that provides the greens for the restaurant we were to eat at. The restaurant – and the garden – was owned by a local Christian families. The restaurant was called The Green Valley.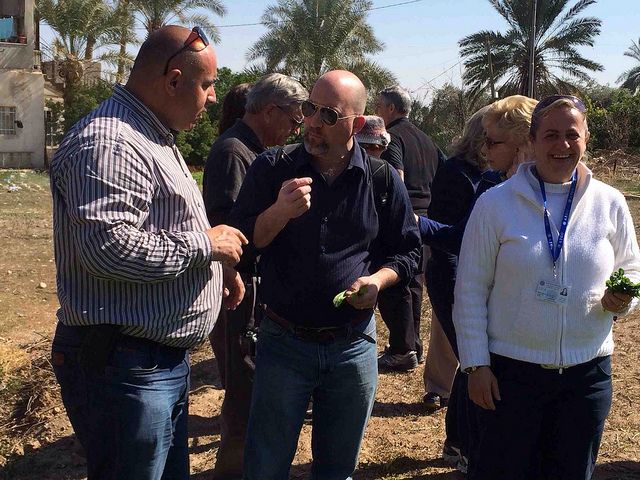 Going to that small garden was so much fun! Even though it was February, the weather had already started to warm up in Israel, and the first signs of spring were budding forth. There were all kinds of greens there. Our guides knew the names of the various greens in Arabic and Hebrew, but not in English. We walked through the garden tasting the different greens to try to determine what the English names were… a task that was a bit more difficult than I imagined it would be, mainly because not all of the greens looked the same as their American counterparts. Take the arugula for example. In Arabic it is called Jar Jeer, but it looked so very different from the arugula I am used to seeing.
The Green leaves of spring in Palestine are abundant in February, March, and April. They grow everywhere: in the cracks of sidewalks, on the side of the road, in small gardens, and, of course, up in the mountains. Some people might think that the greens look like grass, or even weeds. But Palestinians have used them as an integral part of their diet for as long as anybody can remember.
The most well known greens are Hindbeh (Dandelion), Hwerneh (Hedge Mustard Greens), Jar Jeer (Arugula), Khubbeizeh (Wild Mallows), Swiss Chard and Baqleh (Purslane). They are plentiful in the area of Jericho, and for the most part, they are free for the picking.
Sautéed Dandelion Greens with Caramelized Onions
After picking a hefty bunch of Dandelion greens at the farm, we headed to The Green Valley restaurant, where I was asked to assist in making the Sautéed Dandelion Greens with Caramelized Onions. [I think the large photograph above captures the joy that Fr. Mike and I had sautéing the Dandelion greens. What do you think? 😉 ]
Dandelion greens pack a punch when it comes to nutrition. They could very well be called a "super green." And they are not short on taste either. They are a bit bitter when eaten raw, but a little olive oil, lemon juice and garlic will go a long way in mellowing out the bitterness.
Since I love sautéed Mustard Greens and Collard Greens, I thought that Dandelion Greens would go well with caramelized onions and garlic, lemon and olive oil. Boy, was I right!
Dandelion Greens are often available at farmers markets across the United States at this time of the year. Get your hands on some and try out this delicious – and nutritious! – recipe!
Sautéed Dandelion Greens with Caramelized Onions Recipe
INGREDIENTS
8 packed cups of chopped dandelion greens
½ cup extra-virgin olive oil, plus a little extra for drizzling
2 cups sweet yellow onions, thinly sliced
Juice of 1 lemon
1 teaspoon kosher salt, or to taste
½ teaspoon freshly ground black pepper, or to taste
A dash or two of cayenne, optional
Lemon wedges as garnish
INSTRUCTIONS
To Prepare the Dandelion Greens
Thoroughly wash the greens, making sure to rinse out any deeply embedded dirt and debris, then shake out the excess water and set aside.
Cut the greens into 2-inch strips (width-wise), and steam them to soften, just until they begin to wilt. [Alternatively, you can blanch the greens in boiling water for a minute or two, until they soften.]
Set aside in a strainer so that excess water can drain out. Once the greens are cool enough to handle, you can use your hands to squeeze out any remaining water.
Caramelize the Onions and Add the Dandelion Greens
Pre-heat a heavy-bottomed stainless steel skillet over medium-high heat.
Add ½ cup of olive oil, the onions, and a pinch or two of salt. Stir well to coat the onions in the olive oil, and sauté until golden brown.
Using a slotted spoon, remove enough of the onions to top each finished serving and set aside.
Add the dandelion greens to the skillet and season with salt and pepper. Sauté, stirring occasionally, for 7 to 10 minutes.
During the last minute or two of cooking, add the lemon juice and stir well to incorporate.
The greens can be transferred to a serving dish. Top with the caramelized onions and garnish with the lemon wedges.