December 18, 2014
Save the Date: Chef John Besh to Host Celebrity Chef Bash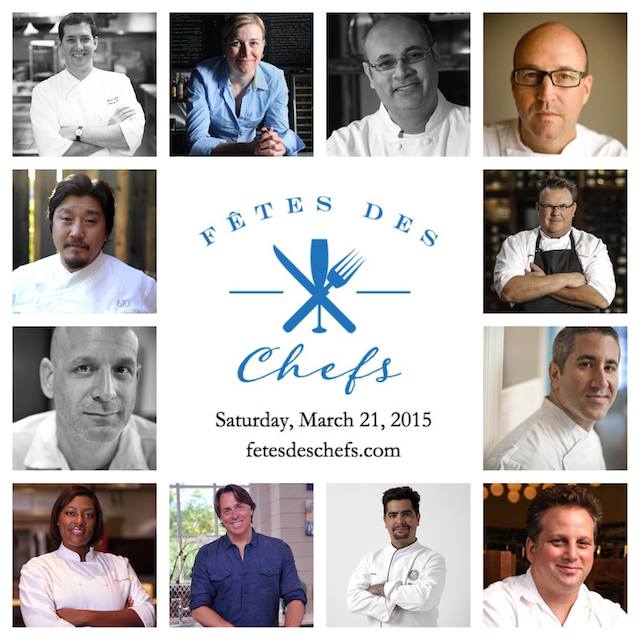 CHEF JOHN BESH PARTNERS WITH WORLD­RENOWNED CHEFS TO HOST FETES DES CHEFS FUNDRAISER ON MARCH 21
DINNER PARTIES WILL BE HELD AT PRIVATE HOMES AROUND NEW ORLEANS TO BENEFIT THE JOHN BESH FOUNDATION
(New Orleans, LA) ­ December 9, 2014 – Chef John Besh today announced that on Saturday, March 21, 2015, he will host Fêtes des Chefs, a fundraising event featuring renowned chefs from around the country. The chefs will cook dinner parties at private homes in New Orleans.
The intimate dinners will seat 20 guests and feature menu items inspired by each chef's respective restaurant. Guests will be able to buy tickets for specific chef dinners.
John Besh will host a dinner at his home in Slidell. Seats for that dinner will be auctioned.
There will also be a special young supporters dinner reception for 75 people at the Billy Reid shop, a favorite local purveyor of Besh's.
The impressive roster of participating chefs includes Michael Anthony of Gramercy Tavern; Vishwesh Bhatt of Snack Bar; Ashley Christensen of Poole's Diner, Beasley's Chicken + Honey, and Chucks; John Currence of City Grocery; Tiffany Derry of Top Chef and Hungry Investors fame; Paul Kahan of Nico Osteria; Edward Lee of 610 Magnolia; Aarón Sánchez of Paloma, and most recently with John Besh, Johnny Sánchez; Chris Shepherd of Underbelly; Michael Solomonov of Zahav; and Marc Vetri of Vetri.
Visiting chefs will be paired with a host chef who will be providing hand passed hors d'oeuvres for the dinners. Local chefs from Emeril's team as well as Chef Michael Gulotta of Mopho have volunteered to work alongside Besh Restaurant Group chefs.
Fête des Chefs, the idea for which came from Chef Besh's wife Jenifer, aims to be a celebration of culinary collaboration and an opportunity for chefs to give back to the communities that have supported their mission. Proceeds from the event will benefit the John Besh Foundation, which provides microloans for local farmers and food artisans, as well as the Chefs Move! scholarship program.
The dinners will be followed by a dessert afterparty at Borgne featuring some of the country's most talented pastry chefs: Bill Corbett of Absinthe; Lisa Donovan of Husk Nashville; Dwayne Ingraham of City Grocery Restaurant Group; Andrea Kirshtein of The Spence; Tracy Obolsky of North End Grill; Angela Pinkerton of Eleven Madison Park; Sarah Tibbetts of Valrhona; William Werner of Craftsman and Wolves; and Zac Young of David Burke.
Details:
Fête des Chefs
Saturday, March 21, 2014
Various locations
7:30 p.m. ­ Cocktail hour & passed hors d'oeuvres 8:30 p.m. ­ Seated dinners
Tickets on sale Tuesday, December 9th
Ticket Price: $500
Billy Reid dinner ticket: $145
Ticket purchase URL: fetesdeschefs.com
VIP Afterparty
Borgne ­ 601 Loyola Ave, New Orleans, LA 70113 11 p.m. ­ 2 a.m.
Ticket price (for general public): $60
Press Contacts:
Local:
Maggie Moore
Besh Restaurant Group
504­345­8392
mmoore@chefjohnbesh.com
National:
Kendra Borowski
The Door
646­340­1770
kendra@thedooronline.com