November 8, 2010
Savory Meringue-Topped Cake with Black Pepper & Hot Sauce: The Gateau de Bayou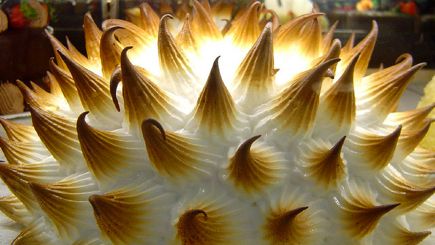 I can't resist. I have to share this with you. If you subscribe to the Catholic Foodie newsletter, then you have probably already seen this. But I just couldn't resist sharing it here.
This recipe comes by way of my good friend Patrick Moore. And this is the first cake I have come across that lists black pepper and hot sauce in its ingredients! Not only does it list hot sauce, but it lists one of my favorites: Crystal Hot Sauce! Now, dat's what I'm talkin' about!
Have you ever had a cake with black pepper and hot sauce in it? I haven't. But I sure do want to try one now! Goodness, this sounds GOOD!
How does it look to you? Want to try a bite? Ever had any other cakes with interesting ingredients? I'd love to know! Comment below!
GATEAU DE BAYOU
Servings: Serves 16–20
Ingredients
Cake:
2 pieces of fresh ginger (each 4 inches long), peeled and grated
2 Tbsp. unsalted butter , softened
3 3/4 cups and 3 Tbsp. all-purpose flour
1 Tbsp. baking soda
2 tsp. kosher salt
1 tsp. ground cinnamon
1 tsp. freshly ground black pepper
1 2/3 cups Steen's 100% pure cane syrup (available at steensyrup.com)
1 1/3 cups vegetable oil or peanut oil
1 1/4 cups packed light brown sugar
3 large eggs
2 tsp. hot sauce , such as Crystal
Meringue:
4 large egg whites , at room temperature
1 tsp. kosher salt
1 cup sugar
1/2 cup light corn syrup
Directions
Note: Browning the meringue requires a blowtorch; alternatively, leave off the meringue and serve with butter pecan ice cream or extra cane syrup.
To make cake: Combine ginger and 1 1/3 cups water in a small saucepan. Bring to a boil over medium-high heat; remove from heat and let stand 5 minutes. Set a fine-mesh sieve over a bowl and strain ginger through sieve, pressing with a spoon; discard pulp and let ginger water cool.
Preheat oven to 350°. Grease a 10-inch Bundt pan (without nonstick lining) with butter. Dust pan with 3 tablespoons flour, tapping out excess.
Whisk together 3 3/4 cups flour, baking soda, salt, cinnamon, and pepper in bowl.
Combine 1 1/3 cups cane syrup, oil, brown sugar, and ginger water in the bowl of a standing mixer; whisk with a handheld whisk until blended. Whisk in eggs, one at a time. Add hot sauce and flour mixture; attach bowl to a mixer with paddle attachment; beat on low speed until batter is smooth, about 1 1/2 minutes, scraping bowl with a rubber spatula. Pour batter into prepared pan.
Bake 50 to 55 minutes, or until a toothpick inserted in center of cake comes out clean. Let cake cool on wire rack 10 minutes; then unmold cake onto rack. With a thin wooden skewer, poke holes in top of cake about 1 inch apart. Brush cake with 1/3 cup cane syrup. Let cool.
To make meringue: In a stand mixer with whisk attachment, beat egg whites, salt, and 1/4 cup sugar on medium-high speed until soft peaks form.
Combine remaining 3/4 cup sugar and 1/3 cup water in small saucepan. Bring to a boil over medium-high heat, swirling pan occasionally to dissolve sugar. Cook until syrup is dark amber, about 10 minutes. Stir in corn syrup; mixture will bubble vigorously. Cook, without stirring, until syrup is 240° on a digital thermometer.
With mixer on low speed, pour syrup into egg white mixture; don't let syrup touch whisk. Increase speed to high and beat until meringue is thick enough to spread, about 2 minutes. While meringue is still warm, spread over cake with a large spatula, making peaks and swirls. With a crème brûlée torch, brown meringue. Serve at room temperature.
NOTE: This recipe comes by way of my good friend Patrick Moore. Many thanks, Patrick!
Remember, if you haven't signed up yet for the Catholic Foodie newsletter, you can do so at /newsletter.
Image courtesy of Roboppy on Flickr.com.