October 31, 2013
Scary Hummus Halloween #Recipe Idea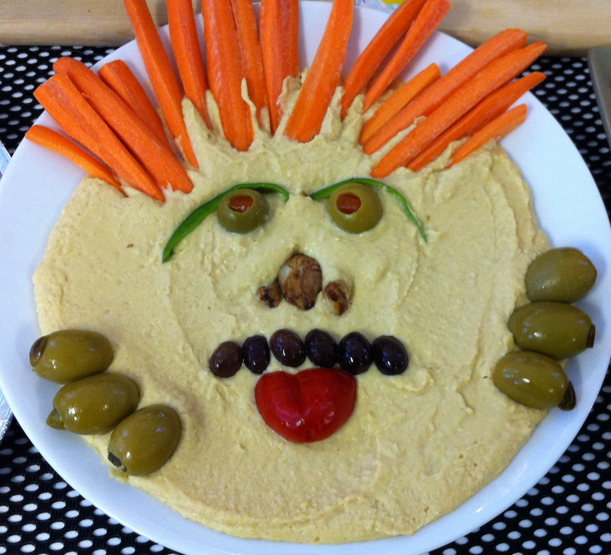 Hummus for Halloween? But Isn't that "Healthy?"
I know I just posted an article bashing "healthy" Halloween snacks, and now here I am suggesting hummus as a Halloween snack or party food.
But if you plan on going to a Halloween party tonight and you want to bring something that is 1) easy to prepare, 2) delicious, and 3) lots of fun (because kids LOVE eating scary monsters!), then this Scary Hummus may just be the perfect Halloween recipe for you!
Try it. Impress your family and friends. Then report back to me to tell me how you were the hit of the party. 😉
Bon appetit!
Scary Hummus Halloween #Recipe Idea
INGREDIENTS
For the Hummus
2 cans of chick peas, rinsed OR 30 ounces of dried beans that have been prepared beforehand (see below)
¼ to ⅓ cup of tahini
juice of ½ to 1 whole lemon
¼ cup of extra virgin olive oil (to start)
¼ cup of water (to start)
several cloves of garlic (I usually use 4 to 5)
kosher salt
Cayenne pepper
For the "Face"
Carrots, cut into sticks or thin wedges for the "hair"
Jalapeño-stuffed olives for the "beard" or whiskers
Pimento-stuffed olives for the "eyes"
Green bell pepper strips for the "eyebrows"
Roasted garlic for the "nose"
Black olives for the "mustache"
Sweet red pepper for the "mouth" or "tongue"
INSTRUCTIONS
Put chick peas, tahini, lemon juice, garlic, water, and olive oil in a Cuisinart or food processor.
Process until it becomes the consistency of hummus. You will probably need to add more olive oil or water. Just do so slowly.
Taste. Taste. Taste. You don't want the hummus too thick or too runny. Make it to your liking. Also, add as much salt and cayenne as you like. Once again, add it slowly. You can also start adding salt and cayenne when you first add ingredients to processor. Just make sure you pulse it before serving.
Place hummus into a round flat dish and garnish with the ingredients mentioned above. Make it look like a scary face!
Serve with hot pita bread.
Optional
Drizzle liberally with extra-virgin olive oil and sprinkle with chopped parsley.

Preparing Dried Chick Peas for Hummus
If you would prefer to use dried beans over canned, the follow these simple directions for a 1 lb bag of dried chick peas:
In a large glass bowl, soak the beans overnight. Make sure that there is enough water to cover the beans by a couple of inches.
Drain the chick peas and rinse. Add to a large stainless steel pot and cover again with water (twice the amount of water to beans).
Bring to a boil, cover, and lower heat to a simmer. Continue to simmer until beans are softened, about an hour.
Remove from heat, strain, and allow to cool.
The chick peas are now ready to use to make hummus.