September 5, 2011
Shrimp and Grits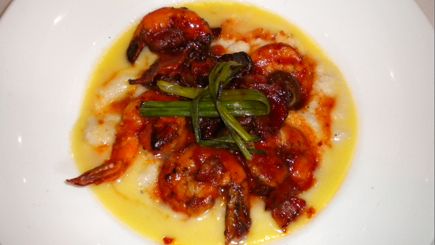 Here's another recipe that I have never tried. However, I did talk about it on episode 121 of the Catholic Foodie. And the truth is that I LOVE Shrimp and Grits! Whenever I go out to eat at a restaurant that has Shrimp and Grits on the menu, they had better have something else that looks pretty darn good… or you know exactly what I am going to order! Know what I mean?
This recipe here was one of the ones that Michele Montalbano rescued from Hurricane Katrina. On episode 121, I shared an article that my friend Marcelle Bienvenu wrote recently. The article was about a determined cook who rescued her recipes from her devastated home in the aftermath of Hurricane Katrina. It's been six years since Katrina, and Michele Montalbano has been hand-writing her treasury of family recipes into notebooks.
This particular recipe was their "last meal" in their home the evening before they evacuated Chalmette, fleeing Hurricane Katrina. This recipe is in the queue here at the Catholic Foodie headquarters. It is destined to be tried soon. If you happen to make it before me, please let me know what you think!
Crook's Corner Shrimp and Grits

Makes 4 servings

INGREDIENTS

2 cups water
1 (14-ounce) can chicken broth
3/4 cup half-and-half
3/4 teaspoon salt
1 cup regular grits
3/4 cup shredded Cheddar cheese
1/4 cup grated Parmesan cheese
2 tablespoons butter
1/2 teaspoon hot sauce
1/4 teaspoon white pepper
3 bacon slices
1 pound medium-size shrimp, peeled and deveined
1/4 teaspoon black pepper
1/8 teaspoon salt
1/4 cup all-purpose flour
1 cup sliced mushrooms
1/2 cup chopped green onions
2 garlic cloves, minced
1/2 cup low-sodium, fat-free chicken broth
2 tablespoons fresh lemon juice
1/4 teaspoon hot sauce
Lemon wedges

DIRECTIONS

Bring the water, broth, half-and-half and salt to a boil in a medium saucepan; gradually whisk in grits. Reduce heat and simmer, stirring occasionally, 10 minutes or until thickened. Add Cheddar cheese, Parmesan, butter, hot sauce and white pepper. Keep warm.
Cook the bacon in a large skillet until crisp. Remove the bacon and drain on paper towels, reserving 1 tablespoon drippings in the skillet. Crumble the bacon.
Sprinkle shrimp with pepper and salt; dredge in flour.
Saute the mushrooms in hot drippings in skillet 5 minutes or until tender. Add green onions and sauté 2 minutes. Add shrimp and garlic, and sauté 2 minutes or until shrimp are lightly brown. Stir in chicken broth, lemon juice, and hot sauce, and cook 2 more minutes, stirring to loosen particles from bottom of skillet.
Serve shrimp mixture over hot cheese grits. Top with crumbled bacon; serve with lemon wedges.
A NOTE ABOUT THE PHOTO
The photo that I used for this post was taken toward the end of summer 2009. My friend Lisa Hendey was passing through New Orleans. We were able to get together to share a wonderful meal together. We met up at one of Emeril's restaurants: NOLA. [Incidentally, NOLA stands for New Orleans, LA] Not only was it a delightful meal, it was also a tremendous blessing to be able to share that meal with Lisa and her parents. Here's a bonus pic from that day…