June 11, 2013
Shrimp Remoulade Salad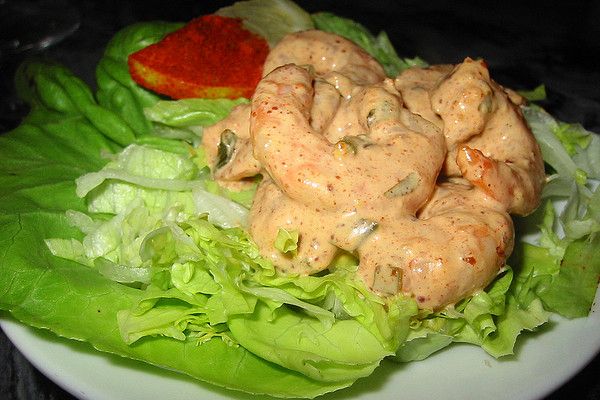 The first time I had a Shrimp Remoulade Salad was at Mandina's in New Orleans. I was young, in college at the Franciscan University of Steubenville, and we were home on a break… And a bunch of friends from all over the country decided to spend the break with us in New Orleans. I guess they wanted to see what all of the hoopla was about. 😉
Now, this was the first time I had tried a Shrimp Remoulade Salad. Why did I want to try it that night? I don't know. All I can say is that I am grateful to God that my palate had finally started to develop. As a kid I hated salad, but I started to like it some time between high school and college. But I had never had a shrimp remoulade before, and I love shrimp! This item just stood out to me on the menu that night.
If I remember correctly, it was served as an appetizer. The shrimp were small, and there were lots of them. The shrimp remoulade was served on bed of iceberg lettuce.
And I loved it. YUM!
I have had shrimp remoulade many times since then. As a matter of fact, I have even had a shrimp remoulade poor-boy. Talk about good!
Remoulade comes to Louisiana from French cuisine, but you will often not find mayonnaise listed among the ingredients of a Louisiana remoulade. Down here we like it with more of a bite. If you need to tone down this dressing, add a tablespoon or two of mayonnaise. That should do the trick.
INGREDIENTS
1/2 cup Creole mustard
1 cup extra-virgin olive oil
1/2 cup distilled white vinegar
1 teaspoon Tabasco brand pepper sauce, or to taste
1 teaspoon freshly ground black pepper, or to taste
1 teaspoon salt, or to taste
1/4 cup grated sweet yellow onions
1/2 cup chopped green onions
4 tablespoons minced fresh parsley
16 to 20 large or jumbo boiled shrimp
Romaine, Iceberg, or lettuce of choice
DIRECTIONS
For the Remoulade Sauce
Combine all ingredients in a glass mixing bowl, and whisk to blend together.
Cover and refrigerate for at least one hour before serving.
*Sauce will keep in fridge for up to three days.
For the Shrimp Remoulade Salad
Wash and drain lettuce. Plate it when dry. You can cover the plates with plastic wrap and stick them in the fridge to keep the lettuce cold.
In a large mixing bowl, add the shrimp and enough of the remoulade to liberally coat the shrimp. Mix together well.
Remove the plates of lettuce from the fridge, remove the plastic wrap from the plates, and top each of the plates with 4 to 5 of the large shrimp coated in remoulade sauce. Add additional sauce if desired.
Serve and enjoy.