September 25, 2013
Some Like It Hot: The Chile Pepper Extravaganza Comes to New Orleans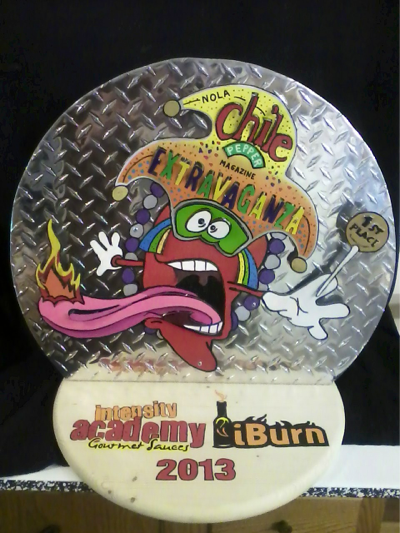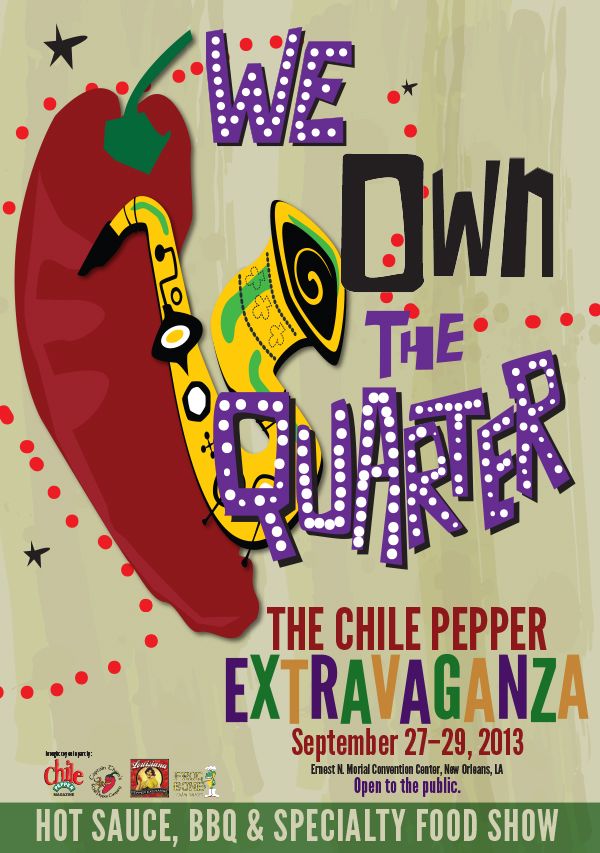 Chile Peppers: Hot! Hot! Hot!
Just a few weeks ago I posted two recipes using Hatch Chiles (a Hatch Chile Chicken Tortilla Soup and a Cream of Hatch Chile Soup with Corn, Tomatoes and Sausage). Those recipes came about because of the abundance of Hatch Chiles in August and September… and because of the approach (at the time) of the annual Hatch Chile Festival in Hatch, New Mexico.
It's no secret that we like things a little spicy in our house. As a matter of fact, we go through bottles and bottles of Louisiana Hot Sauce, Crystal Hot Sauce and Sriracha in our house. And my son always takes the comment "oh, that's too hot for you" as a personal challenge. He WILL eat it.
The Cajun and Creole cuisines of south Louisiana are known for "kicking it up a notch" when it comes to peppery heat, but in my house I also bring two years' experience living in Mexico to the table. Yes, indeed! Some like it hot… but WE like it really hot!
We All Need a Little Extravaganza in Life
Chile peppers are God's way of saying that we all need a little spice in our lives. That's why I am excited about an event taking place this weekend in New Orleans. It's called the Chile Pepper Extravaganza, and it is billed as "a hot sauce, hot foods, barbecue and speciality foods show." It will be held at the Ernest N. Morial Convention Center in downtown New Orleans.
Another reason that I am excited about this event is that I will get to finally meet – in person – a special someone who has graced my online culinary experience over the last year. I'm talking about @SaucyQueen, Michele Northrup of Intensity Academy in Tampa, Florida. I shared my Chai Chipotle Chup Jalapeño Poppers recipe with you almost a year ago, and I used Michele's Chai Chipotle Chup in that recipe.
Intensity Academy is the first company in the world that produces – exclusively –  tea-infused sauces, and I am so excited to have the opportunity to finally meet Michele in person.
"Intensity Academy Sauces is looking forward to a Saucy Good time in the French Quarter this weekend! We just released our newest sauce, a Spicy Mayo, and will be featuring it at the Chile Pepper Extravaganza Show. Our Extreme Lolly Lickathon will be Saturday on stage. Don't miss the hottest Lollipop in the World challenge." – Michele Northrup of Intensity Academy.
Hmmmm…. I wonder if I should tell my son that the "hottest lollipop in the world" is too hot for him. 😉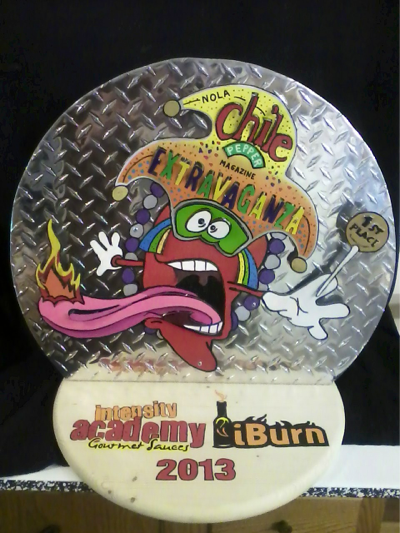 What is the Chile Pepper Extravaganza?
The Chile Pepper Extravaganza is an annual event that celebrates the hot and spicy culinary lifestyle. Every year Chile Pepper Magazine brings together the finest independent manufacturers of hot sauces, barbecue sauces, jams/jellies, salsas, chips, jerky, beverages and sweets. Not everything is hot and spicy, but that is certainly the vendors' forte.
The Extravaganza also hosts a "restaurant row." Some of New Orleans' finest restaurants will be there to give away samples. Some of the restaurants in the lineup are the Praline Connection, Bourbon House, the Rib Room and Tujaque's.
Come on down to Hall J of the Ernest N. Morial Convention Center this weekend for a spicy good time! The extravaganza will go from Saturday, Sept. 28th, from 10 a.m.-5 p.m.; and Sunday, Sept. 29th, from 11 a.m.-4 p.m.
Cost is $10, and tickets are available at the door. Find more information at www.chilepepperextravaganza.com.
If you are not into spicy foods, no worries. There will be plenty of other food, as well as live zydeco and jazz music, free beads, Mardi Gras revelers, prizes and several contests.
I hope to see you there!