December 21, 2013
Spicy-Sweet Bourbon Pecans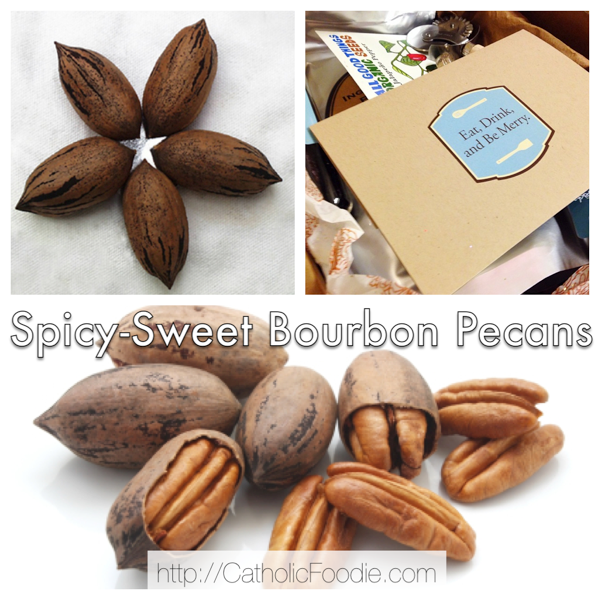 Besh's New "Besh Box"
A couple of weeks ago on Instagram I mentioned how surprised I was Saturday afternoon to arrive home from a #NOLAChefsAid planning meeting to find a Besh Box on my doorstep.
John Besh is a successful chef, restauranteur, and cookbook author. Originally from Slidell, Louisiana, Besh is dedicated to the riches of his culinary heritage. In his 9 restaurants, his entrepreneurial pursuits, and his philanthropic activities, John Besh preserves and promotes ingredients, techniques, and our south Louisiana heritage one mouth-watering dish at a time.
Chef John Besh is no stranger to The Catholic Foodie. I have written about his cookbooks several times, and he has been a guest more than once on Around the Table. As a matter of fact, I am in the process of writing a review of his latest cookbook – Cooking from the Heart – and he will join us on Around the Table to talk about that cookbook in early January.
The Besh Box is a new initiative for him. It is essentially a subscription-based, hand-picked gourmet cooking kit. The kit is shipped directly to foodies and home cooks across the country, and each kit contains a selection of Chef Besh's favorite recipes, specialty ingredients, kitchen tools, suggested drink pairings and music to help enhance the experience of cooking. When possible, the Besh Box will include local, artisan and small-batch items that introduce subscribers to some of Besh's favorite new products, secret old stand-bys, and purveyors of awesome goods.
"It's all about creating a dialogue and connecting in a meaningful way through these cooking lessons," said John Besh. "Each month, I will bring to you the ingredients and tools that I have fallen in love with over the years along with the recipes and tips you need to create, not only the recipe in the box, but so many others, passing on my soul to you through food."
Simply put, it's a way for me to share my love of a great home-cooked meal.
Inside of each box, you'll find my favorite recipes, the tools that make the most of them, techniques, special ingredients and then of course – the drinks and music that add that special something. Hopefully, it will inspire you to share a great home cooked with a fellow foodie or your family.
---
Each Besh Box is filled with hand-picked items to inspire, spark creativity and get you cooking!
---
Each month's Besh Box will be different but you can expect to receive items that support the exciting monthly themes such as:
---
– Gourmet cooking tools that I love
– Recipes that can be shared and expanded upon throughout the years
– Specialty ingredients that include small batch and local, artisan ingredients whenever possible
– Household kitchen items that I have discovered and want to share with you
– Fun toys and themed items that help bring the season or event to life
– Music playlists to inspire during prep, cooking, entertaining (or just dancing when no one is around!)
– Cocktail pairings that complete the dish
– An overview of a charitable organization that I will be supporting through your support of Besh Box
---
and more surprises…
Besh Box and Inglewood Farm
The Besh Box that I received a couple of weeks ago was the "Holidays from the Heart" box. It contained the following items:
Pecans from Inglewood Farm in Alexandria, LA
Vanilla Beans
A pastry cutter
A dough scraper
Organic jalapeno pepper seeds
A cook's towel
Some note pads
And a fleur-di-lis Christmas ornament
I was thrilled! It was such a delightful surprise.
It is holiday time, and every year about this time I start to think about pecan pie. Well, to be honest, it's more like craving, not thinking. 😉 I love pecans any way I can get them, and I certainly love pecan pie. But I had an opportunity just the other day to whip up a quick party snack using the pecans in the Besh Box: Spicy-Sweet Bourbon Pecans. The recipe is below, but first I want to tell you a little about these organic pecans from Inglewood Farm.
We are proud to be the first Louisiana pecan grower to employ an organic system, and we're excited to announce that this will be our first year of harvesting certified organic pecans. It has been a three-year process to get our certified label, but when you taste the pecans you will agree it has been well worth the wait. In addition to allowing us to increase yield from our orchards, our earth-friendly organic system ensures that the delicious pecans you receive have the following qualities:

• No chemical fertilizers or pesticides
• More vitamins and nutrients as well as cancer-fighting antioxidants
• Rich source of healthy fats and bone building minerals
You can find more information about Inglewood Farm and all that they have available on their website: http://inglewoodfarm.com/
A Great Holiday Gift Idea: Spicy-Sweet Bourbon Pecans
This was quick and easy… and delectable! I made these as a party snack, but they could easily be made in larger batches and packaged as thoughtful Christmas gifts for friends and family.
Enjoy!
Spicy-Sweet Bourbon Pecans Recipe
INGREDIENTS
1 cup sugar
¼ cup water
6 tablespoons bourbon
¼ teaspoon ground cinnamon
½ teaspoon freshly grated nutmeg
½ teaspoon cayenne
1 teaspoon coarse-ground kosher salt
16 ounces pecan halves
INSTRUCTIONS
Roasting the Pecans
Pre-heat oven to 350.
Place pecans in a single layer on a baking sheet or a baking stone. The pecans should be dry. Don't add any butter or oil.
Place the pecans in the oven on the middle rack and roast for 5 minutes. At the 5 minute mark, stir the pecans then even them out on the baking sheet again. Allow them to roast for another 5 minutes.
Remove from the oven and transfer to a cool baking sheet or a large wooden cutting board. Allow them to cool completely before proceeding.
Making the Spicy-Sweet Bourbon Pecans
Line a baking sheet with parchment paper.
Heat a large heavy-bottomed skillet over medium-high heat.
Combine sugar, water, bourbon, cinnamon, nutmeg, cayenne, and salt in the skillet and whisk well so that the sugar dissolves.
Bring to a boil. Once the "bubbles have bubbles" (this should not take long once the mixture starts to boil), add the pecans and stir until all are well coated.
Transfer the pecans to prepared baking sheet, separating each individual pecan.
Set aside and allow to cool completely before serving.