March 22, 2011
St. Joseph and the Kitchen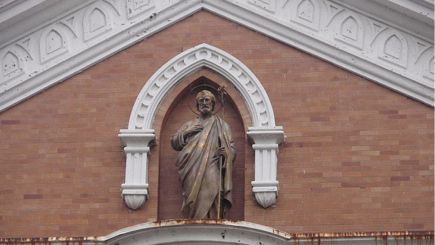 I just love St. Joseph, don't you? He's a man's man.
He also reminds me that Jesus was a real guy, that he didn't just walk around with a halo and no real purpose.
Joseph was a worker. He taught his son a trade. He taught Jesus right from wrong and how to treat people. He was the male role model Jesus looked up to, the man of the house.
Joseph probably didn't spend a lot of time in the kitchen–I'm pretty sure there was no foodie to him.
Even so, I find myself learning a lot from Joseph when I'm in my kitchen.
For one thing, he was the guy Mary was cooking for. A lot of times, when my kids protest whatever it is I've made for dinner, I remind them that THEY are not the ones I'm cooking for…I'm cooking for my husband.
I don't intend this to be rude to my children, but it helps me to let their criticisms — which, some days, are many — to roll off my back. It reminds me that cooking is an act of love.
Mary loved Joseph, and just as she leads us to her Son, she also, I believe, leads us to her husband.
He kept them safe. He laughed with them. He snuggled the holy infant, pulled splinters, taught his trade. He was the handyman around the house and maybe he was also the one in charge of smashing large, scary spiders.
Though the feast day is now past, I encourage you to turn to Joseph with your intentions. If it feels awkward, ask Mary to help you. She'll pause in her kitchen preparations, dust her hands on her apron, and give you a big hug, before telling you the delightful tales of Joseph as a man and as a living model for each of us.
Image courtesy of Joelk75 on Flickr.com.