April 22, 2009
Summer Steaks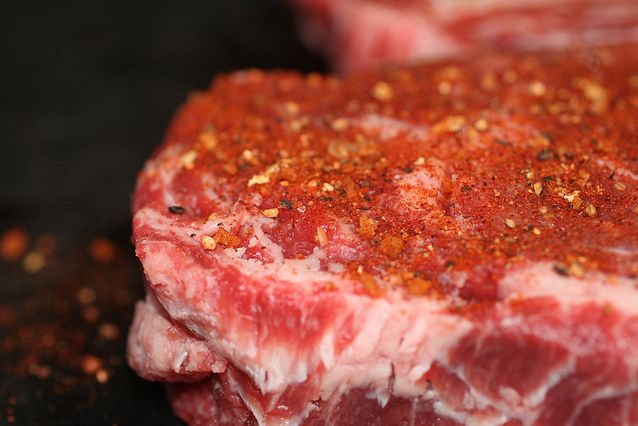 Do certain smells ever bring you back to your childhood? Sometimes that happens to me. As a matter of fact, that happened to me Saturday evening.
I fired up the grill, and I seasoned four thick steaks with kosher salt, coarse-ground black pepper, a dash of cayenne, oregano, rosemary, basil, and crushed red pepper. Yum.
When steaks hit the grill, I was a kid again, riding my bike all over the neighborhood. I used to love riding my bike. I rode every day after school (and all day in the summer). I knew every crack and crevice in the sidewalks and streets of my neighborhood. As a matter of fact, I owned the roads in my neighborhood, or, at least if felt like I did. But at dusk I would set my sights on home. It wasn't the dark that drove me home, it was hunger.
Friday night was steak night at our house. Before I even hit the driveway, I could smell it: meat on the grill. It wasn't one of those fancy grills you see today… stainless steel with propane. No, this was charcoal. I still remember the charcoal lighter. It was an electric ring shoved down into the coals. When it got hot, it would glow a dangerous bright red.
Sausage went on the grill first. I remember stabbing sausage slices with toothpicks and dipping them in yellow mustard as I watched the steak cook. It was the perfect appetizer.
After the sausage came the rib-eyes. Dad made a marinade/basting sauce out of Lea & Perrins Worchestershire Sauce and butter. It smelled tangy and thick. Dad always cooked the rib-eyes well-done. I wouldn't grow to appreciate steaks medium-rare until I was old enough to buy and grill them myself.
Now, while dad was outside grilling, mom was inside washing iceberg lettuce and cutting and prepping potatoes. Iceberg lettuce salads with Wishbone Italian Dressing always accompanied the steaks, as did Sandy Fries. The fries were named after my mother, Sandy. In my mind those fries were magical. I don't know who started calling them Sandy Fries, but I know that the name stuck and they were a household favorite.
Mom would peel the potatoes and cut them up just like you would for regular french fries. She would rinse them with water and then let them sit in a colander. When everything else was almost done, she would season the potatoes with salt and pepper, shaking them around and repeating until all were seasoned. Then she would add a scoop of flour and shake, shake, shake until all the potatoes were coated. She would continue to shake until all the loose flour was out of the colander. Then she fried them in hot oil (back then she used Crisco) until they were golden brown. You talk about good, yeah!
And all those thoughts came to me because I put steaks on the grill. The smell and sizzle did it. True, it was a Saturday, not a Friday. But the afternoon was perfect. Not hot like June. Not hot and sticky like July. The sun was bright, but the air was cool. Perfect grilling weather.
The rib-eyes were great, by the way. That's not coming just from me. Char and the kids said so. Best steaks I had ever grilled, they said.
So, when was the last time you grilled steaks? How did you grill them? Medium-rare?
**Special thanks to foodiesathome.com on Flickr for use of the photo.**