June 11, 2012
Super Simple Summer Salads to Keep You Cool This Summer!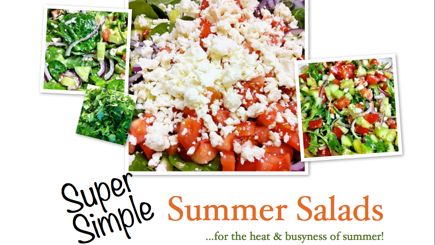 It's HOT!
I don't know about you, but summer means two things to me: heat and busyness. Summer in south Louisiana is HOT! And for some reason beyond my comprehension, the summer always seems more busy than the rest of the year.
But there is one thing that I love about summer: fresh veggies. There's nothing like fresh summer tomatoes, cucumbers, and lettuces!
That's why I put together this FREE eCookbook for you.
Salads can be a quick and easy way to feed the family on those hot and busy summer nights. And a chilled salad is quite refreshing.
To get your FREE copy of Super Simple Summer Salads CLICK HERE.
If you prepare any of the salads in the eCookbook, please do let me know how they turn out by leaving a comment below.
You can also shoot me an email at Jeff@CatholicFoodie.com.
Stay cool this summer! And…
Bon appetit!