August 12, 2009
Swedish Apple Pie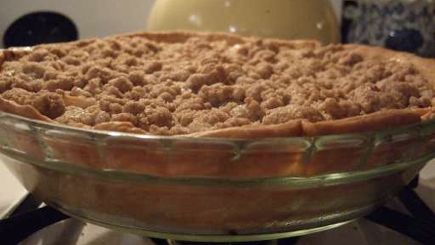 Recipe submitted by Mike Lindner.
This is a very easy and delicious pie. It won first place in a pie contest we had at work. Best of all there's no rolling of finicky crusts!
Ingredients:
2-3 Granny Smith or Courtland apples
1 T sugar
1 t cinnamon
3/4 C butter or margerine (1.5 sticks)
1 C sugar
1 C flour
1 egg
dash salt
Directions
Peel and core apples, slice thinly into glass pie dish. sprinkle on 1T sugar and 1t cinnamon.
Melt butter
Add rest of ingredients to butter and mix to combine.
Spread batter over apples.
Bake at 350 degrees for 30-40 minutes or until crust is brown.
Serves 6-8. For weight watchers, 1/12 of the pie is 5 points.
Image courtesy of brixton on Flickr.com.