March 13, 2013
The Alligator and the Archbishop: A Lenten Tail?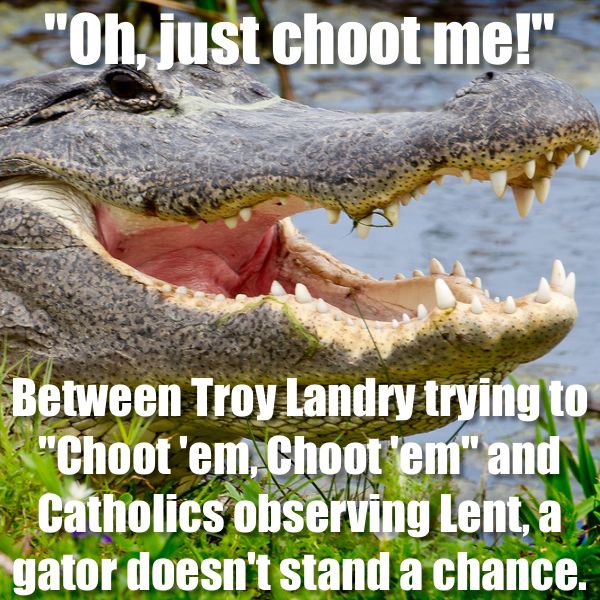 Did You Hear the One About the Alligator and the Archbishop?
It all started on Ash Wednesday.
Someone over at Insta-Gator Ranch & Hatchery posted a picture of a 3 year old letter on the Insta-Gator Facebook page.
The letter just happened to be from the Most Reverend Gregory M. Aymond, Archbishop of New Orleans. And in that letter, Archbishop Aymond clarifies that it's OK to eat alligator on Fridays in Lent.
As I wrote a couple of weeks ago, the archbishop's letter was in response to an inquiry about whether or not Catholics could eat alligator on days of abstinence.
The simple answer: Yes, they can.
The archbishop states, "Yes, the alligator is considered in the fish family… and it is considered seafood."
But, sometimes, the simple answer doesn't really convey the full story, as we shall see shortly.
A Fun New Orleans Lenten Tale. Or Should I say… Tail?
New Orleans is a fun place to live.
I mean, think about it. We have Mardi Gras, crawfish boils, Jazz Fest, about a gazillion fish fries on Fridays in Lent… and we have Abita Beer. Not to mention the fact that New Orleans is known the world over for its cuisine. Alton Brown has stated that New Orleans is one of three food meccas in the United States. That's a pretty big compliment coming from the king of Good Eats.
In my life I have travelled. I have lived in other countries and in other states. And, in my experience, no matter where I am, people are fascinated with New Orleans. There is a mystique about it.
Of course, I've gotten all the "standard" questions from folks who have never been here:
Do you guys (or y'uns) really have alligators as pets?
Do you use a leash to take your pet alligator for a walk?
Do you have to row a boat to work?
Do you need a license to "drive" your pirogue? [OK. I made this one up.]
The point is that people are fascinated by New Orleans. And well they should be. New Orleans is a fascinating place.
Good New Travels Fast. Fun News Travels Even Faster.
At least it does after you put it on Facebook. 😉
I'm really not surprised that the "alligator news" travelled so fast. In fact, I think it's great that it did. It's a fun story.
New Orleans – and all of south Louisiana – is steeped in Catholicism. True, often the Catholicism you encounter here is of the "cultural" variety. Nonetheless, there is at least a foundation. It just takes a little fire in the heart (or under the butt) to get it going. By that I mean that many folks down here are already "culturally catechized." So, when the Holy Spirit does zap them, they already have some kind of foundation to stand on.
At least that's my hope.
Radio Replays
As this story developed, I took note of all the news stories I saw across the Internet, and I chuckled. I wrote about it here at CatholicFoodie.com and on Facebook.
Then I started getting the emails from radio folks.
I'm no stranger to radio. I have been privileged to be on several radio shows over the years. It's always fun, and I always enjoy it.
I can't say that all of the folks below contacted me because of the alligator story (though I know that the NPR one did), I just know that the alligator story was one of the things that we talked about when I was on the following radio shows. And all of these appearances happened within about two weeks or so.
We're talking about radio here, so not all of it is recorded. However, the NPR piece is available online. Incidentally, the creative force behind this piece is Maureen McMurray. I met her for the first time a few years ago when The Catholic Guy Show on Sirius-XM came to New Orleans for Mardi Gras. I had the pleasure of seeing Maureen again a couple of weeks ago when she interviewed me for this story. It was a double pleasure because we met at the historic Parkway Bakery & Tavern for lunch. And guess what we ordered… Alligator Po-boys!
For your convenience I have embedded this radio story in this post. You can listen to it right here:
embed
Things I Wish I Had Said
Invariably, whenever I'm on the radio I always feel like there is something I left unsaid. You know, you're talking about one thing, then, before you are able to complete a thought, the conversation takes another turn.
With normal conversations I usually just drop it. I don't worry about it. Even when recording podcasts I can overlook the things left unsaid. Or I can record them and "paste" them into a podcast. But we're talking radio here. With radio there's no going back.
So here are two things that I wish I would have said regarding alligator, Lent, abstinence, and fasting….
Frying fish and the Knights of Columbus
I had a great conversation with the folks at Catholic Community Radio last week during their Radiothon. At one point I was talking about my experience of Lent as a child: fish sticks or fried shrimp or fried catfish. After my "conversion" experience at the age of 15 (when all of this Jesus and religion stuff became REAL), I started to wonder, "How is eating all this delicious seafood on Fridays a sacrifice?" I really had a hard time with that for a while.
And I stated that when talking with the folks on the radiothon. But I didn't get to finish my thought. The conversation just took a different turn.
Thankfully, my friend David Dawson brought up what I wanted to say. It was about the Knights of Columbus fish fries that you find all across south Louisiana on Fridays in Lent. On the surface those fish fries do not look very sacrificial. However, a deeper look reveals the following: 1) folks who attend the fish fries are indeed meeting the Church's requirements for abstinence, and 2) those fish fries are fundraisers that allow the Knights of Columbus to continue to provide an amazing amount of charitable work locally and beyond.
The REAL Reason Behind Sacrifice: LOVE
And that brings me to the other thing I wish I had said.
As I mentioned earlier, the alligator story is fun. And, at least for us down here, it makes you think. Why can we eat this and not that? It may not always make sense to us, but it does make us think.
Unfortunately, I did not have the chance to address the fundamental questions when it comes to fasting and abstinence: What is it all about? Why sacrifice at all?
Ultimately it is all about love. Love by its very nature is self-giving. There is so much that can be said about this, but for now I am just going to state the basics. As John says in his first letter, "God is love" (see 1 John 4:8). God pours himself out – in love – completely. God is total self-gift. That is why that Jesus' life could not have ended any other way. As God-made-Man, Jesus had to give it all… every last drop of his blood and all of his Spirit.
For us, fasting and abstinence is an opportunity to break away from the things that tend to consume us on a daily basis and to focus our attention and love completely on God. It's not really about rules. It's not about earning God's grace. Rather, it's about putting to death the self-love – the pride – in our hearts and directing our hearts to the One who loves us so much, to the One who saves us.
In a nutshell, that is what sacrifice is all about. Our sacrifices are meant to help us grow in love for God and for one another.
What About YOU?
How is this Lent going for you? Any special sacrifices this year? Are you growing in love?
I'd love to hear about it. Please leave a comment below!
You can download CF160 here, or press Play below to listen now: