September 11, 2015
The Answer to Anxiety with Gary Zimak | The Catholic Foodie Show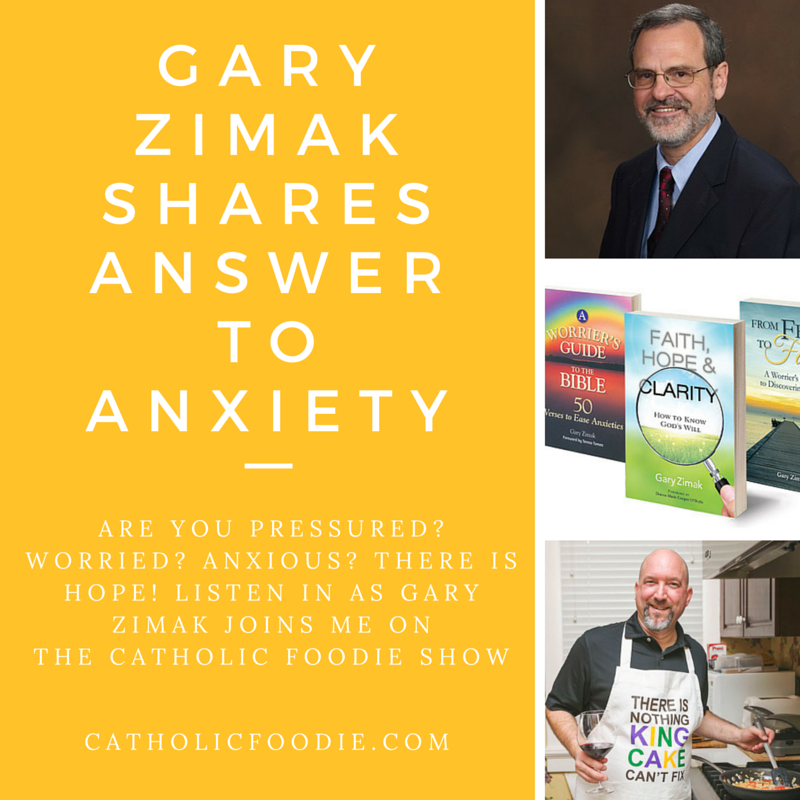 Catholic speaker and author Gary Zimak joined me today on The Catholic Foodie Show to talk about the answer to anxiety. Does anxiety have you by the throat? Are you worried or fearful about global crises… or even about "normal" things like paying the bills and putting food on the table? If so, listen in to The Catholic Foodie Show today as Catholic speaker and author Gary Zimak joins me to discuss the answer to anxiety.
Listen to the Show
Click the Play button below to listen to the show. You can always right-click and save-as to download the show for listening later.
Catholic Speaker and Author Gary Zimak
In 2008, Gary Zimak was working as a project manager when he felt the call to form Following The Truth, an apostolate dedicated to teaching the truths of the Catholic Faith. Initially performing his work for the Lord on a part time basis, a job layoff in 2012 gave him the opportunity to make a bold move. After much prayer, Gary decided to "step out of the boat" and become a FULL TIME Catholic lay evangelist. He went from a guaranteed six figure income to no guarantee of any income. Since that time, he has traveled throughout the United States and Canada bringing thousands of people closer to Jesus Christ!

Mr. Zimak is the author of "A Worrier's Guide To The Bible", "Listen To Your Blessed Mother", "From Fear To Faith" and "Faith, Hope and Clarity". He is a frequent speaker and retreat leader at parishes and conferences across the Unites States and Canada, has an international radio following and is recognized as the leading Catholic speaker on the topic of overcoming anxiety. Gary has appeared on several EWTN television programs including Women Of Grace, At Home With Jim And Joy, Bookmark and The Journey Home. He is the host of The Gary Zimak Show on BlogTalkRadio and a regular guest on Catholic Answers Live, EWTN's The Son Rise Morning Show, Catholic Connection and numerous other radio programs. In addition, he is a member of Catholics United for the Faith, the Knights of Columbus and The Catholic Radio Association and resides in New Jersey with his wife Eileen and their homeschooled twin daughters, Mary and Elizabeth. Gary is an instructor for RCIA (Rite of Christian Initiation of Adults) at Sacred Heart Parish in Riverton, NJ and the chaplain for the Catholic Business Network of South Jersey.

Adhering to the principle of the "2 S's" (Simple and Substantial), Gary Zimak presents the authentic teaching of the Catholic Church in a way that can be understood by the ordinary "person in the pew"! Having been a Catholic who "went through the motions" for most of his life, Gary understands the importance of getting to know Jesus Christ and the teachings of His Church. He can assist you in achieving the peace that can only be found by having a personal relationship with the Lord!
Check Out Gary's Books
Click image below to see more about Gary's books:
Invite Gary Zimak to Speak at Your Event or to Your Group
Please consider inviting Gary to share his message of hope with your parish or group. Contact him by clicking the link below: