September 4, 2010
The Catholic Foodie and Jambalaya = Good Eats!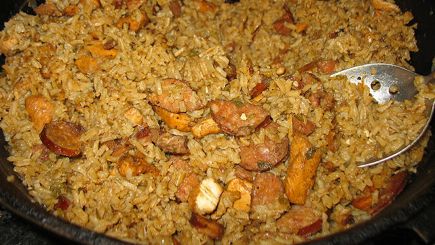 Mmmmmm… Jambalaya.
Oh, I can smell it now!
I can't tell you how many parties, family reunions, birthdays, anniversaries, funerals, weekdays, weekends, lunches, dinners (and sometimes breakfasts) have included jambalaya. I think I have eaten jambalaya just about every where one can eat it.
And everybody has their own variation on it. Some add one thing, and others something else. But we'll talk more about that in a minute.
The Paella Connection?
It is said that jambalaya derives from the Spanish Paella. I can't prove that, but the two are very similar. I guess it does make sense. Louisiana culture really is a mix. 10 flags have flown over the state since 1519. For about 40 years Spain had control of Louisiana. You can still see Spanish influence in some of the architecture… in the French Quarter! Ironic?
Much like the mixed culture of Louisiana, the word "jambalaya" is a mix of two languages: French and African. At its most basic level, jambalaya is a rice and pork dish. Sometimes there's chicken. Sometimes shrimp. Sometimes tomatoes. But you'll find pork in jambalaya every single time. This makes sense considering that the name "jambalaya" comes from "jambon", the French word for ham… and "ya," which is an African term for rice.
No matter where the word comes from, one thing is certain: Jambalaya is good eats, y'all!
A jambalaya by any other name is still as spicy good!
Two Types
There are two types of jambalaya here in Louisiana, red and brown. The red is Creole and is found almost exclusively in the New Orleans area. Brown jambalaya is Cajun and is found pretty much everywhere else.
One word of friendly advice: Don't even think of asking which jambalaya is best. That will only get folks from Louisiana riled up. And we wouldn't want that to happen, would we?
So what's the difference?
The red jambalaya, or Creole jambalaya, has tomatoes in it. It almost always contains the "trinity" too. (And, in case you don't know, down here "trinity" refers to onion, green bell pepper, and celery.) You'll also find shrimp in red jambalaya. Sometimes it's in addition to chicken, and sometimes in place of it. Some folks like to throw ham in too.
Brown (or Cajun) jambalaya, on the other hand, contains no tomatoes. No seafood either. You will probably find the "trinity." But you will definitely find Andouille sausage, chicken, and sometimes pork chops.
My preference is Cajun.
Here's the Catholic Foodie's recipe for a traditional Cajun (brown) jambalaya:
Ingredients
1 lb. Andouille sausage, sliced into 1/4 inch slices (you can also use smoked sausage if you can't find Andouille. But if you do, get the spicy kind)
1 lb. boneless chicken thighs, cut into chunks
1 lb. chicken drumsticks, with the skin removed
1 medium or 2 small green bell peppers, chopped
2 ribs of celery, chopped
2 medium yellow onions, chopped
6 – 8 cloves of garlic, crushed and chopped
2 cups chicken stock
4 cups water
2 1/2 cups of long grain white rice
1 bunch fresh parsley, chopped
1 bunch Green onions, chopped
8 to 10 dashes of Tabasco or Crystal hot sauce
1 1/2 tablespoons kosher salt, (or more, to taste)
Fresh cracked black pepper, to taste
1 teaspoon cayenne pepper (or more, to taste)
Directions
Thoroughly brown sausage in a large pot. I prefer cast iron. Then remove.
Add chicken to the pot. Thoroughly brown. Wait till the chicken starts to stick before stirring. A bit of sticking to the pot is a good thing here. This creates debris, which adds the brown color to the jambalaya.
Remove the chicken and add the trinity (onion, bell pepper, and celery). Stir occasionally, allowing the veggies to soften. When they start to brown add the water and chicken stock. Make sure to scrap the bottom of the pot to loosen the debris.
Return sausage and chicken to the pot.
Add the garlic, about half of the parsley and half of the green onions, hot sauce, salt, pepper, and cayenne. (Note: I reserve parsley and green onions to top individual plates when I serve it.)
Cover and bring to a good rolling boil.
Add the rice, stir, and reduce heat to medium-low. You want it to just simmer.
Cover and leave it alone for 20 minutes. At 20 minutes check it. Rice should be done. If there is too much liquid, remove lid and let it sit on the heat for a few more minutes. But, be careful not to burn the bottom.
Stir the whole pot and serve it up in bowls or on plates. Sprinkle parsley and green onions on top.
We keep at least one bottle of hot sauce handy. Sometimes two.
Note about salt and heat: Keep in mind that Andouille sausage has a kick to it. So you may want to taste the boiling water before adding the cayenne (just let the water cool in your spoon first!). We like it hot, but the heat may be too much for you. The Andouille is also salty. You may want to taste for that too. 1 1/2 tablespoons of salt is conservative. I often add a bit more. Again, it's to taste.
You may want to add pork chops (boneless) to the jambalaya too. Good eats!
Bon appetit!
If you try this recipe, let me know how it turns out. Comment below or give me a call at 985-635-4974.