September 7, 2009
The Catholic Foodie Meets AudioBoo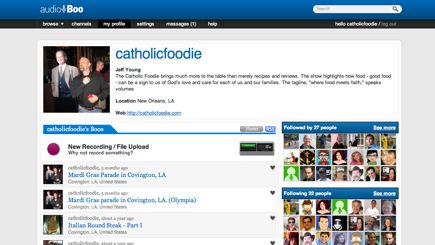 Have you heard about audioBoo?
It's a pretty cool iPhone app that allows you to record up to 5 minutes of audio and upload it to the audioBoo site so that you can share it with others.
It's actually "audio-blogging." And it's a good way to keep up with friends and family.
Here are a couple of my "boos" from today:
The first one was recorded at Chick-Fil-A in Covington, LA. You'll have to listen to find out more!
The second was recorded while at Char's godmother's house. We spent the afternoon there today. Again, you'll have to listen to find out more!
And give audioBoo.fm a try. If you don't have an iPhone or iTouch, that's okay. Sign up and search for your favorite SQPN podcasters and listeners. Many of us are on audioBoo.
You can find my profile here: http://audioboo.fm/profile/catholicfoodie