January 28, 2012
The Catholic Foodie on Catholic Weekend: A Little Food For Thought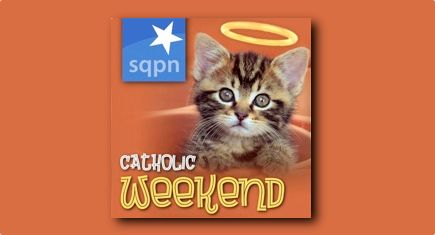 Since I am still recuperating from bronchitis, I decided to hijack an episode of SQPN's Catholic Weekend (with permission, of course). I had the joy of joining the Catholic Weekend crew two weeks ago, and we talked about food, faith, Mardi Gras, King Cake, oysters, and more! Join us in the fun!
I'll be back next week with a full episode talking about the history and tradition of the King Cake during Mardi Gras season. Until then… Bon appetit!
From Catholic Weekend:
Jeff Young, The Catholic Foodie, joins the crew this weekend. Of course, there's talk about the saints Saints and food. Lot's of food, including a little segment on oyster apologetics. And a little bit of Catholic insight, too.
Join us for a little Catholic lite.
The Catholic Weekend Crew this week:
Jeff Young with Maria Johnson, Steve Nelson, and Capt. Jeff.
Links
Happy Feast of the Ass fun post at Southern Fried Catholicism
Sign up to the get the newest information about CNMC12: Dallas/Fort Worth
Picks of the Week
Jeff: Sarah Reinhard's new book due in April, Catholic Family Fun
Steve: Words with Friends saves a life.
Maria: New Evangelizers
Capt. Jeff: Divine Office
Music played this episode
"Llewellyn's Lleap" and "Punxsutawney Phil"
Alan Marchand
To leave feedback for the Catholic Foodie, call 985-635-4974 and leave a message. You can also leave feedback for me at jeff@catholicfoodie.com.
Download this XTRA episode here or listen to it below:
Get new episodes of the Catholic Foodie by subscribing for free via iTunes or in another podcatcher. Find me also at SQPN.com.
You can also find me at:
the Catholic Foodie on Facebook
the Catholic Foodie on Twitter
And over at http://jeffyoung.me