January 27, 2012
The Catholic Foodie's Mardi Gras King Cake Recipe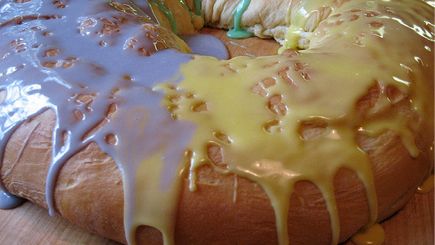 You know, every year during Mardi Gras season, not only do I make lots of king cakes, but I also talk about them a lot on the Catholic Foodie podcast. I tweet pictures of the kings cakes that I make, and I post those pictures on Facebook too. And every year folks contact me to ask for my king cake recipe. Finally, I am making my king cake recipe available to readers of the Catholic Foodie.
I did not invent this king cake recipe from scratch. It's based on a recipe by Chef Emeril Lagasse. I have tweaked it to our liking, and our family and friends love it.
I hope that you like it too.
I need to confess up front that I am a stickler for ingredients. I always use the best ingredients I can find… Kerrygold butter, King Arthur flour, local farm eggs, etc. I encourage you to do the same. Use the best ingredients you can find. It really does make all the difference!
And since Mardi Gras is a season, you could make a few (or several!) king cakes before Mardi Gras day. Experiment. Make this king cake recipe your own. And if you find something that you really like, please let me know about it!
Bon appetit!
– Jeff
The Catholic Foodie's King Cake Recipe
INGREDIENTS
2 packets of active dry yeast (4 1/2 teaspoons)
1/2 cup granulated sugar
1-1/2 sticks of butter, melted (Kerrygold)
1 cup warm milk (about 110 F)
5 large egg yolks, room temperature
4 1/2 cups of all-purpose flour (King Arthur)
2 teaspoons kosher salt
1 teaspoon freshly grated nutmeg
1 teaspoon grated lemon zest
1 teaspoon oil (regular olive oil)
1 lb. cream cheese, room temperature
3 1/2 cups confectioner's sugar
1 plastic king cake baby or pecan half
5 tablespoons milk, room temperature
3 tablespoons fresh lemon juice
Purple, green, and yellow food coloring
METHOD
For The Dough
Combine the yeast and the granulated sugar in the bowl of a stand mixer fitted with a dough hook. If you don't have a stand mixer, don't worry, you can do the same thing by hand in a large mixing bowl.
Add melted butter and warm milk and beat for one minute at medium-low speed.
With the mixer still running, add the egg yolks and beat for another minute.
Add the flour, salt, nutmeg, and lemon zest and beat until everything is incorporated. Increase the speed to high and beat until the dough pulls away from the sides of the bowl and forms a ball (or starts to climb up the dough hook). As with any dough, you may have to add water (a tablespoon at a time) or more flour to get the right results.
Remove the dough from the bowl and, using your hands, form it into a smooth ball. Using regular olive oil (not extra virgin), lightly oil a large mixing bowl. Place the dough in the bowl, rolling it around to coat it on all sides with oil. Cover the bowl with plastic wrap and set aside in a warm, draft-free place for about 2 hours. You want the dough to double in size.
For The Filling
In a large mixing bowl, combine the cream cheese and 1/2 cup of confectioner's sugar. Blend using a fork or an electric mixer on low speed. Set aside.
After The Dough Has Doubled In Size
Turn the dough out onto a lightly floured surface. Using your hands or a rolling pin, roll it out into a rectangle about 30 inches long and 6 inches wide.
Take the cream cheese filling and spread it out lengthwise over the bottom half of the dough.
Flip the top half of the dough over the filling and seal the edges with your fingers, pinching the dough together.
Shape the dough into a cylinder and place it on a baking sheet (I use a round pizza stone) seam side down. Shape it into a ring and pinch the ends together, doing your best so that there's no visible seam.
Cover the ring with plastic wrap (or a clean kitchen towel) and set aside in a warm, draft-free place. Let the dough rise until doubled in size (about 45 minutes).
Preheat oven to 350 F.
Once the cake has doubled in size, remove the plastic wrap or towel and brush the surface of the cake with 2 tablespoons of milk.
Place cake in oven and bake 25 to 30 minutes, until it is golden brown.
Remove from the oven and place the cake on a wire rack so that it can cool completely.
When it is completely cooled, insert the plastic baby, or pecan half, from the bottom of the cake.
For The Icing
In a mixing bowl, combine 3 cups of confectioner's sugar, 3 tablespoons of milk and 3 tablespoons of lemon juice. Stir well with a fork. Once it is well-blended, divide the icing into three small bowls. Carefully, one drop at a time, add a different colored food coloring (purple, green and yellow) to each of the bowls, stirring in each drop to achieve the desired colored icing.
Once the cake is completely cooled, the icing can be poured over the cake with a spoon, carefully alternating the colors around the king cake. See photo for an example.