January 13, 2011
The Catholic Foodie's Seafood Gumbo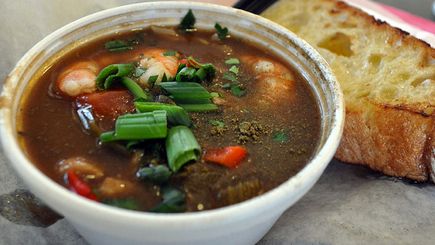 INGREDIENTS
2 lbs shrimp (with heads attached), peeled, retain the heads & shells
4 yellow onions, 2 chopped, 2 quartered
4 ribs celery, 2 chopped, 2 quartered
2 green bell pepper, chopped
6-9 cloves garlic, minced
3 pounds tomatoes, peeled, seeded, and chopped
1 pound okra, sliced (1/2-inch slices)
1 stick butter
1/2 cup all-purpose flour
Cayenne pepper, to taste
3 bay leaves
Sea salt, to taste
black pepper, to taste
1/2 teaspoon thyme
1 bunch green onions, chopped
1 pound lump crabmeat
4-6 gumbo crabs, optional
1-2 dozen oysters (with their liquor)
Filé powder, to taste
1 bunch parsley (flat-leaf), chopped
rice
Crystal Hot Sauce or Tabasco, to taste
METHOD
FOR THE STOCK:
Peel and devein the shrimp, removing the heads. Refrigerate shrimp until ready to use. Place heads and shells in a stock pot. Quarter 2 onions lengthwise. Quarter 2 or 3 cloves of garlic. Cut the celery into 3 to 4 inch pieces. Add 8 to 10 cups of water to the stock pot. Bring to a boil, reduce heat and simmer, uncovered, for 2 hours. Strain through fine-meshed sieve. Discard shells and veggies. Return stock to pot and set aside.
FOR THE GUMBO:
Chop the yellow onions and the celery. Seed, trim, and chop the bell pepper. Set aside. Peel and seed the tomatoes, chop and set aside. (Alternatively, you can use the equivalent in canned tomatoes). Trim and slice the okra into 1/2-inch slices. Set aside.
Make your roux. Roux is made with equal parts flour and oil. In this recipe, we use butter to make the roux. Heat a deep skillet (stainless steel or cast-iron) on medium heat (#6). Cut up the butter and add to the skillet. When the butter melts and begins to bubble, start adding the flour slowly, stirring constantly with a spatula (preferably wooden). Remember to stir constantly to prevent burning or scorching. The roux will quickly change colors. For the gumbo, you want a dark brown roux, the color of chocolate. This should take about 5 to 7 minutes.
Once the roux has reached the right color, quickly add the onions, celery, and bell pepper, continuing to stir until all is mixed well. Sauté the veggies until they soften, about 3 or 4 minutes. Add the minced garlic and continue to sauté, stirring another minute or two.
Bring reserved stock to a boil. Add the veggie-roux mixture to the stock using a large spoon. Stir in the spoonful of mixture until fully integrated before adding another spoonful. Add the tomatoes, okra, bay leaves and thyme. Add salt, pepper, and cayenne to taste. Add the gumbo crabs. Return to a boil, reduce heat and simmer, uncovered, for about an hour. Occasionally skim and discard any excess oil that pools on the surface.
Add the reserved shrimp. Allow to simmer for another 2 minutes. Add the crab meat and the oysters. Simmer for another 2 or 3 minutes, until the edges of the oysters start to curl. Taste and adjust seasoning. Add some of the green onions and the parsley (save some so that each guest can add to their bowl according to taste).
Remove bay leaves and discard. Serve in bowls over rice. Sprinkle bowls with green onions and parsley. Have Crystal Hot Sauce or Tabasco on hand, and gumbo filé, in case anyone wants to thicken up their bowl with a dash or two.
Bon appetit! Image courtesy of Bill Roehl on Flickr.com.
UPDATE: I have a new and improved recipe for Seafood Gumbo that you can find at : /the-catholic-foodies-best-seafood-gumbo-sundaysupper