September 4, 2011
The Catholic Foodie's Whole Wheat Bread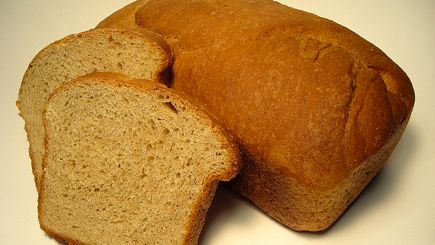 For years the art of baking bread with whole wheat flour eluded me. I tried and tried, but nothing I did came out right. The bread was always dry, dense, and tasted terrible. Kind of like eating a rock.
Then I discovered King Arthur Flour and their recipe for 100% Whole Wheat Bread.
Here is my variation of their excellent recipe….
INGREDIENTS
1 to 1 1/4 cups lukewarm water
1/4 cup extra virgin olive oil
1/4 cup honey
3 1/2 cups King Arthur White Whole Wheat Flour
2 1/2 teaspoons bread machine or active dry yeast
1 1/4 teaspoons salt
DIRECTIONS
FOR BREAD MACHINE:
Combine all ingredients in the bread machine pan, placing liquids in first and saving the yeast until last. Set your bread machine to the "Dough" cycle.
MANUAL:
Combine all ingredients – except the water and yeast – in a large mixing bowl.
Dissolve yeast in 1/2 cup of warm water. Allow it to sit until activated and bubbling (3 to 5 minutes).
Add yeast mixture and remaining 1/2 cup (to 3/4 cup) water to the bowl and stir until the dough starts to pull away from the sides of the bowl.
Transfer the dough to a lightly greased surface. Oil your hands and knead for 8 minutes, or until the dough becomes smooth and supple. Add more water or flour, if necessary.
Lightly grease a large bowl with extra virgin olive oil. Transfer the dough to this bowl. Cover it with kitchen towels or plastic wrap and let it rise until it is doubled in bulk, about 1 to 2 hours. [Note: Sometimes (especially when it is cold) I will warm up the oven just a bit, then turn it off. I'll place the bowl in the oven to give it some isolation and to protect it from drafts.]
Transfer the dough to a lightly oiled surface and shape it into an 8″ loaf. Place it in a lightly greased loaf pan (8 1/2″ by 4 1/2″) and loosely cover it with plastic wrap. Allow it to rise again for about 1 to 2 hours, until the center has crowned about 1″ over the rim of the pan. Toward the end of the rising time, preheat the oven to 350° F.
Bake the bread for 35 to 40 minute, tenting it lightly with aluminum foil after 20 minutes to prevent over browning.
Remove the bread from the oven, and turn it out of the pan onto a rack to cool. Cool completely before slicing. Store the bread in a plastic bag at room temperature.
A TIP
"If you're someone who tends to taste whole wheat as somewhat bitter, try substituting 1/4 cup of orange juice for 1/4 cup of the water in this recipe. A bit of orange juice tones down whole wheat's somewhat tannic taste."
Image courtesy of Amber Karnes on Flickr.com.
UPDATE
As you will see in the comments, there are other excellent resources available… healthy ones too! I thought I would update this post to include my Amazon affiliate links in case you want to check out these other resources: Artisan Bread in Five Minutes a Day (this is one that my friends swear by!) and the newer "more healthy" version: Healthy Bread in Five Minutes a Day. Bon appetit!