October 20, 2012
The Inspiration Behind My Pizza Dough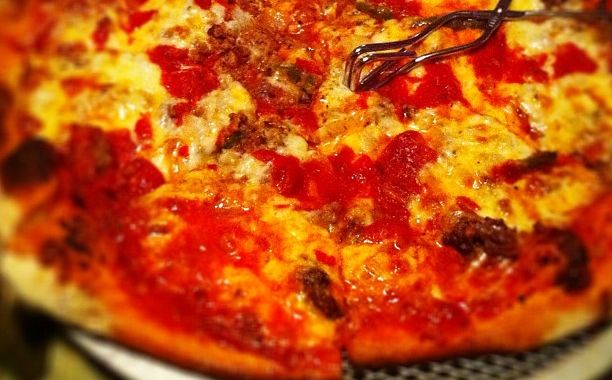 Doh! Don't Forget Important Ingredients For The Pizza Dough!
Baking is a science. That is a fact.
If you don't believe me then just try leaving out the yeast in your pizza dough recipe and seeing what happens.
Nothing. That's what would happen. The dough would not rise.
Well, just the other day I posted my basic recipe for pizza (and a challenge to get creative with your toppings!). And guess what. I forgot the yeast.
Not when I was making the pizza… only in the list of ingredients. 😉
Thankfully, I had a handful of folks who contacted me to let me know the error of my ways. And they did so via Twitter, Facebook, email, and even in the comments on the Creative Pizza Recipes post.
I repented. I went back into WordPress and added one single line that would make all the difference for anybody trying to make that recipe.
Lesson learned. Please don't forget the yeast.
Gotta Give Credit Where Credit is Due
As I re-read that post to make sure that I didn't leave anything else out, it dawned on me that I did not share where my I got my inspiration for the crust that I make today. I did mention the fact that I had been working on my pizza recipe for years (since high school!). But I left something out:
Credit.
Pizza on Earth! – Albert Grande and PizzaTherapy.com
A few years ago, shortly after starting The Catholic Foodie, I came across a rather interesting character. His name is Albert Grande, and anytime you hear his name mentioned the word "PIZZA" is somewhere close by. He is the mastermind behind what I consider an ingenious website: PizzaTherapy.com.
If I need any kind of therapy, I'm sure it must be Pizza Therapy. As a matter of fact, I'm convinced that there ain't no better type of therapy. [And I sure do wish I had thought of the name Pizza Therapy!]
Anyway….
Albert also has an ebook all about… You guessed it: PIZZA! You should check it out.
You should also check out the video below. This video was the inspiration for my pizza dough recipe.
I tweaked my recipe a little bit. But I'll tell you about that after you've watched what was my original inspiration.
Go ahead. Watch. I'll see you again in a couple of minutes. 😉
[SlideDeck2 id=3801]
As you can tell from the video (if you have already read my pizza dough recipe), I made just a minor adjustment to the ingredients. I use 3 teaspoons of yeast. Albert uses 2.
However, I do make another adjustment to the recipe that Albert does not do (but I'll tell you about that in a minute). First I want to make two notes:
A note about olive oil: Apparently there is an eternal argument going on somewhere in the heavens about whether or not you should add olive oil to your dough. Rumor has it that not adding olive oil will yield a crispier crust. I don't care. I like olive oil. A lot. I will continue to add it to my dough.
A note about yeast: When it comes to yeast, Albert was influenced by Peter Reinhart, author of the famous pizza book American Pie. And according to Peter, less is better. I don't disagree. Really. I have just found that 3 teaspoons works better in my kitchen than 2.
The Pizza Trick That Makes It All Work – Catholic Mom in the Country
There's someone else who deserves cred.
My friend Cathy LeBlanc, AKA Catholic Mom in the Country.
Over a year ago she submitted her pizza dough recipe to The Catholic Foodie. I tried it. I liked it. As a matter of fact, she really helped me with my Spinach Pizza Crust.
But, really, she did even more. She gave me a tip that revolutionized how I make pizzas. It's what I am calling the SECRET to perfectly-baked homemade pizzas. Now, whether or not YOUR pizzas come out perfectly is TOTALLY up to you. But I know that this little trick makes it all work out alright in MY kitchen: pre-bake the crust.
If you want the specifics, I outlined it all in the post the other day. Read it there.
And then try it at home.
And then LET ME KNOW HOW IT WORKS FOR YOU!
Seriously. I want to hear from you. I want to know how it works.
Think of it as your *small* contribution my mission to find the perfect homemade pizza. Of course, it could be a HUGE contribution too. At least it could be huge IF you send pics. Or a slice. 😉
Pizza on Earth? What About You?
OK. I HAVE to know. What is pizza-making like in YOUR home? Please tell me in the comments below!
Seriously. I NEED to know. You HAVE to comment below. That is the price-of-admission to reading the post. And, since you have already read  it… Well… Go ahead. Tell me what you think!