May 12, 2014
The New Orleans Wine and Food Experience 2014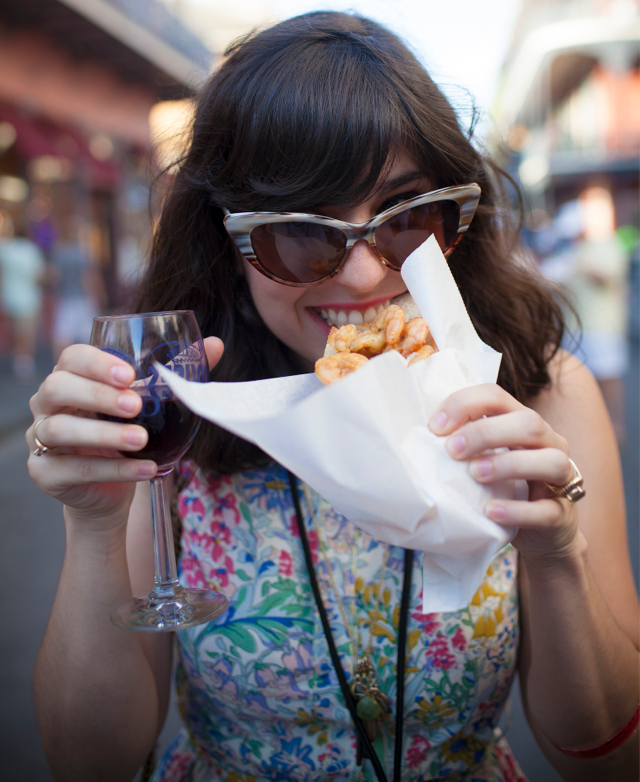 NOWFE Is Less Than 2 Weeks Away: May 21 – 24, 2014
The New Orleans Wine & Food Experience is one of the premiere events in the Big Easy, showcasing what the city does best. In it's 22nd year, our New Orleans festival has become one of most incredible culinary events in the nation, attracting over 10,000 gourmands and connoisseurs as well as art and music lovers. We're also excited to share the bounty with all the locals who enjoy excellent food, exceptional wine, and a great time!

Each year, hundreds of wineries and restaurants participate. Menus feature local flavor and innovative new creations inspired by diverse cuisines. Top chefs from around the city create culinary experiences like no other. Over two dozen restaurants feature special dining evenings throughout the New Orleans festival. The weekend also features over 1,000 wines from around the world, with special tasting events from wineries. You can enjoy grand tasting events, promenade evenings in the French Quarter, and seminar series to hone your palate. For the grand finale, attend the gala at the end!

We also care about our community and want to make New Orleans a better place to live. Over the past 20 years, we have raised more than $1 million for local non-profit organizations. From food banks to culinary schools, our beneficiaries have been able to help our community and our culture thrive. We are proud to support our city in this way and look forward to announcing this year's partnering organizations.

If you're looking for a culinary getaway, want to rub shoulders with top chefs and winemakers, or simply enjoy the good food and wine, then book your ticket to this year's New Orleans Wine & Food Experience. Gather all the information you need here on our site to help get you prepared. We look forward to seeing you at this year's event!
22 Years of Wine & Food
A year and half before the very first New Orleans Wine & Food Experience (NOWFE) took place in 1992, a passionate group of wine lovers and purveyors, restaurateurs, hoteliers and arts aficionados gathered to establish the city's most enduring annual wine and food event. They determined that 100 percent of the event proceeds—minus costs, of course—would benefit the arts, careers in wine, and the hospitality industry; and provide funds for other charitable organizations. The first NOWFE was hosted by the Sheraton Hotel. It began as a four-day event consisting of eleven vintner dinners at various restaurants, the Royal Street Experience, two Grand Tastings, seminars, and champagne brunches. That first year was very successful despite the fact that nearly zero tickets had been sold in advance. In fact, NOWFE made a $6000 profit and disperse $2000 each to three charitable organizations. After a banner first year, the event was moved to the larger venue of the Fairmont Hotel for the next two years. Over the last several decades NOWFE has grown into an event that annually welcomes more than 10,000 attendees, yet still offers many intimate opportunities to mingle with winemakers, chefs and industry insiders at a plethora or festival events. Adhering to its original mission, NOWFE has contributed more than $1 million to local non-profit organizations, and continues to provide a one-of-a-kind experience for wine and food lovers.
Beneficiaries of the 2014 Event:
In an effort to fight hunger and support culinary education, the 2014 beneficiaries (listed below) will share 100% of the proceeds.

Reconcile New Orleans
Reconcile's innovative life skills and job training program assists young people (ages 16–22) from severely at-risk communities who desire to make a positive change in their lives. Their students arrive facing a vast array of challenges, from extreme poverty and high school attrition to homelessness, violence, and participation in the juvenile justice system. Nonetheless, these young people possess a deep desire to break the cycle and become productive, contributing members of society.

The University of New Orleans, School of Hotel, Restaurant & Tourism
The UNO HRT Program provides students with the foremost in hospitality and tourism education, which involves individual growth and leadership skills, and professional knowledge of the hospitality and tourism industry.

Louisiana Restaurant Association Education Foundation ProStart® Program
ProStart is a two-year career-building program for high school students who are looking to enter careers in the restaurant industry.

The John Folse Culinary Institute
The John Folse Culinary Institute is dedicated to the preservation and advancement of Louisiana's rich culinary heritage. NOWFE's annual donation funds a scholarship for the top culinary students to travel to the Bocuse Institute, in France, where they get hands-on experience with the French roots of Louisiana culinary traditions.

Delgado Community College, School of Culinary Arts
Culinary Arts is one of Delgado's premier programs, training students for careers in the food services and the restaurant industry.

NOCCA's Culinary Arts Program
The New Orleans Center for Creative Arts is Louisiana's high school conservatory. NOCCA's Culinary Arts Program offers an intensive summer program for young artist/chefs in collaboration with the Emeril Lagasse Foundation and Johnson & Wales University. NOCCA is developing a four-year Culinary Arts high school curriculum to be taught via NOCCA's master apprentice tradition.

Edible Schoolyard
Edible Schoolyard New Orleans (ESY NOLA) changes the way children eat, learn and live at FirstLine Schools in New Orleans, through a comprehensive, hands-on food education program that integrates organic gardening and seasonal cooking into the school curriculum, culture and cafeteria food programs.  Our schoolyard gardens, teaching kitchens and reformed school cafeteria menus involve students in all aspects of growing, harvesting, preparing and enjoying food together, as a means of awakening their senses, cultivating a school environment that promotes a sense of pride and responsibility for our land and natural resources, and developing a love of fresh, seasonal foods.
Scheduled Events and Tickets