February 1, 2010
The Sacramental Principle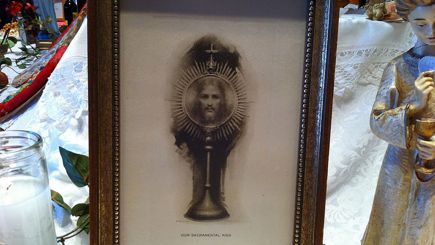 I read a book a number of years ago that really struck me by it's simplicity and depth. The Privilege to Be Catholic by Fr. Oscar Lukefahr, C.M. The basis of the book is something he refers to as the "sacramental principle."
In its basic form, the sacramental principle "states that created things are good and are signs of God's presence and grace." Fr. Lukefahr notes that the sacramental principle is distinctly Catholic and is the basis for all we do as Catholics. God became man in Jesus, and the Incarnation changed everything. That's why the seven sacraments make sense. They are reasonable. They ring true with creation itself.
If you recall, the Baltimore Catechism's definition of sacrament is: "A sacrament is an outward sign instituted by Christ to give grace." The basic assumption here is that creation itself is good. It was created that way by God. And God uses creation to communicate with us.
Food is part of this sacramental principle. God feeds us with bread, with water, with all the good things of the earth. And God feeds us with his Word. We can only understand how God feeds us spiritually because of how He feeds us physically. Our souls need nourishment just as our body does.
The Catholic Foodie takes the sacramental principle seriously. Food – good food – can be a sign to us of God's love and care. God provides for us! And not in a stingy way. His love and care are abundant!
There is so much that I want to say on this point. But it will have to wait until later. Right now I have to teach a class. I am going to remind a bunch of teenagers that God loves each one of them.
How about you? Have you ever thought of food this way? If not, then I guess I just gave you food for thought. And I would love to know what you think!
Does good food remind YOU of God?