January 29, 2014
The WOW Effect of Pizza: Pizza Man of Covington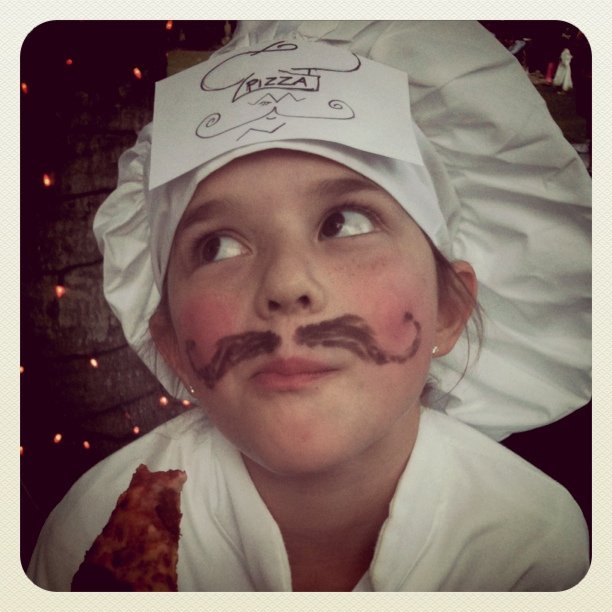 The Dream Interview: On-Location at Pizza Man of Covington
I'm just a kid, really. A kid that loves handmade pizzas from one-of-a-kind pizza parlors, the kind of pizza parlors that are local and owned by a family… not a chain.
Pizza Man of Covington is one such pizza parlor, and – in my humble opinion – Pizza Man of Covington makes one of the best pizzas in the world.
Dining at Pizza Man reminds me so much of some of the pizza parlors of my childhood. I grew up in Baton Rouge, and I remember the magic of places like Europe's Pizza on Airline Highway, Pastime Restaurant & Lounge downtown by the river, and Fleur de Lis on Government Street.
Pizza was certainly my favorite food, and each of these restaurants were local and family-owned. Unfortunately, Europe's went out of business when I was in the early years of high school. Chef Paul retired and returned to his native Sicily. I still remember the many patrons who pre-ordered stacks of uncooked pizzas so that they could freeze them at home… a doomed attempt to put off the inevitable. Europe's Pizza is no more.
Pizza Man: A Family Business Full of Magic and Joy
I first discovered Pizza Man as a seminarian in 1995. St. Joseph Seminary College is only about 7 minutes away, and one evening during the first month or two there, some of the older seminarians introduced me to Pizza Man. I will be forever grateful.
And the first pizza I ever tasted at Pizza Man?
The WOW! It's a name acquired by response. The WOW! has an extra virgin olive oil foundation and is topped with fresh crab meat, tender artichoke hearts, a sprinkle of fresh garlic and a dash of Romano cheese. Crab meat, artichoke, garlic, olive oil and cheese? WOW!
After graduating and later getting married, I eventually settled in Covington, only about 7 minutes away from Pizza Man. Coincidence? I think not!
Pizza Man is a great eatery for families. The big windows looking into the kitchen and the fully-functional juke box (often playing Puff the Magic Dragon!) are sure to entertain the little ones. Watching Chefs Paul and Dustin toss pizzas in the air, juggle pizza trays, and paint faces on pizza dough with tomato sauce is enthralling for the young and old alike. Pizza Man serves up not only great pizza, but fun and magical family dining experience.
In addition to the WOW!, we like to order another of Pizza Man's specialty pizzas: the Pizza Palace. Named after Bob's Pizza Palace in Houma, LA, this pizza is a tribute to owner Paul Schrems' pizza mentor and father-in-law, Bob. Bob's Pizza Palace is no longer in business, but the tradition lives on at Pizza Man.
The Pizza Palace is topped with thinly sliced pepperoni, Italian sausage, blanched green peppers, along with Pizza Man's home-made meatballs and chunks of onion. A frequent addition to those toppings is roasted garlic. The Pizza Palace is a pizza lover's pizza. Order one. You won't be disappointed.
Paul & Dustin Schrems Talk with Us about Pizza Man on the Around the Table Food Show
Pizza Man owner and operator Paul Schrems and his son Dustin (who handles most of the day-to-day operations now) invited us last week to broadcast the Around the Table Food Show on-location at the restaurant. What a treat!
Listen to the show to hear me recount the story of my youngest daughter dressing up as Pizza Man for Halloween a couple of years ago [pictured above], and how I received a coveted custom-designed pizza box for my birthday in 2010. Pizza Man Paul Schrems also reveals how his specialty pizza the Board got its name. The Board is right up there with the WOW! as one of the most-ordered pizzas. It is topped with fresh chopped garlic, imported capicolla (spiced, cured ham), spinach, fresh mushrooms, onions and a splash of feta cheese.
Press the "Play" button below to listen now, or download the MP3 version and listen at your convenience by right-clicking this link and saving the file to your computer: The WOW Effect of Pizza: Pizza Man of Covington.
libsyn
The "Deets" on The Pizza Man of Covington
The Pizza Man is the Northshore's oldest, owner operated pizza parlor, founded in 1976!
The restaurant is located at 1248 Collins Blvd., Covington, LA, across the street from Zoe's Bakery.
Open 7 nights a week, from 4pm to 9pm.
If you like true Italian pizza, you are destined to find something on the menu that you will love! Take out orders are welcome, we also offer a great indoor space with table service. A great place to take the family out for dinner.
Call ahead for your to-go order: 985-892-9874.
Pizza Man now accepts credit cards.
You can also find Pizza Man (and lots of pizza pictures!) on Facebook.