January 11, 2015
Tomato Soup with Lamb and Rice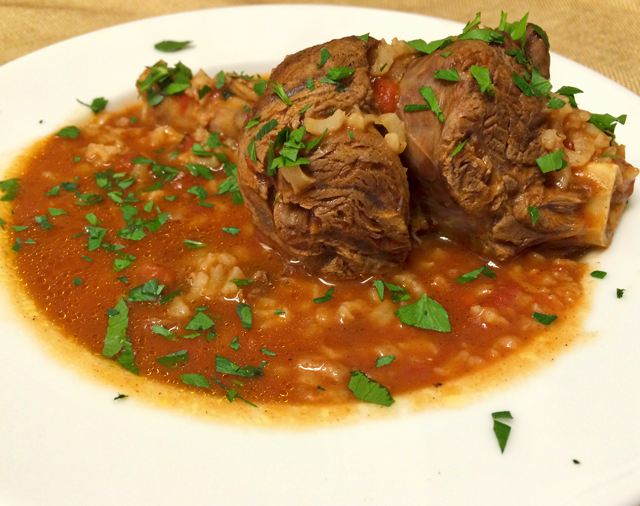 This recipe for Tomato Soup with Lamb and Rice is one of the recipes I included in my recent book, Around the Table with The Catholic Foodie: Middle Eastern Cuisine.
With all the cold weather we have had recently (19 degrees in New Orleans this week!), soup has been on my mind. My wife made a Classic Tomato Soup the other day, accompanied by "fancy" Grilled Cheese sandwiches made on sliced ciabatta with mozzarella and basil pesto. Ridiculous, I know. It. Was. Amazing!
Then there was the Pho I had this past week. Twice.
What can I say? Soup IS good food… and it helps you stay warm too!
Lamb and Tomato Soup?
This is one of those recipes that I discovered by accident. When making soups, I always use stock over water. But the first time I made this soup, I just used whatever I had on hand, and I didn't have any stock on hand.
Lamb shanks are the key. You can start this soup from water, if you want, because the bone-in shanks will give you the flavor you need.
This is one of the few soups I make that has no onion and no garlic. The lamb shanks are on center stage, and I don't want anything to take away from that. The seasoning is there to help bring out the natural flavor of the shanks, and the tomatoes are there to serve as a base.
A Note about the Rice…
In the recipe, you will see that I add the rice after the shanks are cooked, and I allow the rice to cook in the pot. This method works if you are going to serve all you cook in one meal. If you are scaling this recipe for a larger crowd, or if you know you will have leftovers, then you might want to cook the rice separately in a rice cooker, and add a scoop of  cooked rice to the bowls when serving.
If you cook the rice in the soup and end up having leftovers, then the rice will practically disintegrate the next time you reheat the soup, which will give the soup a mealy texture.
A Note about Measurements…
You will notice below that there is no measurement for the liquid. Play with it. See what you like. Since you have 1 cup of rice, you know that you'll need at least 2 cups of water. But you'll need more than that to cover the shanks. Do what tastes right….And enjoy.
INGREDIENTS
2 lamb shanks (can substitute beef)
Water or stock (chicken or beef), just enough to cover the shanks
1 cup long grain rice
1 pound of ripe tomatoes, crushed (can substitute 1-28 oz. can of whole plum tomatoes, crushed)
1 teaspoon cinnamon
1 teaspoon allspice
1⁄2 teaspoon cayenne (optional)
Kosher salt and freshly cracked black pepper, to taste
INSTRUCTIONS
Place the shanks in a large heavy- bottomed pot. Add enough water to just cover the shanks. Bring to a boil, then immediately reduce heat to medium or medium-low to maintain a simmer. Cover and simmer until tender, about 1 hour. Skim and discard any fat that accumulates.
Stir in the rice and the spices and cook for 20 minutes. Add the tomatoes, season with salt and pepper, and simmer for about 20 minutes.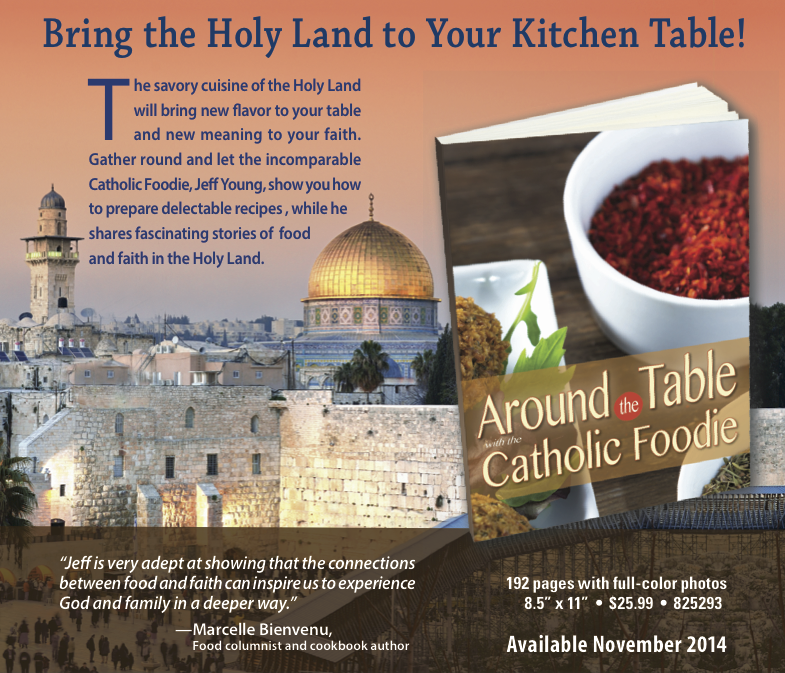 This recipe for Tomato Soup with Lamb and Rice – and 77 other recipes – is included in my new book, Around the Table with The Catholic Foodie: Middle Eastern Cuisine, published by Liguori Publications.
Enjoy!