December 30, 2014
Top 10 Recipes of 2014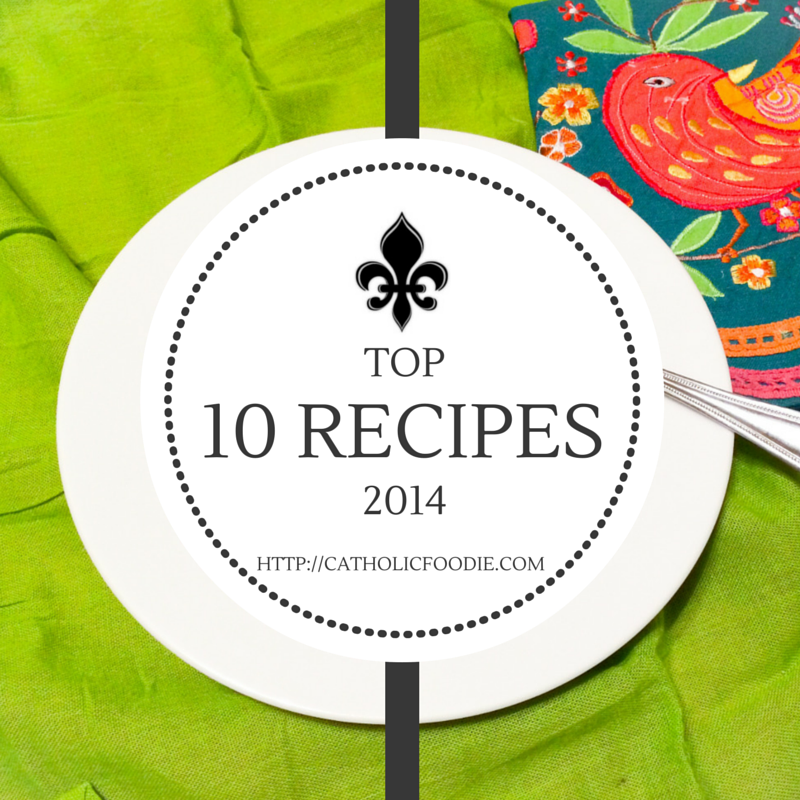 2014 has been a big year for The Catholic Foodie. In addition to welcoming over 250,000 unique visitors to CatholicFoodie.com, 2014 has also seen:
As we come to the close of 2014, it is appropriate to look back over the year. While looking at the accomplishments, I also looked at the most popular recipes at CatholicFoodie.com. Below you will find the Top 10 Recipes for 2014. Some of them I expected to be in the Top 10. But I admit that some of them are surprises.
Enjoy!
Top 10 Recipes at CatholicFoodie.com for 2014
10. Turkey & Andouille Gumbo: One of our post-Thanksgiving favorites. As a matter of fact, I regularly joke that the only reason we cook a turkey on Thanksgiving is so that I can make a gumbo the next day.
9. Kafta – Lamb Kabobs or Lamb Meatballs: This one can be made either as a "kabob" (meat wrapped around a skewer and grilled) or as meatballs. I include the meatball version in my Pumpkin Soup with Kale & Kafta recipe.
8. How to Make Dry Roux in the Oven: I never thought that this one would gain as much traction as it had. Don't get me wrong, it's a great recipe, I just didn't know that so many people are looking for an alternative to making a traditional roux.
7. Shrimp & Okra Gumbo: I love this one. It's an economical way to make "Seafood" Gumbo throughout the year. And I really, really, really like how the okra thickens this gumbo.
6. New Orleans-style Hot Tamales: Definitely not the healthiest recipe on this list, but it's a classic down here in New Orleans. If you've never tried them, you should. And if you have, then you know what I'm talking about.
5. Lebanese Hummus & Homemade Pita Bread: The headliner for my Around the Table cookbook. Always popular. Always good. Especially when I make the pita on my Baking Steel.
4. Authentic Chicken & Andouille Gumbo: A classic. Perfect for a cold winter's night… or any night under 70 degrees in New Orleans.
3. How to Make Pizza Dough with Beer: Pizza and beer go together like peanut butter and chocolate, but I never expected this beer-made pizza dough recipe to weigh in at number 3. Give it a try. It's pretty tasty.
2. Lebanese Spinach & Lentil Soup: Consistently one of the most viewed recipes at CatholicFoodie.com, this recipe was one of the first I listed to appear in my book, Around the Table with The Catholic Foodie: Middle Eastern Cuisine. Who knew simple lentils could taste so good?
1. Oven-Baked Salmon: I did not see this one coming. I guess you could say that it came in "under the radar." Baking salmon is so simple to do that you really don't need a recipe. Yet in 2014 this has been the #1 recipe viewed on CatholicFoodie.com. Go figure.
What about YOU?
Do you have any favorite recipes from 2014? Either from CatholicFoodie.com or from somewhere else? I'd love to hear them! Leave a comment below so that I can learn about YOUR favorite recipes! Thank you!
Merry Christmas & Happy New Year
I hope that you are enjoying this Christmas season, and I want to wish you and yours a very Merry Christmas and a Happy New Year!