August 18, 2014
Travel to the Holy Land with The Catholic Foodie, Chef Matt Murphy, and Fr. Kyle Sanders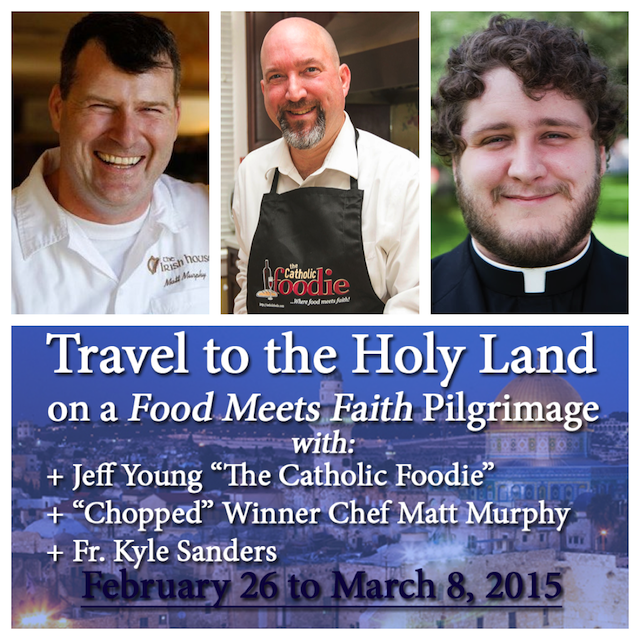 Yes, the next Food Meets Faith Pilgrimage to the Holy Land is still on, and registrations continue to come in.
The pilgrimage is from February 26 to March 8, 2015, and space is limited. Register by September 15 and receive a free autographed copy of my new book Around the Table with The Catholic Foodie: Middle Eastern Cuisine.
Food Meets Faith Pilgrimages provide a unique pilgrimage experience – a food and faith experience. In order to make this kind of pilgrimage work, we aim for smaller groups rather than larger. We want to preserve the intimacy of the experience. Register now to secure your spot. Register by calling Susan at 1-800-842-4842.
If you have never been to the Holy Land, this is a wonderful opportunity to experience the places where Jesus walked, talked, and ate with his disciples. It's where the gospel was first preached and where the mysteries of our salvation took place. It's a life-changing experience.
If you have been to the Holy Land before and are inclined to go again, I would encourage you to travel with me. These food and faith pilgrimages are different than a regular pilgrimage. In addition to all the usual pilgrimage experiences, you will be treated to a deliciously foodie buffet of events, including dining in some of the best restaurants in the Holy Land. The aim of a Food Meets Faith Pilgrimage is to grow in faith around the table of the Eucharist and around the dinner table too.
Travel Safely to the Holy Land
In recent weeks the situation in Gaza has been in the news. Finally, we see the operations in the Gaza Strip winding down, but the Palestinians there are still suffering greatly. One of the most unique facets of a Food Meets Faith Pilgrimage is that it puts you in direct contact with the "Living Stones" of the Church, those Christians and call the Holy Land home. Both the Israelis and the Palestinians need our prayers and sacrifices as they work toward peace. Let us pray for them, and pray for peace.
Gaza, the area of conflict, is not close to our pilgrimage will take us, so there is no reason to fear. Select International Tours has been leading pilgrimages to Israel for almost thirty years. I have spoken to people who have travelled there more than I have, and they concur with my experience: I never felt unsafe in Israel or Palestine. Everyone loves tourists and the hospitality of the people is wonderful to experience. As a matter of fact, just last week there were an estimated 75,000 pilgrims in the Holy Land.
Susan Prendergast at Select International Tours is handling all the financial and logistical information for our journey. Select International is an outstanding company with excellent service. You can find out more information – and register for the pilgrimage – by calling Susan at 1-800-842-4842
I want to invite you to grow in faith together with me around the table of the Eucharist and around the dinner table in the Holy Land.
Register before September 15, 2014 and you will receive a free autographed copy of my soon-to-be-released cookbook: Around the Table with The Catholic Foodie: Middle Eastern Cuisine, published by Liguori Publications.
TO REGISTER: CALL SELECT INTERNATIONAL TOURS AT 1-800-842-4842.
See full itinerary HERE. You can also download it.
About Jeff Young, The Catholic Foodie
Jeff Young is a former seminarian and educator. He is the founder and producer of The Catholic Foodie blog and podcast, which has 15,000-plus followers. Jeff was born and raised in Baton Rouge, Louisiana, and now lives in New Orleans. He is a friend of many of the city's famous chefs, and co-hosts the Around the Table Food Show on CCR 690AM (New Orleans) and 1380AM in Baton Rouge.
Jeff is also a conference speaker and has spoken on topics ranging from "growing faith around the table" to "using social media in the New Evangelization." Jeff's first book – which is based on his February 2014 pilgrimage to the Holy Land – is now available for pre-order from Liguori Publications. The book is titled Around the Table with The Catholic Foodie: Middle Eastern Cuisine, and it is scheduled to be released on November 1, 2014.
About Chef Matt Murphy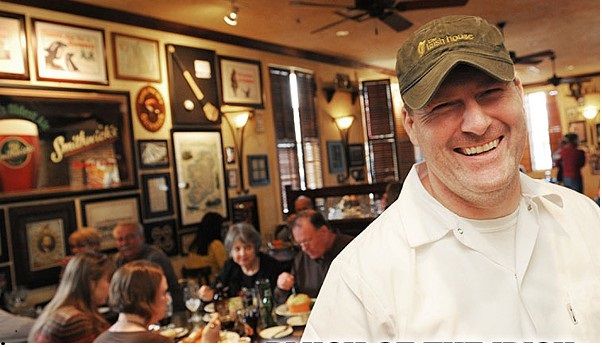 Chef Matt Murphy is a pioneer in a new breed of culinary artists who expand their prowess far outside the bounds of the kitchen.  His passion for his craft, his commitment to the Gulf Coast community, a head for innovative business, and of course, that rogue-Irishman approach to cooking, are just a few unique facets that shape the character of this respected, dynamic man.
He developed his understanding for Louisiana flavor as Sous-Chef at the world-renowned restaurant, Commander's Palace, which was also the starting place for famed chefs, such as Paul Prudhomme and Emeril Lagasse.  There, he combined his Classical French and Continental training, the dynamic styling of flavor he adopted from his travels and the Creole-Cajun-Soul influences of New Orleans, all of which elevated his dishes, and career, to the next level.
Accolades include the prestigious title of Best Chef in the Southwest by La Chaîne des Rôtisseurs, as well as winner of the New Orleans Wine & Food Experience's Grand Tasting for six years running, and those barely skim the surface. Under his guidance, M bistro was ranked as one of the top 4 Farm-to-Table hotel restaurants by Travel + Leisure .
Chef Matt Murphy opened  his own Irish pub and restaurant in 2011, The Irish House.  The Irish House is a culmination of all of his training and experience, and gives him an opportunity to showcase his unique culinary perspective. Since opening it won best restaurant in new orleans 2012, and was votes top % Irish pubs in the Us by Forbes. He acts as a mentor to student learning the hospitality career at Café Hope and Café Reconcile, both culinary programs that teach life skills and on the job-training programs for severely at-risk youths.  He spreads his goodwill between many other organizations including March of Dimes, Habitat for Humanity, St. Bernard Project and Lantern light rebuilding lives  New Orleans.  He has also helped to develop a mentoring program through the National Restaurant Association Educational Foundation's new program, ProStart.
Recently he was on the Food Network show "Chopped" where the was crowned Chopped Champion and took the completion to the next level. Today, the most important thing to this bona-fide family man and unofficial ambassador of New Orleans & Ireland, is to live, laugh, cook and always give back. Oh did we leave out he is the proud father of Quadruplets (Elizabeth, Margaret, molly, Carolyn and  Plus one ( Alanna).  This chef never stops.
About Fr. Kyle Sanders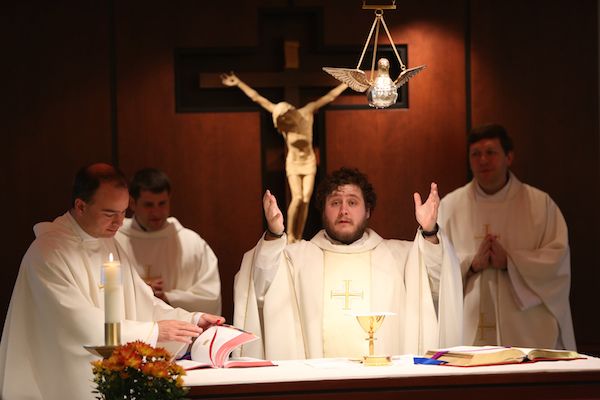 Fr. Kyle Sanders is the Parochial Vicar of St. Rita Catholic Church in Harahan, LA, just outside of New Orleans. Ordained a priest on June 2, 2012, he was born and raised in the Archdiocese of New Orleans. His home parish was St. Philip Neri in Metairie and he attended Rummel High School and St. Joseph Seminary.  He entered Notre Dame Seminary in 2007 and has interned in St. Benilde, St Mary Magdalen and St. Jerome Parishes.
In addition to his priestly ministry, Fr. Kyle also blogs at ReverencedReading.com and engages young and old alike across multiple social media platforms.
From ReverencedReading.com:
Back in the spring of 2007 then seminarian Kyle Sanders began to see something around him that was different but fascinating, Catholics on the internet doing Catholic things, talking about Catholic stuff, writing Catholic content, and he saw in his short sight something missing: books. He saw in his friends, in his classmates, in the culture around him a detestation of reading. He thought at first to do what the people around him were doing, a podcast. Only, he knew producing a podcast did not sit well with his time restraints as a seminarian. Blogging seemed a whole lot easier so he set up a blog and started posting quotes from books that he was reading in and out of school.

A few years later he found himself around other people who liked books, both their idea and their application, so he invited them to join him. Here the blog took shape. It no longer saw just a book and the wide world that a book provides the reader, but rather that the wide world itself is an open book revealing the plot lines, protagonists, antagonists, plot twists, and sub-plots of the Author of creation. So the two authors, Fr. Kyle Sanders and Daniel Lacourrege reflect on how God is present in the mundane and simple.