November 26, 2009
Turkey and Andouille Gumbo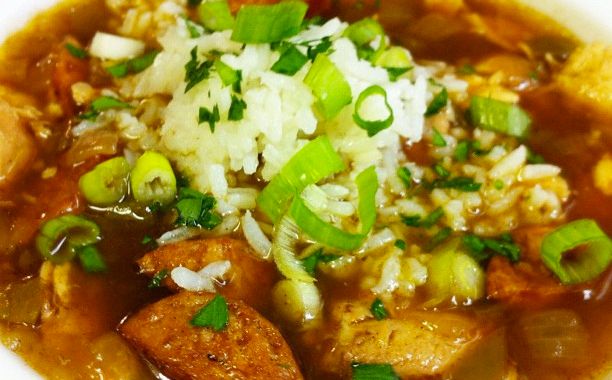 There's nothing like a good gumbo here in Louisiana, especially during the blistery cold winters we have.
OK. I'm kidding about the blistery cold winters (even though it did snow last year!). But I am serious about the gumbo.
A few years ago I came across a recipe by Emeril Lagasse for a turkey-bone gumbo. I made it once and we fell in love with it. It is now a staple dish in our family, especially during the holiday season. Over the last few years, I have made a number of adjustment to his recipe. I would like to share my version with you.
INGREDIENTS
1 cup vegetable oil
1 cup flour
4 – 5 medium onions, chopped
3 – 4 ribs of celery, chopped
3 – 4 green bell peppers, chopped
1 – 2 pounds andouille sausage, sliced cross-wise
4 bay leaves
4 – 6 quarts turkey stock
Leftover turkey meat
1/2 bunch fresh parsley, chopped
1 cup green onions, chopped (We LOVE green onions!)
Filé powder, if desired (used to season in bowl after serving)
2 cups long grain rice (white or brown), made according to package directions
Salt, to taste
1/2 to 1 teaspoon cayenne pepper, to taste
Water, as needed
DIRECTIONS
Make the roux (pronounced "rew" or "rue") – A roux is basically flour and oil stirred slowly on low-medium to medium heat. It takes about 25-30 minutes to make, but it is well worth it. Why a roux? Well, roux darkens a stew and adds a nutty flavor. And gumbo is basically a stew made with roux.  How to make a roux? Combine flower and oil (do NOT use olive oil! It can burn) in a cast-iron pot or dutch oven, over medium heat. You need to stay close, stirring slowly and constantly for 25 to 30 minutes. Be careful! The flour can easily burn. You need to STAY there and stir. What you are looking for is a roux the color of chocolate. Be careful not to burn the roux. Have your veggies chopped before you start so that you can just dump them in at the right time.
Season the chopped onions, bell peppers and celery (the "trinity") with salt and cayenne. Add to the roux and stir until soft. About 5 minutes or until soft (translucent).
Add the stock (as the gumbo cooks down, you may want to add water later. But do so sparingly)
In a cast-iron (or comparable skillet, brown the sausage (which has been sliced cross-wise or chopped). Drain grease and transfer sausage to gumbo pot.
Bring stock to a boil and then reduce to medium-low and simmer, uncovered, for 45 to 60 minutes.
Add turkey meat and reserved onions and celery (from the stock). Continue to simmer for 20 minutes. (Truth be told, I usually let it simmer for much longer….)
Add chopped parsley and chopped green onions to the pot just before serving, saving some for the bowls after serving.
Serve in soup bowls with a scoop of rice.
This recipe yields a LARGE pot of gumbo. Our family of 5 can eat on this for a few days.
Ça c'est bon!